Sergei Polunin, the James Dean of the ballet world, is no longer a rebel without a cause.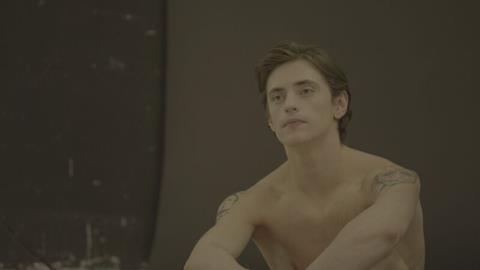 The magnetic 25-year old, widely considered one of the most naturally talented dancers of his generation, has a renewed passion for the craft he spectacularly walked away from three years ago.
"Ballet is still on the agenda," laughs the tattooed and tortured dancer, a former principal for the Royal Ballet whose story has entranced culture editors the world over. "I was leaving at one point but I'm currently waiting to go to Moscow to work on a new piece for the Bolshoi."
Polunin's fascinating journey is laid bare in new documentary biopic Dancer, directed by Emmy-nominated Steven Cantor, produced by Philomena producer Gaby Tana and sold in Cannes by WestEnd Films (they have a promo to show buyers).
"Ultimately I hope it's a celebration of dance," says Tana. "There is a lot of dance in it. But it's a portrait of a dancer and what that life entails. It's about the gift and the responsibility. The work is a blessing and a curse for a young person in this world."
Four years in the making, Dancer, currently in post-production, is choreographed by Emmy-award winning director Ross MacGibbon and iconic photographer David LaChapelle.
The latter is a close and regular collaborator with Polunin, having also directed him in their viral sensation performance of Hozier's Take Me To Church, which has garnered close to 10m hits on YouTube.
"The video with David was going to be my last dance but after meeting Gaby and David I have got some inspiration back," confides Polunin when we meet at London's Ivy restaurant. "During the video I realised I wanted to keep dancing."
When he walked away from ballet three years ago he was tempted by Hollywood:
"I was interested in going to Hollywood," admits the Ukranian. "It was a dream. But something has pulled me back to ballet again."
The dancer is now weighing up a move to Milan to join La Scala.
The pull from Hollywood goes deep, however. Film has long informed his career: "I get my inspiration from movies," he says. "I love certain actors; watching how they move; their movements inspire me. Mickey Rourke has been an inspiration for two years, for example. I watch him the night before I go on stage and he inspires him."
Indeed Rourke, who is expected to feature in the documentary, is the latest subject to claim a place among Polunin's impressive tattoos, his name foregrounded in stark black letters on Polunin's forearm.
Polunin now hopes Dancer can help break down some of the entry barriers to ballet:
"My concern is that Dancer influences young kids to dance. It's an important message for me. Ballet needs to become more democratic. It's public but not open. It's strange. We need people to popularise it, to make it more accessible.
"I want to bring ballet to the masses," he continues. "I want to do ballet movies: to combine theatre and movies."
In that vein, Polunin will next reteam with Tana and LaChapelle on a film to be directed and written by the latter. Polunin will act and dance in the narrative piece which is due to combine high profile dancers and actors, including Rourke.
He will also spearhead an event launched with Sadler's Wells aimed at fostering partnerships between ballet and other arts.
The dancer's demons are never far from the surface, however.
"I'm still searching for an answer," confides Polunin, who admits to still being frustrated by stilted galas and conservative choreographers. "What do I really want to do? I have a strange personality. It depends how I feel on the day."