Dir. Cheryl Hines, US, 2009, 84 mins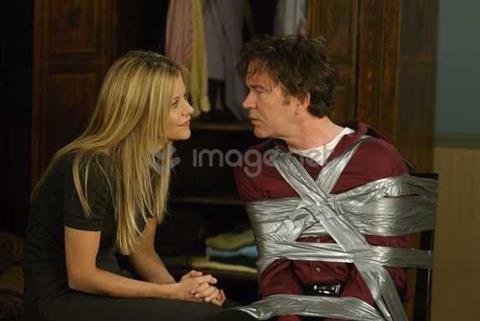 Serious Moonlight, Cheryl Hines's directorial debut, is a comedy about husband held hostage in his home by the wife he plans to leave. This is Hines's adaptation of Adrienne Shelly's script and a posthumous tribute to the murdered actress with whom she worked on 2007's Waitress. As a comedy, however, it plays like a work in progress.
The theatrical future of Serious Moonlight is likely to be limited to festivals and the arthouse circuit in the US, where Shelly made her career. Despite appearances from Meg Ryan and Timothy Hutton, the film will probably be seen as a curiosity, and is unlikely to achieve the near-$20m domestic haul of Shelly's own Waitress, which she wrote and directed.
When corporate lawyer Louise (Ryan) arrives at her country house to surprise her husband Ian (Hutton), she finds flower petals strewn on the floor. But they're not for her: instead they're for his much younger girlfriend Sarah (Bell) for whom he is planning a romantic weekend in Paris followed by a proposal of marriage.
Ian won't budge on his decision, so Louise knocks him out and first ties him to a chair, and then a toilet, with heavy duct tape while she tries to change his mind. A drunken lawn worker (Long) who finds Ian, ransacks the house, binding Louise with him in the bathroom. Sarah is also bound there when she returns to the house. The three then proceed to battle out their differences.
Echoing The Ref at some moments, Straw Dogs at others, this is a bedroom farce that's a bathroom farce. Hines, best known for her role as Larry David's wife on TV's Curb Your Enthusiasm, directs in a confined space in a way that makes Serious Moonlight look like a TV drama, or a film of a theatre performance.
Shelly's bare-boned script, constructed around the extreme bondage situation (the story's only element of surprise), enables Ryan, Hutton and Bell to explore their situation as if they're all in a drama class improvisation. The best laughs come when the three are bound in the bathroom – Ian on the toilet, and the two women, with hands and ankles taped, fighting on the floor.
Ryan, as the ballsy lawyer faced with the first defeat of her life, makes Ian's cheating somehow seem understandable. As Sarah, Bell captures the overconfidence of the pert and naïve mistress, ready-made for the second wives' club. Hutton plays Ian as the humbled hapless weak-end of a power relationship, trapped in his own schemes.
Cecil Gentry's production design gets the details right in the rich couple's home, which the thugs destroy. DP Nancy Schreiber makes the basic ingredients look good, especially if you like lots of close-ups of Meg Ryan.
One sinister element in the otherwise-light comedy is the brutality of the outdoor worker, who beats Ian when he sees the bound man can't resist. Shelly was murdered by a construction worker in her apartment building, who then tried to cover up the crime as her suicide.
Production Companies
Night and Day Pictures
All for A Films
International Sales
The Film Sales Company
+1 212 481 5020
Producers
Andy Ostroy
Michael Roiff
Screenplay
Adrienne Shelly
Cinematography
Nancy Schreiber
Editor
Steven Rasch
Production Designer
Cecil Gentry
Main Cast
Meg Ryan
Timothy Hutton
Kristen Bell
Justin Long
Andy Ostroy
Nathan Dean