The producers of the BFI and Film4-backed musical hope to capture the La La Land audience.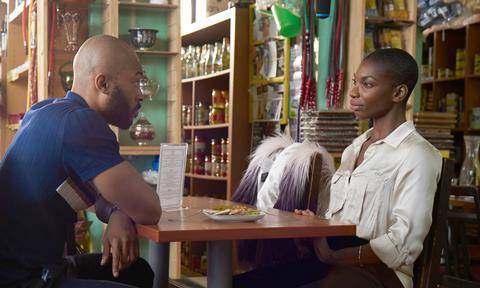 You could call it the La La Land effect. Despite being optioned eight years ago by producers Amanda Jenks and Nadine Marsh-Edwards of Greenacre Films, and quickly securing development funding and financing from both the BFI and Film4, Camden-set stage-musical adaptation Been So Long only went into production in February. "It's appropriately named," jokes Jenks.
When asked what the eventual, production-triggering catalyst was for the film's two backers, Marsh-Edwards puts it down, at least partly, to "musicals becoming popular because of La La Land". The BFI's Lizzie Francke and Film4's Eva Yates are on board as executive producers. "We were very lucky to be able to make the film with just the two financiers," adds Jenks. "We feel incredibly supported by both of them."
Che Walker's stage musical, adapted from his own 1998 Royal Court play (with Arthur Darvill scoring, and the pair co-writing the lyrics), was a hit at the Young Vic back in 2009, though Greenacre optioned it during read-throughs before it even went on stage (Walker and Darvill have been involved in the film, and Marsh-Edwards promises "at least three new songs" written for it).
It is not too hard to find comparisons with Damien Chazelle's heavily garlanded classic Hollywood love letter. Both are deeply rooted in a particular location, and both offer a bittersweet twist to their romantic themes. But Marsh-Edwards and Jenks stop short of pitching their film as London's answer to La La Land.
"I would imagine the budget for this film is their catering budget, plus we don't have giant international stars," says Jenks, when Screen International visits the location base during an early April night shoot in Hackney, east London. Plus, Marsh-Edwards adds, eyes flashing: "Our cast is very diverse."
Found in London
A few hours later, that cast's two leads are performing the climactic number, Universe of love, in a kebab shop named Tubby's. Part-lit by the neon glow of signs offering 'Free Delivery' and 'Fresh Sandwiches', close to the heat of a vertical rotisserie on which a glistening cone of doner-kebab lamb turns slowly, Michaela Coel and Arinzé Kene sing together, gliding and twisting across the lino floor, as several extras groove and twirl around them.
There is a kind of magic in the incongruity on display here. On the one hand, we're in an everyday take-away which, though redressed for the show, is the kind you would find on most London streets. On the other, we are observing a full-on, musical celebration of romance, between struggling single-mother Simone (Coel) and ex-convict Raymond (Kene). And though, owing to its complexity, tonight's number involves miming to playback, director Tinge Krishnan (Junkhearts) has for the most part been recording her performers live. It is something Coel, for all her experience showrunning and starring in E4 sitcom Chewing Gum, confesses has been a huge challenge.
"It is a big stretch for me," she laughs. "The singing and dancing, you know, I've never done anything like this in my life. It's either going to be really amazing or just like, 'What the fuck was that?'"
Yes, this does feel very different from La La Land — far removed from the Griffith Park Observatory, never mind Ryan Gosling and Emma Stone.
"The diversity of the cast is a very important thing to us," says Jenks. In addition to Coel and Kene (recently seen alongside Russell Tovey in The Pass), that cast includes George MacKay as troubled antagonist Gil, Ronke Adekoluejo as Simone's sexually adventurous pal Yvonne and Game Of Thrones' Joe Dempsie as Simone's ex, Kestrel.
Not that Greenacre has any particular agenda. First, this is an adaptation of a play that is already diverse. And second, points out Jenks, "It would be very weird if we didn't have a diverse cast, because that wouldn't be representative of the world that we know and that exists in Camden."
"At the end of the day our film is trying to be true to its source," says Marsh-Edwards. "So we wanted to have a cast that reflected the London we all witness when we're sitting on the bus."
London vibe
The rooting of the story in a realistic London was certainly important to Kene, who returns to the role of Raymond after playing him in Walker's original musical. "To have the film's climax happen in a kebab shop is so British," he enthuses. "That's what I loved about the entire script. It's very true, very honest to Britain — the locations, the characters, the way we speak. It doesn't feel like a romantic comedy. It feels like these characters really exist. It's beautiful."
When asked if this beautiful Britishness might prove a challenge to distributing Been So Long internationally, the producers are unconcerned. Camden, Jenks points out, "is an iconic London landmark" to which visitors from all around the world gravitate. And, adds Marsh-Edwards, "the emotions the story contains and explores are universal, so we think that's going to be a good hook for the film worldwide." Fabien Westerhoff of Film Constellation kicked off international sales on the feature at Cannes.
Jenks insists Been So Long cannot be classed as a gritty 'urban' film ("nobody gets stabbed, nobody's wearing a hoodie"), nor as a 'youth' movie, so its potential audience is broad. "We think it's for anyone who's fallen in love, or hasn't been sure about falling in love, or whether they're falling in love with the right person," says Marsh-Edwards. "It's for someone who wants to watch a joyous film. With songs. And dancing. And a good story."