Dir/scr: Martin McDonagh. US-UK. 2012. 109mins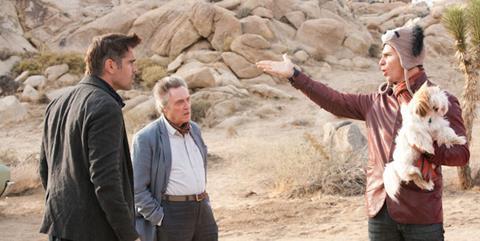 The pulp sensibilities of writer/director Martin McDonagh's ambitiously oddball pop-cinema psycho-thriller/comedy are writ large, and with a strong cast, including Christopher Walken, Colin Farrell, Woody Harrelson and Sam Rockwell lapping up his wry and witty dialogue it seems that the gloriously titled Seven Psychopaths has the tag-line 'must see cult film' written all over it.
Seven Psychopaths is a deliriously twisted tale that provides the perfect platform for Walken's deadpan delivery and Rockwell's gleeful loopiness.
The film may lack the more solid story structure and character development that made his hitmen on holiday film In Bruges such a breakout success, but McDonagh shows a Tarantino-like touch for slick, clever and often lilting dialogue and packs his film with enough gratuitous gunplay and boisterous bloodletting to appeal to genre fans.
And while the freewheeling and at times scattershot approach – which blends tall tales and dark deeds with friendship and loyalty – may make the film slightly inaccessible to those after a linear structure and a little more space between good and bad, it is clear McDonagh has constructed a cleverly woven puzzle of a picture that bears closer examination and appreciation.
It is easy to see what actors might love appearing in a Martin McDonagh film. He writes beautifully dark, snappy and funny dialogue and his characters are brimming with quirky traits. At the heart of Seven Psychopaths is a screenwriter named Martin who happens to be having more than a few problems with his latest screenplay. Autobiographical perhaps, but then the filmmaking fraternity always love a film that dances around that it does.
Heavy-drinking writer Marty Faranan (Colin Farrell, who starred in In Bruges) has got a great title for his film, Seven Psychopaths, but little else. His boozing is trying the patience of his saint-like girlfriend Kava (Abbie Cornish), while the attempts of his best friend Billy (Sam Rockwell) to help out just tend to cause more trouble.
Billy and his partner Hans (a sublime performance by Christopher Walken) are lightweight criminals who make money by dognapping, though any money they make Hans insists on taking straight down the hospital's cancer ward, where his wife is making a slow recovery.
Things go badly wrong for them, however, when they take a Shih Tzu named Bonny (played by Bonny the Shih Tzu), belonging to LA gangster Charlie Costello (Woody Harrelson), who has an obsessive affection for the mutt and won't let anyone get in his way when it comes to finding out who took Bonny.
The spine of the film is how Marty is drawn into Hans and Billy's bizarre and increasingly violent world, though this is simply a device for Marty (with more than a little assistance from the dognapping tag-team) to flesh out who the seven psychopaths from his script might actually be, leading to a string of flights of fantasy as his cast of killers slowly starts to come together.
Billy points out in the paper the story of the Jack of Diamonds killer, a masked man who is killing mob-man, and leaving a playing card on their corpse, and when Marty shows enthusiasm for the information he sees himself as a 'co-writer' and places an advert in the paper asking for psychopaths to come forward to be interviewed by him and Marty. Billy is well intentioned, though his enthusiasm gets more and more extreme.
Before you know it, Marty, Billy and Hans find themselves on the run an hiding out in the desert, which allows a few campfire opportunities for Hans to chip into the whole psychopath research as it becomes clear some of the tall stories Billy has been telling tend to involve the real-life Hans.
The three some of Farrell, Rockwell and Walken dovetail rather nicely together. Rockwell's brand of fierce quirkiness is nicely developed while Walken has rarely been better as the suave Hans. Farrell essentially plays the straight man and observer to the rampant and increasing madness around him. Add to the pot a nicely deranged performance by Woody Harrelson, and you have a film brimming with memorable characters and performances.
When Hans is reading Marty's new script he points out that he is not good at writing women characters, and how the all the women he knows are clever and rounded personalities who have plenty to say. This is clearly McDonagh pointing out the criticisms that may come his way for the female characters in Seven Psychopaths.
Abbie Cornish has just a few scenes as Marty's increasingly frustrated girlfriend (plus a moment in a fantasy sequence which doesn't end well for her); Olga Kurylenko pops by for one bikini-clad sequence as Charlie's girlfriend, while Gabourey Sidibe has just one scene as Charlie's terrified dog-walker. None of clearly defined characters and are products of fine writing rather than personalities that develop.
McDonagh has most fun with the stuff around the sides of the main story – his ideas for an avenging Quaker with a straight razor or a Viet Kong killer dressed as a priest with a vendetta against the US – and builds in some wonderful cameos for the likes of Tom Waits and Harry Dean Stanton, who are so good that the audience instantly cheer when they arrive on the screen.
Seven Psychopaths is a deliriously twisted tale that provides the perfect platform for Walken's deadpan delivery and Rockwell's gleeful loopiness, and while some aspects of the film work far better than others it still offers up a barbed and bloody tale of strange psychotic killers woven together by some sublime dialogue.
Production companies; Film4, Blueprint Pictures, BFI
US Distribution: CBS Films
International sales: HanWay Films, www.hanwayfilms.com
Producers: Graham Broadbent, Pete Czernin
Executive producer: Tessa Ross
Cinematography:Ben Davis
Editor: Lisa Gunning
Production designer: David Wasco
Main cast: Colin Farrell, Sam Rockwell, Woody Harrelson, Christopher Walken, Abbie Cornish, Olga Kurylenko, Gabourey Sidibe, Harry Dean Stanton, Tom Waits