Dir/scr: Treva Wurmfeld. US. 2012. 89mins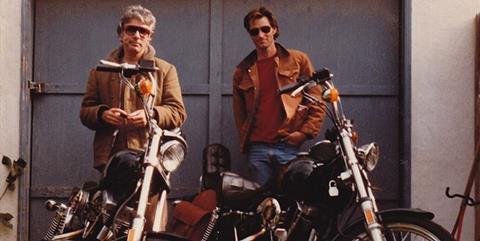 Shepard, of course, is the Pulitzer-winning playwright and actor Sam Shepard, known for his acclaimed plays Buried Child and True West, and nominated for an Oscar for The Right Stuff. But who is Dark? As this intimate, breezy documentary reveals, Johnny Dark is one of Shepard's oldest and most faithful friends, a reclusive eccentric who lives in small-town New Mexico. When the two men embark on a book project to publish their decades of correspondences, old wounds and memories are re-opened—but only briefly.
Because Dark is an amateur archivist, saving every scrap of writing, photo and video from his past.
While Shepard And Dark hits a few grace notes, it's strictly conventional small-screen fare, likely to find audiences wherever Shepard is a known commodity.
For 18 months, filmmaker Treva Wurmfeld documented the aging men, traveling back and forth between their homes and, eventually, to Texas, where the duo began sifting through their old letters.
It's quickly apparent that the two men are very much an odd couple. In the film's opening moments, Dark admits that friends don't need to be alike; rather, they are "complementary." Indeed, Shepard is peripatetic, always on the road, struggling to balance his needs for solitude and companionship; Dark is hermetic and happy to stay at home with his two dogs - "I don't like knowing people," he jokes.
But their differences come into sharper, more resonant focus when Dark recounts their past. After Dark married an older woman named Scarlett, Shepard married her daughter, O-lan Jones, and the two couples lived together for years. When Shepard fell in love with Jessica Lange, he abandoned the family in 1982 and left Johnny, the homebody, to help raise Shepard's son at the vulnerable age of 12.
Because Dark is an amateur archivist, saving every scrap of writing, photo and video from his past, Wurmfeld has a wealth of material to draw from: Particularly affecting is video footage of Dark's wife Scarlett, as she struggles to recover from a brain injury and the family tries to take care of her.
And while we see brief glimpse of rehearsals of a Shepard play with Nick Nolte and Sean Penn, Shepard And Dark is less about Shepard's creative work than his personal relationships. In fact, audiences who don't know Shepard's background will be left in the dark as the documentary offers little details of his accomplishments.
Shepard And Dark is also light on personal revelations. But when they do come, as when Shepard makes the surprising admission, "I continue to make the same mistakes," the short-lived moments are powerful. However, Shepard, a man who doesn't believe in all that psychology stuff and actively resists reliving his past, doesn't make for the most compelling documentary portrait. At another crucial moment of painful introspection, he turns away from the camera: "I can't do this," he says, choked up about either his break-up with Lange or the regrets he has for leaving his family. We'll never know which.
If Shepard is closed, Dark is open, and a far more eccentric and interesting character, with a penchant for marijuana, Jack Kerouac (whom he knew), care-giving and walking his dogs. But, alas, Shepard being the celebrity, viewers may leave the documentary wanting more.
Production companies: Gas Money, LLC
International sales: Tangerine Entertainment
Producer: Amy Hobby
Executive producers: Treva Wurmfeld, Emily Wachtel
Cinematography: Treva Wurmfeld
Editor: Sandra Adair
Music: Graham Reynolds
Main cast: Sam Shepard, Johnny Dark