Dir: Mike Mitchell. US. 2010. 93mins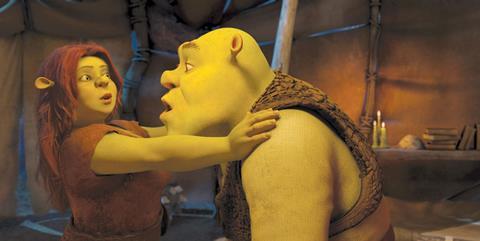 Borrowing from classics of Hollywood's golden age, Shrek Forever After is an epic animated 3D journey back into time for a furious battle between good and evil. It's an unexpected source for the Shrek franchise, but the film avoids what threatened to be Shrek-fatigue on the fourth trip around.
3D renders Shrek Forever After more tactile than earlier Shreks and less cartoonish, building credibility for the romance that its plot needs.
The fourth and final feature - which opened the Tribeca Film Festial - about the green ogre may have fewer bodily-function jokes than its ardent fans expect, but it tells a story that is different enough from its predecessors to draw the public once again.
The announcement that Shrek Forever After is the last of the franchise could help it score a victory lap at the box office. With its cast of voices largely intact – and the addition of a wildly repellent new villain — Shrek brings a well- known product to the public that earned Shrek 3 almost $800 million in the worldwide box office.
That film's script mined humor that targeted the teen and adult audience. This one aims at the family audience, layering in zinger lines to amuse the adults who come with their children
The twist in its story this time comes via Frank Capra's It's a Wonderful Life. Shrek (voiced by Mike Myers), now a celebrity family man-ogre, flees the boredom of domesticity in his swamp, by signing over one day of his life to a tiny schemer named Rumpelstiltskin (voiced by Walt Dohrn). The Faustian bargain sends him back into a time when ogres living underground commanded by Shrek's future wife Fiona (voiced by Cameron Diaz) are at war with broom-riding witches (straight out of The Wizard of Oz) led by Rumpelstiltskin.
It's total kaleidoscopic conflict, and the fairy tale ending befits the Capra inspiration.
Mike Mitchell directs the script by comedy writers Josh Klausner (Date Night) and Darren Lemke (who wrote and directed the 2004 film Lost). The screenplay stays close to conventions of the well-worn tale of a man who gives away everything and then struggles to recover it. Over-earnest moments drive the moral lesson home, yet clever dialog and deft vocal performances save Shrek Forever After from being a sermon.
Fighting to win over his wife – who doesn't know she would marry him — Shrek courts Fiona like a weakened caveman. Their clumsy love dance is observed by an obese cat, Puss in Boots (voiced by Antonio Banderas), who's so fat he can't lick himself clean. You wish the cat had more lines, but those spoken by Banderas are deadly.
The show-stopper, however, is Rumpelstiltskin, the vain elfin dictator in the war against ogres, with a different grotesque wig for every foul mood. Walt Dohrn, who voices the cruel and petty schemer (and did three minor characters' voices in Shrek 3), is also credited as "Head of Story," which may help explain why he gets so many great lines. He handles them magnificently.
John Hamm's voice is another late but welcome addition to the Shrek ensemble, as an ogre in the army fighting witches.
3D renders Shrek Forever After more tactile than earlier Shreks and less cartoonish, building credibility for the romance that its plot needs.
Balancing laughs and gags in the most violent war scenes, the filmmakers rarely let you forget that it's a comedy – or that that there might be room in the swamp somewhere for a future Shrek 5.
Production companies: Dreamworks Animation SKG
US Distributor: Paramount Pictures
International sales: Paramount Pictures
Producers: Teresa Cheng,Gina Shay
Executive Producers: Aron Warner,Andrew Adamson,John H. Williams
Associate Producer: Patty Kaku-Bueb
Screenplay: Josh Klausner,Darren Lemke,based on the Book by William Steig
Cinematography: Yong Duk Jhun
Editor: Nick Fletcher
Production Designer: Peter Zazlav
Head of Character Animation: Jason Reisig
Art Directors: Max Boas,Michael Andrew Hernandez
Music: Harry Gregson-Williams
Main Cast (Voices): Mike Myers,Eddie Murphy,Cameron Diaz,Antonio Banderas,Julie Andrews,John Cleese,Walt Dohrn,John Hamm