Dir: Ursula Meier. Switzerland-France. 2011. 97mins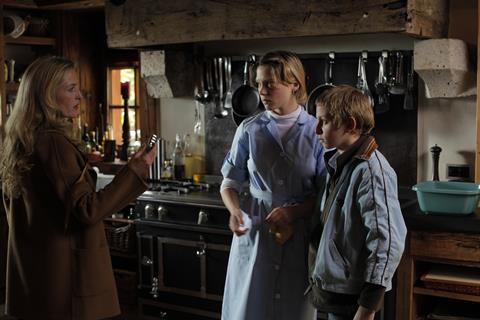 French-Swiss director Ursula Meier weaves a compelling Dardennes-style drama out of two contrasting worlds: a high-altitude high-class Swiss ski resort and the proletarian ribbon-development plain down below. Despite some script ingenuities this is a tough and tender drama held together by its unwavering, sympathetic focus on the mixed-up, love-starved twelve-year-old boy who travels between the two, stealing skiers' kit and selling it off to cheap to his friends down in the valley.
As in Home, Meier seems fascinated by the places we're not supposed to dwell in, or on.
Meier's debut, the quirky Huppert-starring comedy-drama Home, notched up quite a few arthouse deals, and Sister (L'Enfant d'en haut) should do the same, with Lea Seydoux, Martin Compston and Gillian Anderson providing name-recognition guarantee for the hesitant – though in fact it's Kacey Mottet Klein in the film's central role (he also appeared as one of the kids in Home) who steals the show.
The film opens in handheld media res, following Simon (Mottet Klein) as he snaffles skis and rifles through jackets and rucksacks near the arrival station and restaurant at the top of a cable car in some unnamed ski resort (apparently Verbier). We never see him skiing himself, and come to suspect he doesn't even know how. He discards anything he doesn't need, keeping only some of the packed lunches and the 'good stuff' that we later see him selling off to school friends down in the valley; he even whips a specific model of skis on commission.
Simon lives with an older sister, Louise (Seydoux), in an ugly high-rise apartment block that rises incongruously in the flat valley floor, surrounded by roads and fields. Unable to hold a job down, Louise is a puffy beauty with severe self-esteem problems who goes with guys more, we suspect, out of the need to cling onto some shreds of romantic illusion that because they give her money.
She does accept a stolen jacket, and eventually cash as well, from Simon, who she switches on and off to, tussling with him affectionately one moment then heading off with a guy in a BMW the next. The siblings' parents are nowhere to be seen.
Back up at the cable car station, Simon is rumbled by Mike (Compston), a Scottish seasonal kitchen worker who turns out to be hoarding stolen ski equipment himself, and ends up paying Simon to steal for him. This isn't entirely credible; even less so is a scene where Simon sells what is clearly hot ski equipment to the lift station and restaurant workers, none of whom seem to have much objection to receiving stolen goods.
Simon gets talking to an English woman (Anderson) who's skiing with her two younger kids – and is clearly both wary and curious about this older-than-his-years ragamuffin.
A dramatic twist around halfway through steers the film into territory that is potentially mined with melodrama, but the script skirts the danger zone with some style, keeping the focus tight on Simon and what we sense is a fragile show of self-sufficiency and maturity that is putting him under huge emotional strain.
Agnes Godard's HD photography mixes breathless Steadycam 'action' sequences with fixed shots that bring out not so much the majesty of the mountains as their impenetrable bulk: we see skiers from Simon's outsider cable-car point of view, tracing patterns in the snow as if engaged in some bizarre ritual.
Meier gets drama, and occasionally irony, out of splashes of colour and visual details (red, blue and yellow used cars in a lot that look like blown-up toy cars, a coach with EVASION painted on the side, Louise's baby-blue jacket). The well-judged soundtrack, by longtime PJ Harvey collaborator John Parish, injects a certain tension with jangling guitar chords, though it also provides more poignant lilts.
As in Home, Meier seems fascinated by the places we're not supposed to dwell in, or on: roadsides, the machinery rooms of ski lifts, restaurant kitchens and staff locker rooms; fallow fields in winter. When Simon drags his loot-loaded sledge over a landscape where the snow has almost gone, across roads, under guardrails, across fields, he's tracing a desire line that is a challenge and an affront not just to urban planners, but to the prescriptions of a society that ignores him. It's perceptions like this that lift a script that has a faint whiff of the dramatic exercise about it into more visionary territory.
Production companies: Vega Film, Archipel 35
International sales: Memento Films International, www.memento-films.com
Producers: Denis Freyd, Ruth Waldburger
Screenplay: Antoine Jacoud, Ursula Meier, with the collaboration of Gilles Taurand
Cinematography: Agnes Godard
Editor: Nelly Quettier
Production designer: Ivan Nidass
Music: John Parish
Main cast: Lea Seydoux, Kacey Mottet Klein, Martin Compston, Gillian Anderson