Filming is underway on Rec director Jaume Balaguero's latest project, the $6m terror thriller Sleep Tight, which is being produced by Spanish studio Filmax.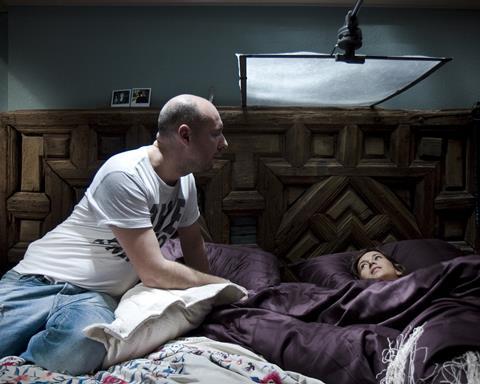 Synopsis: An apartment doorman decides to abuse his position by intruding on the inhabitants lives, and following their movements, especially the woman living in flat 5b
Director: Jaume Balaguero
Writer: Alberto Marini
Producers: Filmax head Julio Fernandez is producing and sharing executive producing duties with Carlos Fernandez and Alberto Marini
Cast: Luis Tosar, Marta Etura, Albert San Juan, Iris Almeida, Pep Tosar
Budget: $6m
Financing: Filmax will provide funds through a loan from newly appointed board member Elisa Salinas, soft money from the Spanish Film Institute, ICAA and the Catalan government funded institute ICIC, TV investment from broadcasters TVE, Canal + and TVC, plus pre-sales.
Language: Spanish
Locations: Barcelona and the Parc Audiovisual De Catalunya film studios in Terrassa, Spain
Status: Production
Release date: Spring 2011. Promo to be screened at AFM

Spanish studio Filmax is producing the $6m terror/thriller Sleep Tight, which has Rec director Jaume Balaguero at the helm and Luis Tosar and Marta Etura heading the cast off the back of their success in the 2009 Spanish prison drama Cell 211.
Sleep Tight began life in 2008 in the hands of Italian born writer Alberto Marini who has worked with Filmax for more than 10 years, including collaborating with Balaguero on the scripts of his previous award winning horror films Darkness (2002) and Fragile (2005).
Marini, who also serves as executive producer on the project, thought it would be an interesting idea to write about an apartment doorman breaking his code of conduct by spying on the building's inhabitants.
"I originally had New York in mind as the setting for the film where doormen are treated with great respect and hold a lot of control over a sizeable number of people in a building," explains Marini. "I wrote the script in Spanish and got a translator to convert it to English. I had in mind someone like Phillip Seymour Hoffman or Cillian Murphy to play the lead role."
But this approach changed when after a year of grappling with the script Marini showed Filmax chief Julio Fernandez a first draft, and then soon after Balaguero was consulted.
Fernandez almost immediately bought the rights, but the three of them decided it would be easier to shoot in Spain with a "think local, but act global" approach, according to Marini.
"It was appealing for me to investigate the more sophisticated mechanics of the thriller and suspense genre, after working on the radical and brutal [Rec] films. But logistically and cost wise for the production I said it would make more sense to do the film in Spain," explains Balaguero, who co-directed the [Rec] series with long time collaborator Paco Plaza, but decided to go alone for the first time in five years with this project.
Fernandez admits that he has gone through a lot of "pain and sacrifice" to finance the film, with about 40% of the funding coming from pre-sales of the project by Filmax, including a number of deals at Cannes earlier this year, such as Lucky Red for Italy, Wild Side for France and Utopia for Greece.
The remaining money has arrived from Spanish broadcasters TVE, Canal + and TV3, who will split the TV rights; there's also pending soft money from the Spanish Film Institute (the ICAA) and the Catalan government funded body ICIC (Catalan Institute of Cultural Industries); and finally funds from Filmax itself thanks to a sizeable loan from Mexican producer Elisa Salinas, the newly appointed board director of Filmax.
"The success of the first two [Rec] films (which made $12m and $8m respectively in Spain alone) were excellent persuasive tools in our approach to the broadcasters and distributors," admits Fernandez.
The film is expected to be completed by the first trimester of 2011. "Depending on how long the post production takes we should be ready before Cannes, but I think Berlin might be too soon," says Vicente Canales, head of Filmax International.
Next up: Filmax will again be working with director Jaume Balaguero, alongside Paco Plaza, on two new [Rec] horror films to be titled [Rec] Genesis, which will return to the origins of the infection that caused the zombie mutation, and [Rec] Apocalypse, which will end the saga with the pandemic spreading to unknown proportions. The first will be ready by autumn 2011, and the second the following autumn.