Dir: Bong Joon Ho. South Korea. 2013. 125mins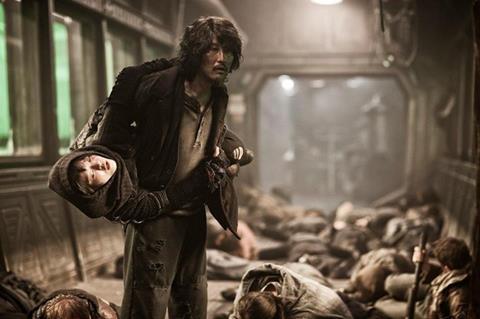 Further demonstrating why he is arguably one of Korea's top and most consistent film directors, Bong Joon Ho's (2006's The Host) first English language film Snowpiercer, which takes place on a train that circles the earth once it enters an ice age, is an enthralling ride that never runs out of momentum as it cleverly examines the issue of social class in a thoroughly engaging, yet complex manner.
Bong has also assembled the perfect cast with talent spreading across three continents reflecting the global nature of the film and its narrative.
Already pre-sold to a record 167 territories - including English speaking territories where The Weinstein Company own the rights - it allows CJ E&M and its investors to recoup half of the film's budget of $39.2 million, giving the film a strong start on the international market owing to a strong cast including names such as Chris Evans and John Hurt along with Bong's strong reputation and the film's interesting premise.
Prospects, meanwhile, remain strong in Korea despite a somewhat darker tone where Bong Joon Ho's name as revered filmmaker together with the casting and reunion of local talent Song Kang-ho and Ko Ah-sung (they both featured in Bong Joon Ho's The Host that amassed over 13 million admissions ($64.6 million) along with the curiosity factor and hype will boost its potential to perform well in Korea when it premieres there on 1st August.
Based on the French graphic novel Le Transperceneige by Jacques Lob and Jean-Marc Rochette, the film takes place on a train called 'Snowpiercer' that is powered by a perpetual-motion engine, which circles the planet after the earth enters an ice age following a failed experiment to stop global warming. A class system soon evolves on the train with an elite class inhabiting the front of the train led by a mysterious figure called Wilford, while the less privileged reside in the back who are subjected to impoverished living conditions.
Determined to overthrow Wilford and take control of the train are a number of revolutionaries led by Curtis (Chris Evans) who decide to begin making their perilous and arduous journey to the front of the train to try and end their doomed fate.
Audiences accustomed to Bong's work may find it darker than usual, but this is natural given the nature of the narrative as it focuses on the inner workings of social class, but much like his previous films, it never ceases to be enjoyable. Bong's masterstroke at delivering both depth and suspense, as evident in his films such as Memories Or Murder (2003) and Mother (2009), is used to scintillating effect through a well written narrative that exploits the limited space on a train that provides the perfect location for Bong's sci-fi adventure.
Bong has also assembled the perfect cast with talent spreading across three continents reflecting the global nature of the film and its narrative. Chris Evans is difficult to fault as the young leader, while John Hurt is perfectly cast as the older mentor and spiritual leader. Jamie Bell, Octavia Spencer, Ewen Bremner and Ed Harris, likewise, both deliver their best in the confinements of the train, but it's Tilda Swinton as the second in command of the train with her thick but attractive Yorkshire accent who manages to rise above this stellar cast through her energetic and eccentric performance.
Song Kang-ho meanwhile along with Ko Ah-sung who both play sizable roles in trying to take control of the train are natural fits never feeling out of place, which further boosts its potential in its home market of South Korea.
Shot in Barrandov studios in the Czech Republic, the film pays homage to the original graphic novel through how it depicts the train itself, but Bong along with his team of visual and set artists from around the globe have constructed a whole new world with his extraordinary use of mise-en-scene, together with superb lighting, sound and authentic CGI.
In a year where two other iconic Korean filmmakers - Kim Jee-woon (The Last Stand), Park Chan-wook (Stoker) - have made their English-language debuts, it's Snowpiercer that stands out in both the nature of the project and also in its overall execution, which is in part due to the fact that Bong Joon-ho scripted the film himself along with the help of Kelly Masterson who assisted Bong with the English dialogue.
Given the size, scope and unique nature of the project, this is somewhat unknown territory for a Korean film on both the domestic and international stage, and while it also poses a marketing challenge for international territories in terms of whether to label it as an arthouse film or blockbuster, its prospects at home as well as abroad remain strong owing to a terrific final product.
Production companies: Moho films, Opus Pictures
International sales: CJ E&M Corp, http://en.cjenm.com
Producers: Park Chan-wook, Lee Tae-hun, Park Tae-jun, Robert Bernacchi, David Minkowski, Matthew Stillman
Screenplay: Bong Joon Ho & Kelly Masterson, based on Le Transperceneige by Jacques Lob & Jean-Marc Rochette.
Cinematography: Hong Kyung-pyo
Editor: Steve M. Choe
Music: Marco Beltrami
Website: http://snowpiercer2013.interest.me/
Main cast: Chris Evans, Song Kang-ho, Jamie Bell, John Hurt, Tilda Swinton, Alison Pill, Ewen Bremner, Octavia Spencer, Ko Ah-sung, Ed Harris