Dir: Tom Vaughan. US. 2012. 96mins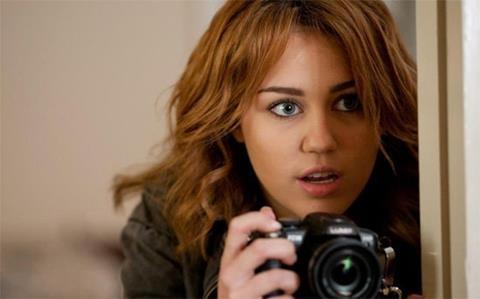 As a transitional film aimed at helping singer-actress Miley Cyrus make the move from teen icon from her Hannah Montana television series to fully-fledged adult film star the fan-friendly So Undercover only manages to work on a very limited level. It is amiable and accessible enough for her core audience who have grown with Cyrus and followed her career in TV/music/tabloids, though not unique enough to find an audience who don't buy into her perky and cheerful charms.
Miley Cyrus gets to play on her genuine perky charm and solid sense of comedy timing.
The film gets a release in the UK and a smattering of other European territories pre-Christmas, though goes the straight-to-DVD route in the US, where it is set to debut in early February. With a festive box office dominated by the last Twilight film, Skyfall and The Hobbit: An Unexpected Journey, it seems unlikely that So Undercover will make much of a dent at the UK box office, though stronger home entertainment figures would seem probable.
Miley Cyrus, now aged 20, remains an engagingly feisty personality and brings a good deal of charisma to her rather clichéd role. But while the film is very much a by-the-numbers 'going undercover' story much used in film and television for years, she does at least get the chance to fight bad guys, wield a gun, kiss a boy and frolic in her underwear in a mildly suggestive manner. There is no bad language or overt sexuality to shock her fan-base, but So Undercover does help her move into the young adult role category.
The film's premise that she is a street-smart, tough-as-nails, private eye may be a dramatic leap too far (in truth her character Molly takes photographs for her investigator father, though the opening scene sees her involved in a little action as she has to escape a man she is snapping), but this is just a set-up so she can be approached by an FBI agent (Jeremy Piven, who delivers his exposition dialogue with a straight face and also brings his familiar innate charm) with an offer.
He wants her to go undercover within a college sorority so she can protect one of the college girls who holds some vital information which will be used at a trial where her father is about to turn state's evidence and testify against the mob. It is all rather clumsily set-up, but the main device is to turn gritty biker-chick Molly into a dress-wearing sorority girl (now named Brook) who can fit in with the materialistic sisterhood. Cue an extended section where she gets a full makeover and has to learn the lingo of college life.
There are some mildly amusing fun-and-games as Molly/Brook has to try and get on with her new sorority friends (such as dressing up as a red lobster to sell toys and hanging out at a pyjama/pool party) with Cyrus entering into things with a game enthusiasm. These scenes – so familiar to any regular watchers of college comedies – are gently entertaining and at least allow Cyrus to play on her genuine perky charm and solid sense of comedy timing, but also help to emphasise how plodding the whole crime subplot is.
Kelly Osbourne – daughter of rocker Ozzy and host of E!'s series Fashion Police – makes an unlikely roommate for Cyrus's character (Osbourne, now 28, looks a tad too old to play a college girl), though at least offers some dry cynicism in amongst the pink fluffiness of the other characters. Joshua Bowman (from TV series Revenge) has the thankless role of the sweet student who aims to romance Cyrus, though Megan Park perhaps has the most fun as the super-dumb Cotton.
Production companies: Scarlet Fire Entertainment, Hope Town Entertainment, Exclusive Media
International sales: Exclusive Media, www.exclusivemedia.com
Producers: Tobin Armbrust, Tish Cyrus, Allan Loeb, Steven Pearl, Nigel Sinclair
Executive producers: Rob Cowan, Randy Manis, Andy Mayson, Ari Daniel Pinchot, Matthew Salloway, Jodi Zuckerman Weiner, Guy East
Screenplay: Allan Loeb, Steven Pearl
Cinematography: Denis Lenoir
Editors: Michael Berenbaum, Wendy Greene Bricmont
Production designer: Daniel B Clancy
Music: Stephen Trask
Main cast: Miley Cyrus, Alexis Knapp, Autumn Reeser, Joshua Bowman, Jeremy Piven, Megan Park, Matthew Settle, Kelly Osborne, Eloise Mumford, Lauren McKnight, Mike O'Malley