Dirs. Brian Koppelman, David Levien. US. 2009. 90 min.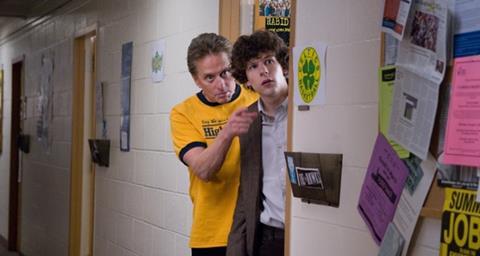 Short of Robert DeNiro, it is hard to think of a current Hollywood star who has gotten more traction out of men behaving badly then Michael Douglas. The world at large has only so much interest in Douglas' homogenous menagerie of sharks and weasels, however, and his stunningly unsympathetic turn as an executive sleazebag in freefall here could squeeze it dry long before Gordon Gekko stages his comeback.
Uncompromising to a fault, Brian Koppelman and David Levien's chilly anatomy of an ageing Casanova labours to be the Lost Weekend of late midlife crisis, and Douglas is nothing if not committed to the cause. Presented with a paucity of reasons to care, however, audiences may well steer clear.
In equal parts Gekko and lecherous Uncle Wayne of Ghosts of Girlfriends Past, Douglas' Ben is spoiling for a comeuppance. A one-time Forbes cover-boy for his auto-dealership empire, Ben is, by his own admission, "a failure in starburst colours" and still stinging from a scam operation that put him in jail, wiped out his fortune and cost him his marriage.
Inching toward 60 and struggling to resurrect his dealership glory, Ben leans on his married daughter (Fischer) and ex-wife (Sarandon) for money to maintain what's left of his former lifestyle and overcompensates for his disempowerment by smooth-talking younger women into bed.
In denial over his dissipating health and clutching on to his lost youth, Ben gets into a fistfight on the campus of his alma mater by day and chums it up with a college crowd by night. The self-destructive tendencies that drive his behaviour are so out of control, you expect at any moment he will produce a thorned club and ask his lovers and family for a beating.
That's more or less what he's doing when he betrays his wealthy girlfriend (Parker) by seducing her teenage daughter (Imogen Poots), or bedding the mother of a kid who attends school with his grandson.
Writer Koppelman and his directing partner Levien hit paydirt together co-scripting Oceans 13, but Solitary Man, with its post-coital conversations amid cool, black-on-white modernist bedrooms is more redolent of their pithier collaboration on Steven Soderbergh's The Girlfriend Experience.
One can admire the self-reflexive candour with which they dissect the sundry fears and insecurities of men past their prime, but they push the mea culpa to the breaking point, making their protagonist into a no-gooder of such whopping proportions that it becomes easy for kindred spirits in the audience to let themselves off the hook.
Danny DeVito makes a few appearances in a sentimental role as a hardworking greasy spoon operator and devoted husband, a role presumably included to show Ben and the audience what being an honest man is all about.
Production company
Millennium Films
Paul Schiff Productions
International Sales
Nu Image
+1 310 388 6900
Producers
Steven Soderbergh
Paul Schiff
Screenplay
Brian Koppelman
Cinematography
Alwin H. Kuchler
Principal cast
Michael Douglas
Mary-Louise Parker
Susan Sarandon
Jenna Fischer
Danny DeVito