Dir/scr: Julius Avery. Australia. 2014. 108mins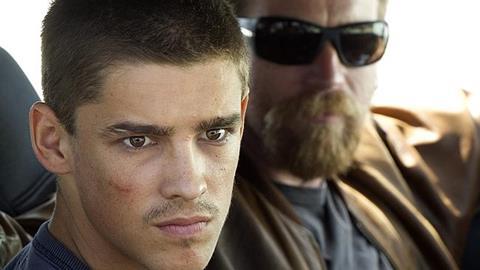 A bushy-bearded Ewan McGregor makes for a charismatically dominant lead as a gnarly master thief who takes a young would-be criminal under his wing in writer/director Julius Avery's nicely staged Australian heist film Son Of A Gun. The film is a little hit-and-miss at times, but when McGregor is front-and-centre it has real energy and you are reminded just what a fine screen performer he is.
While Thwaites' JR is actually the lead character of Son Of A Gun, it is Ewan McGregor who gives the film its real energy and drive.
The film, which had a screening at the London Film Festival and is set to open the US via A24, is familiar in tone as it veers from prison drama to out-and-out heist actioner, but it is thoughtfully made with some slick action moments, brutal violence and some nice performances. The only real let-down is the low-key performance from rising star Alicia Vikander (so impressive in Testament Of Youth) as a glum-faced love-interest Tasha, but that may be the way she is written and directed more than the actress herself.
Avery has great intentions for his script as he tries to combine several movie genres and some chess metaphors, but the film actually works best when it is in kick-ass mode, and with McGregor relishing playing a tough and single-minded thief who is more bike-gang leader than stylish thief.
The film opens in familiar hard-edged prison territory as 19 year-old JR (a rather bland Brenton Thwaites) arrives for a six-month stint. He soon attracts the attention of thuggish inmates who fancy a little quality shower time alone with him, but when he shows his chess skills to long-term inmate Lynch (McGregor) he finds a father/protector. Though this also involves JR linking up with mobsters headed by crime boss Lennox (Jacek Koman) when he is released and being part of plan to break Lynch out of prison.
The newly free Lynch is soon roped into a plan – the obligatory one last caper – to rob a gold mine. The plot is made all the more complicated due to Lennox's scheming and the fact that JR has fallen for Tasha, one of the coterie of women that Lennox keeps on hand. As the film heads towards a nicely complex finale there are double-crossings a-plenty (all quite predictable in truth) as the relationship between Lynch and JR is finally stretched to breaking point.
While Thwaites' JR is actually the lead character of Son Of A Gun, it is Ewan McGregor who gives the film its real energy and drive. Looking more like himself in TV series The Long Way Round (where he motorcycled around the world and sported a similar bushy biker beard in the final sections) than the smooth-faced charmer in recent film, his edgy charm is perfect as a charismatic thief who has learned to protect himself the hard way.
Production companies: Screen Australia, Screen West, Lottery West, Screen NSW, Southern Light Films, Media House Capital, Daydream Prods. Ltd., Hopscotch, Entertainment One, Bridle Path Films, WBMC
International sales: Altitude Film Sales, www.altitudefilment.com
Producer: Timothy White
Executive producers: Aaron L. Gilbert, Clayton Smith, James Dean, John Collee, Michael Spiccia, Aidan O'Bryan, Richard East, Bryce Menzies
Co-executive producers: Margot Hand, Patrick Murray
Cinematography: Nigel Bluck
Editor: Jack Hutchings
Music: Jed Kurzel
Production designer: Fiona Crombie
Main cast: Brenton Thwaites, Ewan McGregor, Alicia Vikander, Jacek Koman, Matt Nable, Tom Budge