Dir: Fatih Akin. Germany-France-Italy. 2009. 99 mins.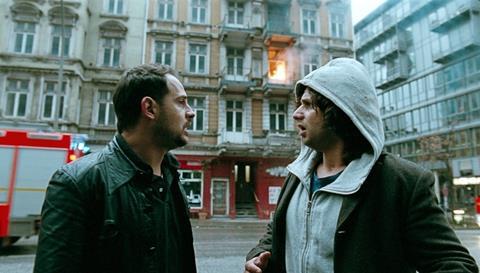 More feelgood than funny, Fatih Akin's Hamburg-set food n' soul music comedy is nevertheless a likeable, peppy between-projects divertissement for the German-Turkish director. Though it suffers from second-act doldrums, Soul Kitchen's real strength lies in the way it updates and puts a new urban spin on the Heimatfilm genre of the 1950s. Instead of an Alpine village we get a Hamburg restaurant, but the alternative family that hangs out here is portrayed with the same good-natured, twinkle-eyed affection, and although there are flat moments the audience sympathy vote never wavers.
The soul-and-funk-backed set pieces are infectious
This said, the old adage about local comedies not travelling could be true here too, as the film's dearth of side-splitting laughs (or at least ones that translate) might dull distributors' appetites for this Hamburger soul food. On home ground, theatrical takings are likely to be far more solid – this could even attract the sort of provincial audience which wouldn't normally turn out for a Fatih feature.
The film centres on Zinos (co-scriptwriter Bousdoukos), a young restaurant owner who is going through a bad patch. His 'Soul Kitchen' diner, housed in a converted warehouse in a run-down part of Hamburg, is ticking over but hardly taking off as Zinos serves fried comfort food to grumpy neighbourhood regulars.
His pretty, posh girlfriend Nadine (Pheline Roggan) is moving to Shanghai; his burglar brother Illias (Bleibtreu), on day leave from prison, wants Zinos to give him a job but doesn't want to work; and to top it all he has just put his back out.
When Shayn (Unel), an intense gypsy cook with nouvelle cuisine tendencies, is drafted in to the kitchen, Zinos' Soul Kitchen loses all its old customers – then gets some new ones (though the mechanism – a bunch of rock fans in for a concert who start clamouring for Shayn's El-Bulli-like creations – stretches credibility).
Meanwhile, shady property developer Thomas (Mohring) is trying to persuade Zinos to sell him the warehouse – which is part occupied by Sokrates (Gokgol), a Turkish boat builder. Meanwhile Illias is taking up with his old partners in crime while falling for feisty waitress Lucia (Bederke).
There's a real verve to the editing here (by longtime Akin collaborator Andrew Bird) that papers over the story's torpor in the overlong middle section. Tonally, there are some wobbles: the pre-redemption gloom spikes the comedy bubble for a while.
But things pick up in the fizzy finale, and the soul-and-funk-backed set pieces – particularly an aphrodisiac party – are infectious. One other very tasty feature are the credits – the end ones in particular, designed in the style of flyers for seventies soul one-nighters.
To sign up for Screen's weekly Reviews Newsletter with all the week's new releases, internationalopenings and full festival reviews delivered free to your mailbox every Friday, please click HERE
Production company
Corazon international
International sales
The Match Factory
+49 221 5397 090
Producers
Fatih Akin
Klaus Maeck
Screenplay
Fatih Akin
Adam Bousdoukos
Cinematography
Rainer Klausmann
Production design
Tamo Kunz
Editor
Andrew Bird
Music supervisors
Klaus Maeck
Pia Hoffmann
Main cast
Adam Bousdoukos
Moritz Bleibtreu
Birol Unel
Anna Bederke
Pheline Roggan
Wotan Wilke Mohring
Demir Gokgol