On the eve of the San Sebastian Film Festival (17-25 September), Chris Evans looks at this year's eclectic line-up, the last before festival director Mikel Olaciregui steps down.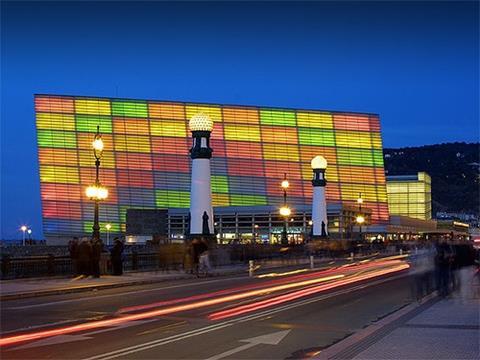 "The organizers of this year's festival have balls bigger than an elephant's with their choices for this year's Official Selection," a leading Spanish distributor confided in ScreenDaily.
Compared with last year's generally more commercial selection which included such titles as Mother And Child, Chloe, Get Low and The Secret In Their Eyes, this year's line-up is certainly a more eclectic mix.The festival opens with Felipe Cazals' Mexican western ChicoGrande, there's a four and a half hour epic from renowned Chilean director Raul Ruiz (Mysteries Of Lisbon), controversial violent Korean film in I Saw The Devil, several small Catalan titles and new works from directors such as Bent Hamer and John Sayles.
But popular festival director Mikel Olaciregui says of his last line-up as director before he steps down: "We pride ourselves on providing an eclectic mix of titles from the small indie art-house level to big commercial projects like Ryan Murphy's Eat Pray Love, starring Julia Roberts. We try to cater to all tastes."
One of the more controversial titles on the list is I Saw The Devil, which director Kim Jee-woon had to cut in order for it to be released in Korea due to its extreme use of violence.
Titles in official selection creating positive buzz ahead of their presence at the festival include the world premieres of Oscar Aibar's The Great Vazquez about Spain's flamboyant 60s cartoonist, and Sophie Heldman's Colours In The Dark, starring Bruno Ganz.
Veteran San Sebastian attendee John Sayles will bring his period drama Amigo set in the American-Philippines war to San Sebastian hoping that his Spanish cast will attract positive interest from local buyers and critics. Sayles says "Among the many wonderful international festivals that have shown our films, San Sebastian is our personal favourite".
Olaciregui also picks out Oscar-nominated Catalan director Carles Bosch's documentary Bicycle, Spoon, Apple about former Catalan president Pasqual Maragall's struggles with alzheimer's as a key title, which he says "is extremely powerful and thought provoking." Plus Juan Galiñanes' Christmas themed animation Holy Night, which is Spain's first film to be made in 3D. According to Olaciregui it provides an "original and funny mix of Christian traditions in Jesus, Mary and the three wise men against Father Christmas and the elves."
Casting a critical eye over the Official Selection titles will be a judging panel chaired by veteran Serbian director Goran Paskaljevic, alongside Argentinian director Pablo Trapero, Oscar nominated Peruvian director Claudia Llosa (The Milk Of Sorrow), Philippine film maker Raya Martin (Independencia, Manila), respected make-up artist Jo Allen (Gladiator, The Sea Inside), actor Jose Coronado (Box 507), and British documentary film maker Lucy Walker, whose film Waste Land picked up the audience awards at both Sundance and Berlin earlier this year.
Outside the Official Selection, the New Directors, Horizontes Latinos and Films In Progress sections always attract interest from the industry due to their reputation for unearthing new talent and films which have gone on to success at the major festivals and at the box office and sold well abroad, such as Sebastian Silva's The Maid, which won more than 20 awards and was nominated for a Golden Globe.
This year's Horizontes section includes several of last year's Films In Progress titles, such as the world premiere of Sebastian Hiriart's Mexican drama A Stone's Throw Away and Natalia Smirnoff's Argentinian-French drama Puzzle.
"We picked up Puzzle last year for France at San Sebastian's Films In Progress section, which is excellent for uncovering exciting new Latin American films," says Alexandre Mallet-Guy, director general of Memento Films.
This year there are seven titles, as opposed to the usual four, which will compete in the Films In Progress section for the completion award money and vie for interest from international producers, financiers and festival directors. The stand out title is Gael Garcia Bernal collaborator Kyzza Terraza's directorial debut The Language Of The Machetes, starring Andres Almeida (Y Tu Mama Tambien).
New Directors boasts eight world premieres from first or second time directors, including Sophie Schoukens' Belgian-German drama Marieke, Marieke about a 20 year old girl who discovers the truth about the death of her father, and Mikel Rueda's Izarren Argia about a mother who loses her son in the Spanish Civil War. There's also the European premiere of Shawn Ku's harrowing drama A Beautiful Boy.
"Obviously the official selection has the higher profile, but there are a lot of buyers who are interested in the New Directors section," says Olaciregui. "In previous years, industry figures have found films which are cheap from relatively unknown directors, which have gone on to perform well and the directors have become well known names."
Notable directors whose first films have screened in the section include Olivier Assayas (Desordre, 1986), Isabel Coixet (Demasiado Viejo Para Morir Joven, 1988), Walter Salles (Terra Estrangeira, 1995), François Ozon (Regarde la mer, 1997), Laurent Cantet (Ressources humaines, 1999), and Lee Daniels (Shadowboxer, 2005).
As for doing business at the festival, there'll be several hundred industry figures in attendance, including key buyers and sellers, such as The Weinstein Company, The Match Factory, Wild Bunch and Fortissimo.
"We've had a lot of films at San Sebastian over the years which have almost always sold to Spain and sometimes to other territories as well," says Nicole Mackey, executive vice president of sales at Fortissimo Films. "It is definitely an A-list festival and everything is always so well organized."
This sentiment is supported by Toni Costa, head of promotions at Sony Spain, who will arrive at the festival with Eat Pray Love in official selection. "San Sebastian is one of the top European festivals and a perfect place to find quality Spanish and Latin American titles, as well as a large contingent of French and Asian films. It is also ideal for finding Spanish buyers for your films and promoting titles to the local audience."
Mikel Olaciregui will be replaced as festival director by current board member Jose Luis Rebordinos from January 1, 2011. In his ten year tenure as director, Olaciregui has overseen a very successful period in the festival's history attracting several A-list stars each year, including Quentin Tarantino and Brad Pitt last year, and a wide range of films to the festival line-up, as well as setting up Films In Progres, which is considered a key part of the festival and attracts top film buyers.
"It is with a heavy heart that I leave my position. I have enjoyed my years with the festival immensely, but I am starting to get a bit tired of all the travelling," says Olaciregui. "However, I will continue in a consulting role for the festival, especially when dealing with the US companies."