Ken Scott, director of sperm donor comedy Starbuck, speaks about the forthcoming US remake and actor Patrick Huard reflects on the success of the original.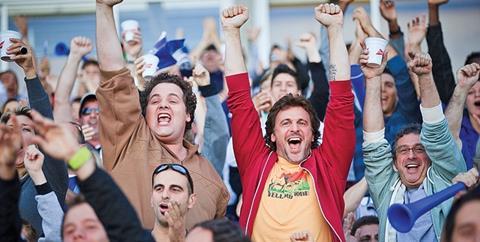 Director Ken Scott and star Patrick Huard's French-Canadian hit Starbuck, about a meat delivery driver and sperm donor who discovers he has fathered 533 children, grossed more than $3.5m in Canada in 2011.
eOne International handled worldwide sales on the festival favourite and eOne Films US opened the comedy in the US on Mar 22.
Scott is in post on the English-language remake for DreamWorks starring Vince Vaughn, which will open through Buena Vista on Oct 4 as The Delivery Man.
Scott and Huard talk to Tyler Pukatch about film, fame and fatherhood.
Working with DreamWorks, were there many changes that had to be made to the script?
Ken Scott: They loved the original. Things really happened gradually, and they loved the movie. We had a few meetings with [Steven Spielberg and DreamWorks], and right away we felt that they wanted to do the same movie as we wanted to do; to do the same remake as we hoped.
Now that the original is coming out here in the United States, we also felt… that there was still room for the story to be told here to the American audience.
So you are confident Americans will like the remake based on audience reaction to Starbuck?
KS: [Starbuck] played well in previews and is coming out now… so we can see how the original movie played for the American audience. We were very fortunate to have [that response] and see that the story would play well with an American audience.
The film has enjoyed tremendous success abroad. How do you feel about the international reception?
KS: Starbuck is very exciting for us… obviously, to be in French, to come out here and to go to France, Japan and China is difficult, especially for a comedy.
Patrick Huard: I was with Ken in Germany when it first started in festivals. To be thousands of miles from home… to hear people laugh, and hear people cry – for me it was absolutely amazing.
What is the message of the film?
KS: I have three kids. It is a great premise to explore what fatherhood is all about. We felt we had a whole lot to say about fatherhood, and fatherhood has changed a lot in the last 10, 15 years. Fathers want to be there more, and we wanted to explore what that was all about.
Patrick, how did you respond to playing the lead?
PH: This guy is a very human character, just so genuine. It's not often you get offered the part. To be able to play with so many actors of so many different [abilities] keeps you on the edge and provides you with great comfort.
When I got the role, my daughter was 14. My new wife wanted to have more kids and even though I was initially against the idea, playing this character helped change my mind.
Next steps
Scott is in post-production on The Delivery Man and has a number of projects in development.
Huard is working on a screenplay connected with the French-Canadian film Good Cop, Bad Cop, in which he starred. He also plans to return to the Quebec stand-up comedy circuit with his one-man show, Happiness (Les Bonheurs).