Dir: David Mackenzie. UK. 2013. 105mins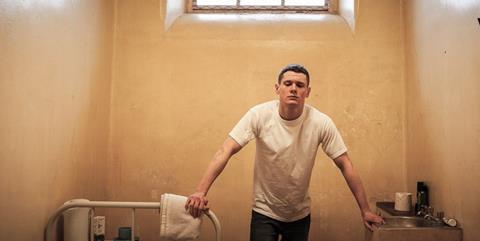 A complex father/son relationship is viewed through a raw depiction of prison life in the riveting Starred Up. Pitched somewhere between Scum and a British version of A Prophet, this is uncompromising in showing a corrupt system designed to punish and subjugate rather than offer any hope of rehabilitation.
Starred Up is a raw, compelling drama that only grows more compelling as it unfolds.
The extreme violence of the situation may deter some audiences but this is the most powerful and assured film of David Mackenzie's career. Critical support and the presence of dynamic rising star Jack O'Connell could also help to make it the most commercial.
Jack O'Connell has some of the arrogant swagger and tightly coiled menace of a young James Cagney as Eric, a teenage young offender who is prematurely moved to an adult jail or " starred up". Aggressive and unpredictable, he is soon armed and dangerous. He has only contempt for the prison authorities and is quite happy to make waves among his fellow inmates.
The other prisoners include Neville (Mendelsohn), the father he has not seen since he was five. A weary, inarticulate veteran of the system, Neville seem uncertain whether to protect his offspring or join in punishing him.
The one alternative father figure who does have Eric's interests at heart is volunteer psychotherapist Oliver (Friend) who runs an anger management/therapy group offering a chance for prisoners to take control of their lives.
Torn between the tribal loyalties of the prison and the slim chance of something better, Eric has the potential to fall victim to all sides as prison kingpins and corrupt officials collude to ensure the smooth running of a system where nobody is allowed to rock the boat.
Shot on location at Crumlin Road Gaol in Belfast and Maze Long Kesh, Lisburn and working from a first screenplay by prison system therapist Jonathan Asser, Starred Up feels totally authentic. The walls seem steeped in the claustrophobia and vulnerability of prison life. It may touch on all the expected ingredients of a prison drama from violence in the showers to showdowns in cells but the familiar ingredients feel fresh thanks to Asser's unique perspective on the situation.
Mackenzie keeps a sustained control of the material and secures some fine performances from his often-unfamiliar ensemble cast. Rupert Friend's edgy, unconventional therapist remains constantly intriguing as his commitment to improving the lives of the prisons goes above and beyond compassion to hint at darker events in his own life.
Ben Mendelshon is convincingly battered and grizzled as a veteran so acclimatised to the system that he has lost sight of any other possibilities or responsibilities. Jack O'Connell is hugely impressive in capturing the physical threat of Eric and the underlying intelligence that makes him so wary of what this world might want from him.
Tightly edited but with the space to breathe and embrace the lives of other inmates, Starred Up is a raw, compelling drama that only grows more compelling as it unfolds.
Production company: Sigma Films
International sales: Independent Film Company www.independentfilmcompamny.com
Producers: Gillian Berrie, Brian Coffey
Executive producers: James Atherton, Jan Pace, Norman Merry, Peter Hampden, Katherine Butler, Sam Lavender, David Mackenzie
Screenplay: Jonathan Asser
Cinematography: Michael McDonough
Editor: Jake Roberts, Nick Emerson
Production designer: Tom McCullagh
Music: Tony Doogan, David Mackenzie
Main cast: Ben Mendelsohn, Jack O'Connell, Rupert Friend, Peter Ferdinand