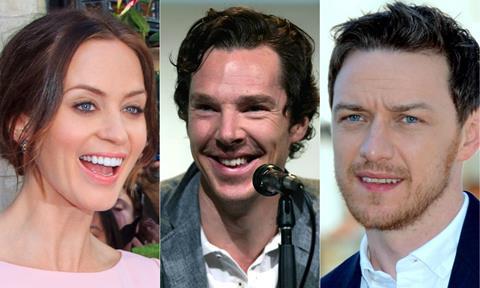 Screen's inaugural Stars of Tomorrow includes some of the biggest names in acting and filmmaking today.
Future Sherlock Holmes, Mary Poppins and Professor Charles Xavier stars – Benedict Cumberbatch, Emily Blunt and James McAvoy – were among the actors selected by Screen in 2004.
The filmmakers have gone on to write, direct or produce more projects both at home and abroad. For example, Phil Traill has gone on the direct episodes of hit sitcoms Fresh Off the Boat and The Middle while Cris Cole has written and executive produced his series Mad Dogs for the UK and the US. The entire list from 2004 is below.
ACTORS
Fraser Ayres
Antonia Bernath
Emily Blunt
Barney Clark
Noel Clarke
Benedict Cumberbatch
Oliver Dimsdale
Rupert Friend
Leo Gregory
Nigel Harman
Jody Latham
James McAvoy
Steven Robertson
Kelly Reilly
Ashley Walters
Michelle Ryan
Sophie Hunter
Anna Maxwell Martin
Maxine Peake
Natalie Press
FILMMAKERS
Andrea Arnold, writer-director
Alicia Duffy, writer-director
Simon Ellis, writer-director
Shan Khan, writer-director
Dan Reed, writer-director
Ben Miller, writer-director
Chris Shepherd, writer-director
Phil Traill, writer-director
Paul Whittington, writer-director
David Morrissey, director
Yousaf Ali Khan, director
Brian Kelly, director
Morag McKinnon, director
Michael Baig-Clifford, director
Matthew Thompson, director
Sam Walker, director
Stef Penney, writer
Avie Luthra, writer
Kate Gartside, writer
Cris Cole, writer
Esther Douglas and Fiona Neilson, producers
Rebekah Gilbertson, producers
Alex O'Neal, producers
Lachlan MacKinnon, producers
Stella Nwimo, producers
Tora Young, producers
Miranda Robinson, producers
Adrian Sturges, producers
COLLABORATORS
Jacqueline Abrahams, production designer
Richard Chester, composer
Lisa Hall and Stuart Biddlecombe, production designer and cinematographer
Jonathan Goldstein, composer
Jason Watts, flame Artist
Martin Swann, editor
Nanu Segal, cinematographer
Matthew Smith, prosthetic make-up artist
GERMAN STARS OF TOMORROW 2004
ACTORS
Stripe Erceg
Sibel Kekilli
Wotan Wilke Moehring
Denis Moschitto
Johanna Wokalek
Matthias Schweighoefer
Jana Pallaske
FILMMAKERS
Christian Alvart, writer-director
Marcus Mittermeier, actor-director
Thomas Wendrich, actor-director-writer
Jan-Henrik Stahlberg, actor-director-writer
Hans Steinbichler, director