The director of Philomena, The Queen and new release Florence Foster-Jenkins spoke to NFTS students.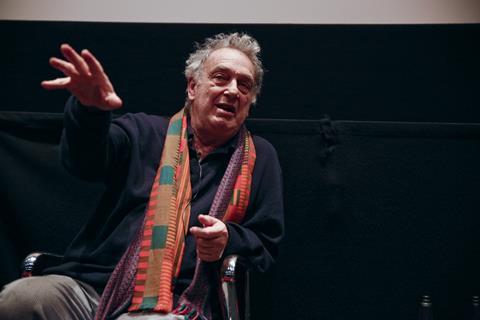 British director Stephen Frears delivered a masterclass for students of the National Film and Television School (NFTS) this week.
Sandra Hebron, NFTS head of screen arts, hosted the event and introduced the award-winning filmmaker with clips from his films The Queen, Philomena and The Program.
Asked what sparks his interest when considering new material, Fears said it was "very seldom a conscious choice; people come with stories and I like them. I like jokes, good writing and variety."
He emphasised how important good writing is and how he has worked with great writers throughout his career, advising the students to spend time with writers during the shooting process as you can "learn what they were thinking".
Frears latest feature, Florence Foster Jenkins, came in the post and he immediately liked it, thinking it was "jolly good, let's do this!"
Three days later, he had secured Meryl Streep and Hugh Grant for the starring roles. As part of the process, he watched clips of the US socialite and amateur operatic soprano, which he found both "ridiculous and heart-breaking".
He reflected on how some thought his 2013 film Philomena was a risk because Steve Coogan had not tackled an acting role to that level previously. But Frears "had a hunch Steve would be great".
The filmmaker, a NFTS David Lean Fellow in directing fiction, went on to express how he appreciates good acting as well as good writing and how much he has enjoyed working with such a range of actors from Glenn Close to Judi Dench.
Returning to Florence Foster Jenkins, Frears said Liverpool was a better location to shoot New York than New York itself.
"Four streets in Liverpool are made with the same granite as Manhattan so it's easy to get the right look," he stated and extolled the benefits of hiring "clever people" including VFX and CGI specialists.
Frears told students that - even as a high profile director - there is a need to "discover your strengths and stop worrying about what you can't do. If I don't know how to make it work, I'll hire someone who can and I'll supervise it. You can't do everything."
Speaking about directing material based on true stories, Frears added that he was "on the side of imagination", using the example of Philomena who goes to America in the film, although this did not happen in real life.
Frears felt that this strengthened the film, allowing the relationship between Philomena and Martin to build and recalled the quote from Butch Cassidy and The Sundance Kid, which he also featured at the beginning of his 2003 political drama The Deal: "Most of what follows is true."