Dir: Simon West. US. 2012. 96mins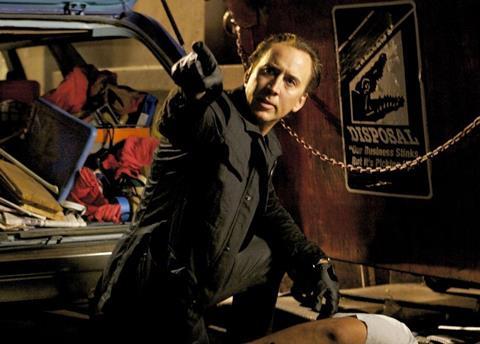 Despite only having a limited US theatrical run late last year that barely created a box office ripple, there is an awful lot of old-fashioned B-movie fun to be had with Stolen, which sees the always-active Nicolas Cage teamed with British director Simon West for the first time since their blockbuster 1997 action hit Con Air. The whole 'father must save kidnapped daughter' plot may echo too clearly with Taken, but the film has a strong cast and well-staged action to make it more than watchable.
There is no denying that Stolen is slickly made, moves at cracking pace and is interspersed with smooth action moments.
After an international roll-out release that started in September last year, the film ambled onto UK screens – without any press screenings and appearing in only one West End cinema – but fills an action void, and with a nicely catchy tagline ("12 Hours. $10 million. 1 kidnapped daughter") it will likely find a modest audience prior to a speedy home entertainment release.
The story itself is very by-the-numbers and familiar to anyone who has watched any action-orientated father-and-daughter film/tv series in recent years. Bank robber Will "Gum" Montgomery (Cage), who after being cornered with $10,000,000 from a heist, burns the money.
When he is released eight years later with the intention of going straight (they all say that) and sorting out his relationship with his estranged daughter, Alison (Sami Gayle), things get a little complex when his angry, shaggy-haired, former partner Vincent (Josh Lucas) returns, wanting his share of the money.
Vincent poses as New Orleans cab driver, kidnaps Alison, leaving Gum to desperately search the city – because the police and FBI won't help, apparently because he has a criminal record - for his daughter before it's too late.
There is a niggling sense that Cage is going through the motions with his familiar action-man routine – and his mission to get his daughter back seems just that, a 'mission', rather than something based on love, a persona that Liam Neeson managed to much batter in the original Taken – but he still has his moments, and even gets to talk Swedish to fool eavesdroppers.
Josh Lucas (rather underused these days) gets to play the loopy, scarred, straggly haired, 'driven mad by revenge' psycho role, and has a degree of over-the-top fun, while Malin Akerman (as Riley, the other member of the bank robbery team, now gone straight and running a bar largely frequented by cops) is sadly given little to do. The same for Sami Gayle as Gum's estranged daughter, who is largely there as a plot device.
But there is no denying that Stolen is slickly made, moves at a cracking pace and is interspersed with smooth action moments. The sight of Cage clutching a gigantic stuffed toy for his daughter recalls his classic line in Con Air ("put the bunny back in the box…"), and while David Guggenheim's script is something of a clichéd shocker, as a rollicking DVD B-movie offering Stolen is something of a guilty pleasure.
Production companies: Nu Boyana Film Studios, Simon West Productions, Wonderland Sound and Vision
International sales: Millennium Films, www.millenniumfilms.com
Producers: Rene Besson, Matthew Joynes, Jesse Kennedy
Executive producers: Danny Dimbort, Kristina Dubin, Cassian Elwes, Avi Lerner, McG, Job Polhemus, Trevor Short, John Thompson, Mary Viola
Screenplay: David Guggenheim
Cinematography: Jim Whitaker
Editor: Glen Scantlebury
Production designer: Jaymes Hinkle
Music: Mark Isham
Website: www.stolen-movie.com
Main cast: Nicolas Cage, Malin Akerman, Josh Lucas, Danny Huston, Sami Gayle, Edrick Browne, Mark Valley, M.C. Gainey