Dir: Brad Anderson. US. 2014. 112mins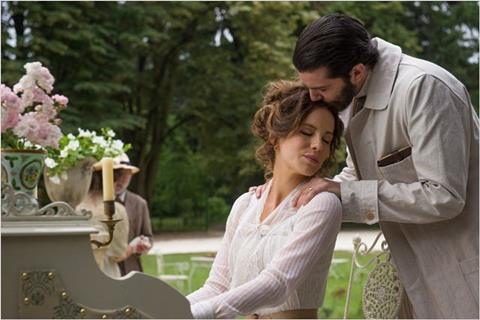 A full-blooded historical gothic horror film cast with distinguished actors who perfectly judge how far over the top they need to go, Brad Anderson's Stonehearst Asylum (previously known as Eliza Graves) is an elaboration on Edgar Allan Poe's bitter, satirical short story The System of Dr Tarr and Professor Fether.
Kingsley evokes both Vincent Price and Donald Pleasence as the charismatic, cracked Lamb, while Beckinsale makes for a strong-willed gothic heroine.
In late 1899, Edward Newgate (Jim Sturgess) – a young, newly qualified doctor – arrives at Stonehearst Asylum, which is located in a desolate part of Scotland (played by Bulgaria), to take up a position under the visionary Dr Lamb (Ben Kingsley). It soon becomes apparent that the real director of the asylum, Dr Salt (Michael Caine), has been deposed by one of his patients and is kept locked up in the basement with the rest of his staff while the inmates – who range from harmless to murderous – have taken over the running of the place.
The story was a mainstay of the famously gruesome Theatre du Grand-Guignol, and has been adapted for the screen many times since Maurice Tourneur's Le Systeme du Dr Goudron et Professor Plume (1913) – in versions ranging from gruesome schlock (S.F. Brownrigg's Don't Look In The Basement) to experimental art movie (Jan Svankmajer's Lunacy) with several art-horror mutations in between (Juan Lopez Moctezuma's Mansion Of Madness).
Screenwriter Joe Gangemi (Wind Chill) adds fresh twists and characters to the brief sketch – with a developing mystery about the hero's interest in patient Eliza Graves (Kate Beckinsale), who is confined after defending herself against a rich, cruel husband – but unusually picks up on Poe's original point that the lunatics generally do a more humane job of caring for their fellows than the doctors did.
The worst horrors, like a primitive electro-shock device, are carried over from the old regime rather than introduced by the maniacs, and Dr Lamb's notionally insane methods are at least initially successful in treating hopeless cases.
Kingsley evokes both Vincent Price and Donald Pleasence – and, indeed, his own performance in Martin Scorsese's Shutter Island – as the charismatic, cracked Lamb, while Beckinsale makes for a strong-willed gothic heroine, Sturgess makes a great deal of the traditionally thankless young hero role and there are credible turns from David Thewlis as a Bill Sikes-type character and Brendan Gleeson, Jason Flemyng and Sinead Cusack as 19th century alienists.
Among the lunatics, Sophie Kennedy Clark is impressive as a waif who has got fed up with playing nurse and imposingly tall Guillaume Delaunay establishes his horror film monster credentials as the gigantic 'ogre of Uxbridge'.
Poe is not often remembered as a comic writer, but he was among the first to use black humour for satiric purposes – and this perfectly matches his tone, with weirdly comical bits and pieces among the tortures, gothic settings, historical footnotes (the script mentions the use of heroin as a treatment for hysteria and that homosexuality was once considered a mental illness on a par with pyromania) and satisfying mystery. Devotees of Roger Corman's Poe films will relish the fact that there's a large fire at the end, though this has a much more complex and intriguing payoff.
Production companies: Icon Productions, Sobini Films
Producers: Mark Amin, Bruce Davey, Mel Gibson
Executive producers: Rene Busson, Christa Campbell, Mark Gill, Lati Grobman, David Higgins, Avi Lerner, Cami Winikoff
Screenplay: Joe Gangemi, based on the short story by Edgar Allan Poe
Cinematography: Tom Yatsko
Editor: Brian Gates
Production designer: Alain Bainee
Music: John Debney
Main cast: Kate Beckinsale, Jim Sturgess, David Thewlis, Brendan Gleeson, Ben Kingsley, Michael Caine, Jason Flemyng, Sophie Kennedy Clark, Sinead Cusack