The first part of a trilogy from Israeli film-maker Yaron Shani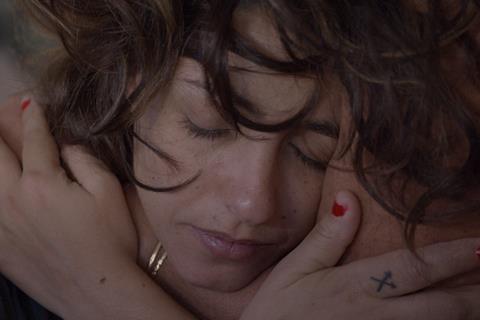 Dir. Yaron Shani. Israel/Germany. 2018. 120 mins
In Israeli drama Stripped, characters are exactly that – both physically and spiritually naked, although this raw drama of intense emotion eventually proves rather more contrived than expected. This Tel Aviv-set story of two souls in interlocked torment is the first part of a planned 'Love Trilogy' by writer-director Yaron Shani – previously known for Israel's 2009 Academy Awards entry Ajami, co-directed with Scandar Copti. In fact, Stripped (Erom) is less concerned with love per se than with desire, fear, deceit, and assorted social and sexual dysfunctions of the digital age, which apply globally as much as they do specifically to the arty middle-class Israeli milieu depicted here.
Viewers will either crack a satisfied smile or feel utterly taken for a ride
Superb performances and a boldly devious way with narrative should tweak interest on the festival circuit and in niche markets.
Stripped initially focuses on one character – Alice (Laliv Sivan), a young artist, teacher and aspiring film-maker who has just published her first book, a sexually-themed novel that is already a hit in Europe. When the film opens, she's waking from a troubled, seemingly drugged sleep in the apartment she shares with her three dogs; soon after, her promotional appearances are disrupted by a series of panic attacks partly triggered by TV news about a rapist in her area.
As Alice's condition grows worse, she locks herself indoors, and it takes the intervention of a devoted friend to help her back to the world (the film is strong on visual and sonic evocation of the opposition between inside and outside spaces).
Seemingly unconnected is the story of a teenage boy named Ziv (Bar Gottfried) – although we later discover he is Alice's neighbour. A highly talented classical guitarist, Ziv has his hopes set on enlisting in the army with an Outstanding Musician award, but meanwhile has trouble dealing with his feelings for the opposite sex. An extremely poignant scene shows him missing the point, no doubt disingenuously, when an attractive classmate makes tentative advances to him.
The two stories come together when Alice – in what seems like an outrageous coincidence – calls Ziv out of the blue, as he's been suggested as a possible interviewee for her documentary about young men and the army. The film then follows the two characters on their separate paths – Alice hanging out with a group of supportive women, while Ziv, on the eve of enlisting, joins friends for an excruciating all-male party, with female company bought in for the night.
Nudity and sexual content are upfront, although Shani digitally blurs key body parts, and sometimes faces, as well as occasional clips of on-screen pornography – by way of refusing to sexually objectify his actors, but also drawing attention to the sexual alienation that Ziv's generation of porn-using males is subject to. The film is sometimes complex, sometimes fairly familiar in its diagnosis of contemporary female fears and male inadequacies, the latter theme especially tied in with the question of the military ethic in Israel – making Stripped rather more of a political analysis than it might at first seem.
While the film appears midway to lose its impetus and get bogged down in ensemble psychodrama, Shani is actually exercising more control than he lets on. Certainly, strong acting and a seemingly impromptu sense of reality are vital. Shani's approach to using his predominantly non-professional cast is to blur the boundaries between actor and role (for example, Gottfried plays Ziv's guitar pieces with virtuoso skill), and cast members were required to immerse themselves in their characters' lives for over a year, the length of the chronological shoot.
Without a doubt, the actors – and not just the leads - embrace their characters, and their vulnerabilities, with sometimes startling, self-exposing courage. Viewers will either crack a satisfied smile or feel utterly taken for a ride when Shani finally shows his hand as a crafty manipulator of a narrative that's less linear than we expect. Either way, Stripped raises curiosity for the rest of the trilogy, which on this showing, could turn out as troubling and intricate as any tri-partite art-house project since Kieslowski.
Production companies: Black Sheep Film Productions, The Post Republic, Electric Sheep
International sales: Celluloid Dreams, info@celluloid-dreams.com
Producers: Saar Yogev, Naomi Levari
Screenplay: Yaron Shani
Cinematography: Shai Skiff, Nizan Lotem
Editor: Yaron Shani
Production designer: Yoav Sinai
Main cast: Laliv Sivan, Bar Gottfried, Elad Shniderman, Reni Halabi