British comedy horror films launches tasty teaser poster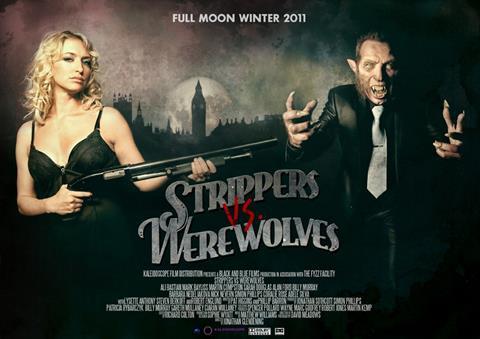 The tastily titled British comedy horror film Strippers vs Werewolves will be hotly anticipated by exploitation fans (the only announced release date is 'Full Moon Winter 2011'), but it might also be of interest to pop fans tracking the career of Spandau Ballet musician Martin Kemp, who happens to be playing a werewolf.
In fact, the freshly released new poster artwork features a suit-and-tie wearing Martin Kemp (playing strip-club punter Mickey) as a confused – rather than scary – looking werewolf being threatened with a shotgun by stripper Danni (played by Ali Bastian).
The film centres around a London strip-club called Vixens, with a cast including Martin Compston, Robert Englund, Sarah Douglas, Alan Ford, Adele Silva, Billy Murray, Barbara Nedeljekova and Lucy Pinder. It is directed by Jonathan Glendenning (who made horror film 13 Hrs) and produced by Jonathan Sothcott and Simon Phillips.