Dir/scr: Richard Ayoade. UK. 2010. 94mins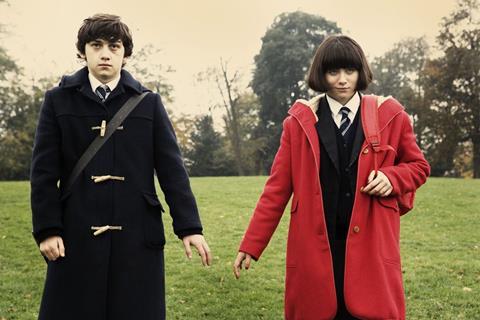 The familiar growing pains of a neurotic adolescent are recounted with verve and cinematic sleight of hand in Submarine, a promising directorial venture from British comedy writer/performer Richard Ayoade. Fitfully amusing and eager to please, the film has more of an idiosyncratic indie vibe than a mainstream flavour but should perform adequately on Ayoade's home territory where a new wave of British comics have been attempting to translate their television renown into the cinema arena with varying degrees of commercial success (In The Loop, Four Lions, Cemetery Junction, Lesbian Vampire Killers etc).
Ayoade relishes the opportunity to show his command of cinematic grammar, deploying freeze frames, slow-motion and iris-in shots for effect.
The absence of exploitable star names or cutting edge elements might limit the appeal of the film that starts to flag in its closing stages. A popular performer in British television stalwarts like The IT Show, Ayoade has directed music videos for Vampire Weekend, Arctic Monkeys and Kasabian. All aspects of his career can be seen to have some influence on a dramatic feature debut that has soulful sequences strongly reminiscent of music videos and a sensibility that seems hungry to deliver a barrage of punchlines.
Ayoade has also adapted Joe Dunthorne's 2006 debut novel and retained a very literary feel, structuring the story around a prologue, epilogue and three parts as well as making extensive use of voice-over narration to capture the sensibility of 15 year-old Oliver Tate (Craig Roberts).
A cowardly, misunderstood misfit of a teenager in what we assume to be 1980s Wales, Oliver is a less obviously likable incarnation of a figure with antecedents in countless films from Gregory's Girl to Rushmore. Pasty-faced, angst ridden and unlike any of his classmates, he views the world through the delusional eyes of a latterday Billy Liar, allowing Ayoade to stage a number of fantasy sequences including the huge outpouring of public grief that Oliver imagines being unleashed by his premature death.
The heart of the film is Oliver's burgeoning relationship with the sullen Jordana (Yasmin Paige), an aggressively unromantic pyromaniac. Their unusual approach to first love runs parallel with Oliver's concerted attempts to save the marriage of his parents Lloyd (Noah Taylor) and Jill (Sally Hawkins) that appears to be on the rocks after the return of Jill's long ago boyfriend Graham, a New Age psychic.
Graham is played by a game, mullet-sporting Paddy Considine although the character feels underdeveloped and doesn't make the impact that might have been expected from Considine.
Ayoade relishes the opportunity to show his command of cinematic grammar, deploying freeze frames, slow-motion and iris-in shots for effect. He delivers a number of belly laughs but the unvarying search for comedy pay-offs grows wearisome and the film seems less surefooted in addressing the serious aspects of Oliver's sardonic character and the events that befall him.
Production companies: Warp Films, Film 4, UK Film Council
International sales: Protagonist Pictures, www.protagonistpictures.com
Producers: Andy Stebbing, Mark Herbert, Mary Burke
Executive producer: Ben Stiller
Cinematography: Erik Wilson
Production designer: Gary Williamson
Editors: Nick Fenton, Chris Dickens
Music: Andrew Hewitt
Main cast: Craig Roberts, Yasmin Paige, Noah Taylor, Paddy Considine, Sally Hawkins