Dir/scr: Richard Gray. Aust. 2010. 108 mins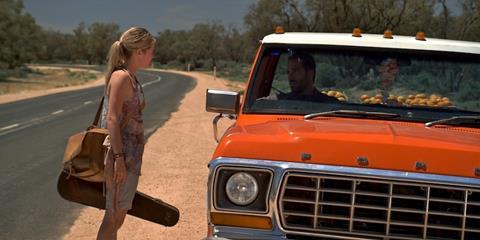 Director/writer Richard Gray's debut feature, which premiered at the Melbourne International Film Festival, is visually rich but dramatically undernourished. A story of repressed emotions and hidden motives played mainly in a beautiful orange-growing district of country Victoria, the edgy central relationship develops at a stately pace that will challenge this romantic drama's natural 20s/30s audience. Independently made, it gets a local release on Oct 21.
Against blue skies, the richly green trees drip with huge orange fruit.
Heidi (Rachael Taylor) is a fiercely independent young violinist living in Reno, Nevada. On learning of the death of the father she hasn't seen since she left Australia with her mother at the age of seven, she impulsively decides to attend his funeral back in scenically beautiful Mildura on the banks of the River Murray. Off the plane and soon out of cash, she hitches lifts along the long inland highway and so meets Michael (Alex Dimitriades, Head On), the handsome, distant owner of a vast orchard fortunately near her destination. Both are prickly and wary, trapped in their unhappy back stories: we wait (and wait) for them to take advantage of new beginnings.
A great deal depends on the intensity and intelligent beauty of Taylor (Bottle Shock, Shutter) who is hardly off-screen, and she is excellent: even her violin playing convinces.
There's a fine violin-led score from Alies Sluiter. Greg de Marigny's camerawork is classy, in particular the harvesting scenes: against blue skies, the richly green trees drip with huge orange fruit. But patience is required as the romance of the principal fruit-pickers gradually ripens.
Production company: Revival Film Company
Aust/NZ sales: Jump Street Films, Sharmill Films
International sales: TBA
Producers: John Finemore, Marc Goldenfein, Richard Gray
Executive producers: James Hoppe, Bryce Menzies, Natalie Miller
Cinematography: Greg de Marigny
Editor: Gary Woodyard
Production designer: Emma Fletcher
Music: Alies Sluiter
Website: www.summercoda.com
Main cast: Rachael Taylor, Alex Dimitriades, Daniel Frederiksen, Cassandra Magrath, Nathan Phillips, Angus Sampson, Susie Porter