Acclaimed Serbian actress Mirjana Karanovic discusses the inspiration for her directorial debut about a woman who discovers her husband's war crimes.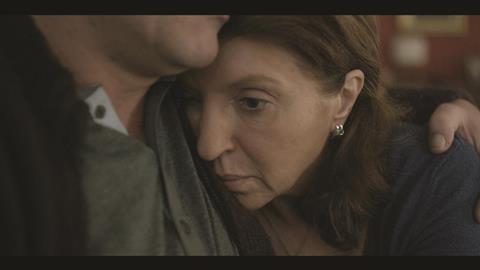 Belgrade-born actress Mirjana Karanovic is best known on the international stage for her widely-acclaimed performance in Jasmila Zbanic's 2006 Berlin Golden Bear winner Grbavica - Esma's Story.
However, Karanovic boasted an impressive resume long before then, acting in theatre, TV and film including both of Emir Kusturica's Palme d'Or winners When Father Was Away On Business and Underground.
Karanovic, an outspoken human rights activist, now brings her directorial debut, in which she also stars, to Sundance's world dramatic competition, where it debuted last night (Jan 25).
The co-production between Serbia's This&That Production, Croatia's Nukleus Film, and Zbanic's Bosnian production outfit Deblokada, tells the story of a middle-aged mother who makes two shocking discoveries at the same time: cancer, and a VHS recording in which her husband is implicated in potential war crimes.
Films Boutique handles international sales.
Why did you decide to direct this film?
The idea of the tape is based on a real VHS tape from a Serbian paramilitary formation that surfaced after the war in Bosnia. I wrote a treatment of the story and then I approached [writer-director] Stevan Filipovic [with whom Karanovic collaborated on this year's Pula Film Festival winner Next To Me] to help, especially with the male characters.
Then we started fundraising. The project took part in Sarajevo's CineLink, but I still didn't have a clear idea that I would direct it. A few months before the shooting I realized I couldn't hide behind the roles of actress and screenwriter and expect that someone would direct it like a string puppet of mine.
So, after about a month of clearing the script with [writer-director] Darko Lungulov (Here And There), which helped immensely, I was ready to shoot with DoP Erol Zubcevic (An Episode In The Life Of An Iron Picker). It was a huge relief.
The story is very close to your interests and activism but the film is also about a woman who is very different to you…
I didn't want to burden the story with my own beliefs and create some kind of manifesto of my values. I was interested in a person who always tries hard to be neutral, not to have her own beliefs, someone who does not want to think or question, and believes that happiness in life is in a kind of stability.
[Lead character] Milena is a decent human being, a kind person. In a way, she is a metaphor for Serbia. It is a country full of decent people, who stood by silently and thus enabled those who have no trouble with morals or scruples to achieve their goals. But I didn't want any ideology to be at the forefront of the film, because essentially it's a story of a human dilemma.
However, the cast is composed of actors who have played in very politically resonant films, which chime with your beliefs, such as Boris Isakovic and Hristina Popovic both from Circles) and Jasna Djuricic and Isidora Simjonovic (both from Clip).
When casting for this kind of a project, you have to find actors who understand and feel the meaning of the story and its social background, and share its viewpoint. It is not a rich, polished production where they'd only have to be professional and do their roles. Here it is crucial that they can identify with the story and take an active part in creating the characters.
Boris Isakovic is the only Balkan actor of his generation who has the quality and strength of a great actor, and who also looks like a charming, kind person. These qualities and his talent and experience made it clear to me that he is the actor who can embody and bring this character to life.
It is the same with Jasna Djuricic. She is such a fantastic actress, unparalleled and incomparable here in the Balkan region.
How would you compare the experiences of directing and being directed?
I didn't have any problems with juggling these different roles, which was a surprise. Maybe that's because on this production I had all the time that I needed. It was really a delight to work on a film as a whole, to think about the big picture and how to get there. I had no problem with myself as an actress during the whole process.
Putting myself in the mental position of the director made it much easier to control the actress in me. The actress was fine, she wasn't over-occupied with herself or her character. There was no anxiety or nervousness because the director in me was feeling very stable and confident.
How do you expect local and international audiences to receive the film?
I imagine the reception from local audiences will vary from complete denial and hostility from the right-wing to very emotional reactions of sensitive and artistic people, to simple dismissal as 'yet another film about the consequences of war'.
I'm not expecting big box office theatrically - I don't think it can be very competitive in the regional market. I expect more people to see it on TV. It should work well at festivals, and we were very lucky to get into Sundance's competition. I think the audiences there will understand the film and enjoy it.