Dir: Carlos Machado Quintela. Cuba-Venezuela. 2012. 66 mins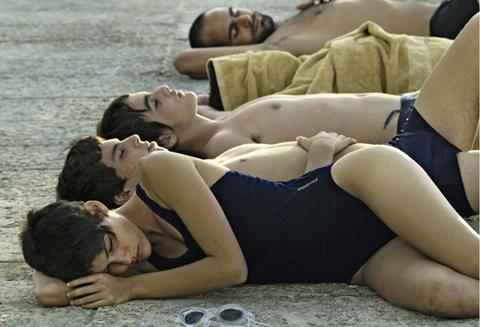 Realism in a dreamy minimalist register is the stylistic key of The Swimming Pool - a visually distinctive Cuban piece that also has an economical tender way with character. At just over an hour, Carlos Machado Quintela's painterly debut feature may strike some viewers as neither fish nor fowl – not quite a full-fledged narrative feature, and arguably bordering on a short stretched beyond its natural length.
With its unsentimental, no-big-deal attitude to its disabled characters, The Swimming Pool achieves an impressive register of intimacy.
In part, The Swimming Pool feels closer to gallery video than to conventional narrative cinema. But overall, this is a hypnotic and atmospheric showcase for a quietly charismatic cast and for the director's very individual aesthetic. Commercial prospects are minimal, but festivals with an experimental slant will welcome it, and events with a Latin American or disability focus should put it high on their must-check list.
Squeezing a single day into a concise frame, The Swimming Pool is nevertheless bigger on empty time than on event proper. It begins early in the morning, with taciturn swimming coach Esteban (Capote) preparing an open-air pool for the day. One by one, the four teenage members of his swimming class arrive and get changed, all four differently disabled. Characterful, confident Diana (Molinet) is missing one leg; Rodrigo (Garcia) has difficulty walking; Dani (Costa) has Down's syndrome; and while not physically disabled, Oscar, aka Oski (Martinez) has apparently not spoken for ages.
We see Esteban put the class through its paces; then follow the small group as they take a cheerful, laid-back refreshment break while a large able-bodied school group has a stint at the pool; see them sheltering from the occasional downpour; then follow them through a relaxed afternoon back at the pool till they head home in the evening. A couple of other adults drop by on the briefest visits.
In short, very little happens, and dialogue – with a largely improvised feel – is spare. But we feel we get to know these people, largely through the way they look at, or casually interact with each other. Attractive Diana knows that the boys' eyes are on her, with shy Rodrigo clearly drawn to her in a way that she enjoys; meanwhile, ebullient Dani is under the impression that he and Diana are an item. Sullen, silent Oscar is more of a mystery, with the others sometimes aggressively ribbing him about his mutism - although there's clearly deep mutual fondness among this surrogate family group.
As for Esteban, himself a former swimming champ, we know next to nothing about this man of few words, but that makes Capote's moody presence all the more intriguing.
While there's horseplay between lengths, the group seem to spend as much time perched contemplatively on the poolside as they do actually training. Often, whether they're still or in motion, the characters seem more like figures in compositions.
The film is magnificently shot by Raul Rodriguez, its widescreen tending to emphasise horizontals and empty expanses of sky (the pool is right by a sometimes just-visible sea), although diagonals and overhead shots bring variation throughout. We also get tight close-ups of the actors and their moods, ranging from pensive to exuberantly mirthful.
With its unsentimental, no-big-deal attitude to its disabled characters, The Swimming Pool achieves an impressive register of intimacy. Sergio Fernandez's complex sound design – catching wind, water and the rustling of nearby trees – is as beautifully textured as the visuals, enhancing a gently rewarding immersive experience.
Production companies: ICAIC, Alter Producciones Audiovisuales
International sales: M-Appeal, www.m-appeal.com
Producers: Camilo Vives, Delfina Catala, Isabel Prendes, Sebastian Barriuso
Screenplay: Abel Arcos
Cinematography: Raúl Rodríguez
Editor: Alfredo Hueck
Production designer: Carlos Urdanivia
Main cast: Raúl Capote, Mónica Molinet, Felipe García, Carlos Javier Martínez, Marcos Costa