Dir: Laura Bispuri. Italy-Switzerland-Germany-Albania-Kosovo. 2015. 90mins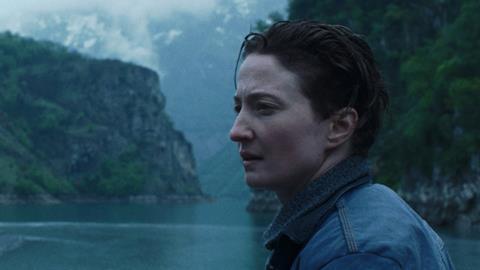 This first-time feature by Roman director Laura Bispuri about a young Albanian woman who has sworn eternal virginity and taken on manly ways and garb in order to escape being married off places a lot of responsibility on the shoulders of go-to Italian arthouse actress Alba Rohrwacher. She responds by turning in a magnetic performance, but despite this and the director's skill at creating emotional resonance out of small things, it's not quite enough to stop the story from feeling a little undercooked.
Shot in intimate handheld style, Sworn Virgin is at least in part a film about transitions.
Well-received at its Berlinale competition premiere, this is nevertheless a small film for patient audiences that even in its main co-production territory, Italy (where Rohrwacher has a certain cachet) should expect only a modest arthouse run. Elsewhere, it may pick up a few deals, though its narrative reticence may prove too testing for many potential distributors.
It seems to be winter pretty much year-round in the remote Albanian mountain fastness where the film opens: even in later flashbacks, there's always snow on the ground. This is a harsh place of hardscrabble rural ways, where gun-toting shepherds live in wooden cabins and where, when a girl is married off, the father presents the groom with a bullet, to be used if she should start playing up. Dressed in men's clothes, her every gesture, gait and posture oozing maleness, Rohrwacher's character is nevertheless clearly a woman.
It's no surprise, when she travels to some unnamed Italian city and back into the life of her adoptive sister Lila (Khodeli), that the latter should introduce her to her teenage daughter Jonida (Ferratello) as 'Uncle Mark', but less clear why Jonida (who is entirely Italianised) should go along with the pretence even for a second. In this, as in its tendency to create tension simply by having 'Mark' stay silent when asked why she left Albania, the script puts artsy effect before character credibility.
Finely edited, the film adopts a see-saw cadence as it switches between past and present. Through flashbacks, we learn that 'Mark' is really Hana, a young girl who was adopted by Lila's parents after the death of her own. As the two grow, the rebellious Hana refuses to conform to the submissive role expected of women in this intensely male-controlled society, and is eventually allowed the only option open to women other than marriage: becoming a 'sworn virgin', living alone and renouncing sex forever. Back in the city and the present, Hana/Mark gets a night watchman's job in an underground carpark and spends her days accompanying Jonida to her synchronised swimming practice at a nearby pool, where she catches the eye of muscular pool attendant Bernhard (Eidinger), who seems to be attracted to this fragile, androgynous nether-creature.
Shot in intimate handheld style, Sworn Virgin is at least in part a film about transitions – between an ancient pastoral culture and the confusing modern city where all the rules need to be relearned, if they exist at all, between womanhood and manhood, dry land and water, Albanian and Italian.
It's also a women's film, in which the sisterly support of Lila (a fine performance by Khodeli) and, eventually, of the initially scornful Jonida, are an essential part of Hana's discovery of the feelings and the femininity she has repressed for so long. This is one area where the script's reticence becomes a virtue: there's no sudden lipstick-and-pretty-dress transformation, just a slow thaw that is managed as much through allusion as it is through drama: as in a scene where Bernhard slowly rolls up one of the pool's lane dividers, or, in flashback, when Lila elopes during a trip to the seashore, a place of transition, of freedom and danger, while Hana remains alone on the beach.
Production companies: Vivo Film, Colorado Film Productions, Bord Cadre, Match Factory Production, Era Film
International sales: The Match Factory, info@matchfactory.de
Producers: Marta Donzelli, Gregoria Paonessa
Screenplay: Francesca Manieri, Laura Bispuri, based on the book by Elvira Dones
Cinematography: Vladan Radovic
Editor: Carlotta Cristiani, Jacopo Quadri
Production designer: Ilaria Sadun, Tim Pannen
Music: Nando Di Cosimo
Main cast: Alba Rohrwacher, Flonja Khodeli, Lars Eidinger, Luan Jaha, Bruno Shllaku, Ilire Celaj, Drenica Selimaj, Dajana Selimaj, Emily Ferratello