Dir: Stephen Fung. Hong Kong China. 2012. 95mins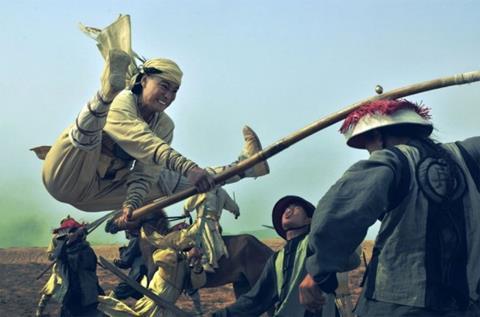 Big, bold and glossy and blending comic-book style effects with martial arts mayhem - and with a little steampunk aesthetic thrown in for good measure – Stephen Fung's enjoyably off-the-wall action film is a real guilty pleasure big screen experience and despite more than a few mis-steps really does deliver.
The film is littered with playful and often mischievous cinematic quirks.
Tai Chi Zero sensibly never takes itself (or its genre) overly seriously and is simply there to deliver special effects driven kinetic martial arts action. And deliver it does.
The film, directed by actor-turned-director Stephen Fung (Gen-X Cops), screened out of competition at Venice (the festival always likes to throw in a wild and crazy martial arts film into its mix, last year it was the probably more bonkers The Sorcerer And The White Snake), is intended to be the first in a trilogy that details – extremely loosely – the story of Yang Luchan, the inventor of Tai Chi.
The film opens – in familiar martial arts epic style – on the battlefield, where the focus is Lu Chuan (Yuan Xiaochao), known since he was born as 'The Freak' due to the fact he was born with an small horn-like bump on the side of his head that when hit turns him into a martial arts demon for a brief time, but leaves him drained and increasingly ill.
Advised that he needs to find training on a form of inner kung fu, he seeks out the remote Chen village and a master to teach him. But the villagers forbid teaching their style of martial arts to outsiders, and repeatedly fight him off. He has several run-ins with the beautiful Yuniang (Angelababy, whose real name is Angela Yeung Wing), who is the granddaughter of the master, who seems to have vanished from the village.
Things are doubly complicated due to the arrival of Yuniang's long time fiancé (Eddie Peng), whose has studied in London and now wears Western clothes and is working with the rail company to deliver a railroad through the village.
Unsurprisingly the locals aren't too thrilled about the arrival of the railroad – just like in any Western that has used a similar storyline – and reject his plans. He is a man with a mission, though, and arrives back at the village inside a massive steam-belching, iron-plated, machine that trundles towards the village laying train track in its wake, and guarded by a squad of gun-toting soldiers.
It is a wonderfully styled bit is Victorian steampunk construction (rather reminiscent of the contraptions in Wild, Wild West, but in a good way), and naturally acts as a plot device for Lu Chuan - who is being advised by a mysterious local 'labourer' (Tony Leung Ka-fai) – to try and save the village and also win-over Yuniang.
The film is littered with playful and often mischievous cinematic quirks – ranging from usual slo-mo and wire work through to filters and a silent film homage – though most odd are part-animated sequences that refer to video games and scores (in a similar fashion to Scott Pilgrim vs The World) and a unique way of introducing new characters – when they make their first screen appearance there is a caption (and an arrow pointing to them) detailing their cast name, along with actor's real name and what they might be best known for…whether it be a martial arts champion from a specific year, or in the case of the cameo by Infernal Affairs' director Andrew Lau, a caption simply explaining he is 'Andrew Lau, director of Infernal Affairs'.
The cinematography and production design are excellent, though despite its freewheeling nature Tai Chi 0 is not without its faults. Some of the dialogue is overly stilted and Yuan Xiaochao tends to act with enthusiasm rather than technique, plus a romance subplot between Eddie Peng's character and a British woman (his equal at the railroad company and attired similarly in manly Western clothes) never convinces, and for some reason is fumblingly performed in English.
The film ends with essentially a trailer – or at least a series of extracts – for sequel Tai Chi Hero, which hints at further training for Lu Chuan at the (by the look of it) increasingly tender hands of Yuniang, and plenty of action scenes, with actor Peter Stormare to be spotted briefly in amongst the new cast members.
Production companies: Diversion Pictures Ltd., Huayi Brothers Media Corporation
International sales: Huayi Brothers International, www.hbpictures.com
Screenplay: Cheng Hsaio-tse, Jialu Zhang
Cinematography: Ngor Chi-kwan, Lai Yiu-fai, Du Jie
Editors: Cheng Hsiao-tse, Matthew Hui, Zhang Jialu, Zhang Weili
Production designer: Yip Kam-tiam
Music: Katsunori Ishida
Main cast: Yuan Xiaochao, Angelababy, Eddie Peng, Tony Leung Ka-fai, William Feng, Shu Qi, Feng Shaofeng