Dirs: Byron Howard and Nathan Greno. US. 2010. 100mins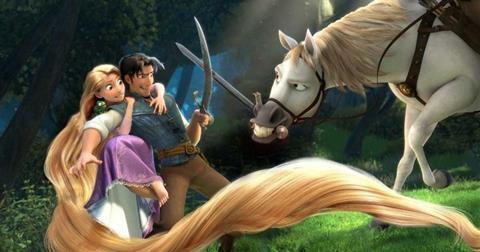 An appropriately commingled sense of classic sentimentality and contemporary, gender-equal romance and adventure meet in Tangled, an engaging updating of the Grimm brothers' Rapunzel fairytale that represents Walt Disney Studios' 50th animated feature. Amidst the backdrop of a slate of much more forcibly lively animated fare, this well-rendered throwback underscores the still existent pleasures of traditional storytelling.
Tangled's 3D presentation makes smart use of not just depth, but also stirring low-angle shots.
Given the somewhat disappointing commercial returns of The Princess And The Frog, which last year in the same frame grossed only $104 million domestically, Disney will likely play down the story's fairytale roots and try to play up its swashbuckling quotient. Positive word-of-mouth and 3D presentations should help power solid box office, though the material trends more toward family audiences and away from cross-generational appeal.
A five-minute prologue establishes the magical healing and anti-aging properties of a flower born from a single drop of the sun, and its transference to a baby princess. Covetous of its power, an older woman kidnaps said baby. Now a naïve teenager approaching her 18th birthday, Rapunzel (Mandy Moore) lives locked away deep in the forest with the woman she believes to be her mother, Gothel (Donna Murphy). Her flowing, blonde, 21-metre locks serve as Gothel's elevator to the outside world.
When a rakish bandit, Flynn Rider (Zachary Levi), stumbles across and takes refuge in their tower, a frightened Rapunzel takes him captive. She then senses an opportunity to sate her restlessness by making Flynn take her to see the mysterious lantern lights which show up in the night sky every year on her birthday. Off they set on an adventurous quest, with Gothel in tow, as well as various parties who are trying to capture Flynn.
Directors Byron Howard and Nathan Greno deftly juggle and for the most part succeed in giving credence to Rapunzel's wide-eyed point-of-view while also making sure Flynn, who actually provides the movie's sparse narration, is a strong, relatable character. Dan Fogelman's solidly structured script is more about intensity of feeling and immediacy of plotting than wringing humor out of Rapunzel's first interactions with the outside world.
The film's classic roots are evident not merely in the nature of its source material, but also in its use of music and animals. Pascal, a chameleon, serves as Rapunzel's friend, while palace horse Maximus takes the search for Flynn extremely personal. Neither animal speaks, but the movie gets laughs out of their very expressive behavior.
Meanwhile, composer Alan Menken's sparkling, compressed songs allow for rich emoting between Rapunzel and Gothel. They sparkle while never quite spinning off into the sort of full-fledged ensemble numbers that could dominate or overwhelm the story.
Tangled's 3D presentation makes smart use of not just depth, but also stirring low-angle shots. Most rapturous are a dam-bursting escape sequence, and Flynn and Rapunzel's boat ride under thousands of candle-powered floating lanterns.
The vocal performances are also uniformly engaging. Most notably, Moore communicates Rapunzel's journey, from youthful excitability to wistfulness and, eventually, betrayal, at learning of Gothel's true nature.
Production companies: Walt Disney Animation Studios
Domestic distribution: Walt Disney Pictures, www.disney.go.com
Producer: Roy Conli
Executive producers: John Lasseter, Glen Keane
Screenplay: Dan Fogelman, based on the fairytale by Jacob and Wilhelm Grimm
Editor: Tim Mertens
Production designer: Douglas Rogers
Art director: David Goetz
Music: Alan Menken, with lyrics by Glenn Slater
Visual effects supervisor: Steve Goldberg
Website: www.disney.go.com/Tangled
Main voice cast: Mandy Moore, Zachary Levi, Donna Murphy, Ron Perlman, M.C. Gainey, Jeffrey Tambor, Brad Garrett, Paul F. Tompkins