Dir: Q. India-Belgium. 2012. 114mins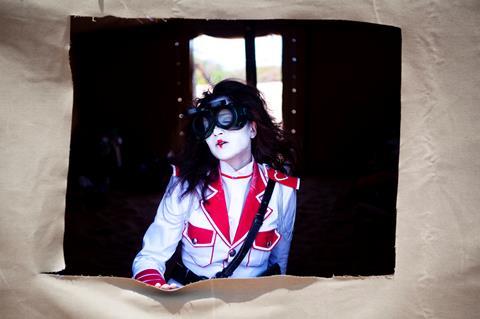 A vibrant and freewheeling exercise in cinematic style and challenging images, maverick Indian filmmaker Q delivers a kinetic and often mesmerising film that is strong on visuals though lacks a narrative core that will make it accessible to audiences. Q's controversial film Gandu, which screened in Berlin in 2011, has featured heavily on the festival circuit and Tasher Desh (Land Of Cards) will likely follow a similar route, though may also intrigue art minded distributors.
Tasher Desh is a bold and colourful fairytale, driven more by its style and music than any narrative qualities.
Tasher Desh is an adaptation of Rabindranath Tagore's dance drama (though Q has described his film as "Tagore on an acid trip") which does tend to mean that from a starting point the dramatic thrust of the film was broad and based on themes and ideas rather than dialogue. The film, which premiered at the Rome Film Festival, was shot in 25 days on the beaches of Sri Lanka and a series of ruins in Bengal.
There is no denying that Q (real name Kaushik Mukherjee, who tends to prefer his actors to be credited first name only in credit blocks) has a sure visual sense, and shoots beautifully in both bold colour and atmospheric black-and-white. At times the staccato editing, split-screen shots and over-use of hand-held cameras tends to make watching Tasher Desh an uneven experience as if he is constantly trying to stitch together a series of stunning visuals rather than constructing a drama.
But there is no denying that some of those visuals – which would work as well as art installations – linger in the mind. The dialogue amounts as a series of pronouncements rather than anything that works in a real formal arc, and some of the scenes are overly edited, but the soundtrack is driving and exciting, the performances sound and – as with Gandu – the subtitling is bold and thoughtfully constructed.
The film opens in black-and-white, following a storyteller (Joyraj Bhattacharjee) who wanders around Kolkata and asks if Land Of Cards has been staged recently. At an empty railway station at night-time he talks to trains and in his mind he starts to tell the story of Tasher Desh, with his vision unfolding colourfully.
The film then interweaves between the storyteller and his story, which follows a bored prince (Soumyak Kanti de Biswas) who has been banished with his mother (Tillotama Shome) to a distant prison palace. He is bored – his introduction sees him playing ping-pong with his best friend – and wants to 'fly', to escape his dark prison, where he describes himself as a 'prince of facades'.
His friend invokes the Oracle (model Tinu Verghese), who passes on a message of liberation, and with his friend the prince heads off on a journey with his friend. They relish their time on a beautiful sandy beach, but soon discover they are actually in the Land of Cards, and are captured armed forces (soldiers representing a pack of cards, dressed in white or red uniforms and with the card symbols – clubs, diamonds, hearts and spades – painted on their lips) who are not happy with their newfound sense of freedom.
The prince helps bring a sense of revolution to the Land of Cards, with soldiers gradually wiping the white paint off their faces, taking off their uniforms, frolicking on the beach and engaging in a little mild gay and lesbian flirtation. The cards/soldiers are initially devoid of emotion, but the prince instils a sense of new opportunities and gradually their human qualities start to emerge.
Tasher Desh is a bold and colourful fairytale, driven more by its style and music than any narrative qualities. It lacks the controversial sexuality that brought so much attention to Gandu, but it is visually striking, bold and energetic and confirms Q as a talent to continue to follow.
Production companies: Overdose Joint, NFDC, Anurag Kashyap Films, Dream Digital Inc., Entre Chien & Loup
International sales: Overdose Joint, http://overdosejoint.in
Producers: Celine Loop, Q, Anurag Kashyap, Nina Lath Gupta, Guneet Monga, Dipankar 'Jojo' Chaki, Benoit Roland
Executive producers: Vikramjit Roy, Tanaji Dasgupta
Screenplay: Surojit Sen, Q, based on the dance drama by Rabindranath Tagore
Cinematography: Manu Dacosse
Editor: Nikon
Production designers: Opashona Ghosh, Devika Dave
Main cast: Joyraj Bhattacharjee, Rii Sen, Soumyak Kanti de Biswas, Anubrata Basu, Tinu Verghese, Tilotama Shome, Maya Tideman, Immaduddin Shah, Sikaan de Rouge, Christina Britto, Roxanne Hauseur, Arijit Dutta