Dir: Emanuele Crialese. Italy-France. 2011. 93mins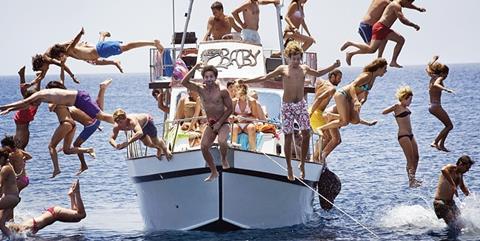 Perhaps the most remarkable thing about Emanuele Crialese's small but powerful new feature, set against the background of the influx of African boat people on the tiny Italian islands of Lampedusa and Linosa, is extra-textual: the fact that Timnit T, who plays an illegal immigrant woman given reluctant refuge by an island family, was one of only five survivors of a boatload of 70 immigrants that washed up on Lampedusa while the director was working on the treatment for the film.
Though there's nothing here to compare with the painterly symbolic tableaux of Golden Door, the director does indulge in some dreamlike underwater views.
The fact that Terraferma itself makes no mileage out of this is credit to Crialese, but it's all of a piece with his unfussy approach, which is simply to tell a strong story in a way which, though it occasionally comes across as a little naïf in its liberal simplification of the issue, wins through thanks to a Ken-Loach-like combination of heart-on-sleeve commitment and elegantly succinct dramatic structure.
That said, and despite its universal subject, Terraferma feels like a more local product than the director's last, the transatlantic emigration fable Golden Door. Its commercial trajectory will probably be similar to that of Respiro (2002) – also set on Lampedusa – with a wide arthouse release on home ground followed by more limited action elsewhere.
Lampedusa and its neighbour Linosa (where most of the film was shot) are rugged, volcanic islands that once eked out a living from fishing and subsidies from Rome, and now live off tourism, the servicing of transit camps, and subsidies from Brussels.
It's the dying fishing industry that provides the set-up: Filippo Pucillo, a Lampedusan resident who first acted for Crialese in Respiro, plays Filippo, a 20-year-old islander who helps his grandfather Ernesto (Sicilian puppeteer Mimmo Cuticchio) man one of the island's last active fishing boats, which Filippo's widowed mum Giulietta (daughter of Ernesto) would like to see broken up in return for the substantial EU decommissioning money. Filippo's uncle Nino (Giuseppe Fiorello) is a beach bar owner who takes boatloads of tourists out for party cruises – which for him is the future of the island.
Giulietta decides to rent out the small apartment she shares with her son to summer visitors to make some extra money, and the family move into the garage next door. Meanwhile, Filippo and his grandfather come across a drifting boatload of African immigrants while out on a fishing run. Though grandpa Ernesto duly alerts the coastguards, he also goes against official instructions by taking on board a group of immigrants who jumped into the sea from the boat – including Sara (Timnit T.), a pregnant Ethiopian woman with a young son.
Back on shore, Sara gives birth in the garage, and Giulietta is reluctantly persuaded to shelter mother, son and baby for a few days. Filippo, meanwhile, is bonding awkwardly with modern, uninhibited city girl Maura (Codecasa) who has rented the apartment next door with two boyfriends.
Much is made (some of it in a lightly comic vein) of the paradox of an island where poverty, hardship, suffering and death coexist with the beach-fun antics of the summer leisure industry. But Crialese is careful not to push this into sensationalism: when a group of half-dead Africans make land near Nino's beach bar, the bikini-clad bathers do rush to help, with only one pausing to take a photo on his mobile phone.
It's the authorities that come in for more stick, with the self-important, rule-bound coastguard who sequesters Ernesto's boat standing in for an immigration policy that refuses to let sailors apply the humanitarian 'rule of the sea' by taking drifting refugees on board.
The cast is mostly strong, and the no-frills script is good at airing tensions without pushing them - like Giulietta's gentle hints to her not too bright son that his companionship may not be enough for her in the long term.
Terrafermais shot in deep, saturated colours that bring out all the harsh majesty of the islands' volcanic landscape, and accompanied by a wistful soundtrack that underlines the film's message by fusing Sicilian and African influences. Though there's nothing here to compare with the painterly symbolic tableaux of Golden Door, the director does indulge in some dreamlike underwater views, and one closing aerial shot, that remind us that boats can ferry souls to better lives, or to the afterlife.
Production companies: Cattleya, Rai Cinema
Co-production: Babe Films, France 2 Cinema
Italian distribution: 01 Distribution
International sales: Elle Driver, www.elledriver.eu
Producers: Riccardo Tozzi, Giovanni Stabilini, Marco Chimenz
Executive producer: Gina Gardini
Screenplay: Emanuele Crialese, Vittorio Moroni
Cinematography: Fabio Cianchetti
Editor: Simona Paggi
Production designer: Paolo Bonfini
Music: Franco Piersanti
Main cast: Filippo Pucillo, Donatella Finocchiaro, Mimmo Cuticchio, Giuseppe Fiorello, Timnit T., Martina Codecasa