With distribution outfits in three key territories, an international sales arm and an active production programme, StudioCanal is fulfilling its ambition to be a true European studio. CEO Olivier Courson talks to Mike Goodridge.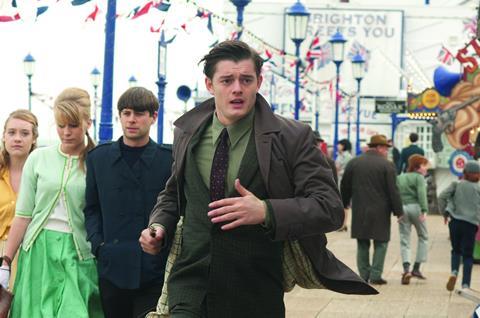 When Olivier Courson took over as chief executive officer of StudioCanal in March 2007, he inherited "a French company with a great library".
His strategy, he says, was to transform it into a European studio. Studio­Canal, or Le Studio Canal Plus as it had once been known, had always been involved in co-financing and producing international films ― it famously pumped millions into Carolco, New Regency and Bel Air among other Hollywood companies, as well as Working Title Films ― but the primary intent was to supply its French distribution outlets.
"We were a European company financing US producers," he explains. "We are very happy with the Carolco library now but at the time it was a very painful experience from a financial point of view. The idea now is to distribute at the source in the three main countries in Europe ― France, UK and Germany ― and be the European leader in Europe."
"We are not in the co-financing business. We are not equity financiers. We are looking for distribution rights."

Olivier Courson, StudioCanal
The company's French distribution outfit (also named StudioCanal) is run by former UIP and Paramount France chief Camille Trumer; in the UK, Will Clarke is CEO of Optimum Releasing, the thriving independent which StudioCanal bought in early 2006; and in Germany, former local Disney chief Wolfgang Braun heads Kinowelt, the distributor bought by StudioCanal in January 2008.
"These territories and Benelux [where StudioCanal distributes through local partners] represent something like two thirds of the European market, and we want to be at the source theatrically, for home entertainment, TV sales and new media," says Courson, who joined Groupe Canal Plus in 2003 as general counsel.
To feed its distribution outlets and its international sales unit under Harold van Lier, the company has an ambitious production and acquisition policy which operates on both a local and international level.
Production priorities
Before discussing production, Courson is keen to dispel the myth StudioCanal is obliged to invest in French film and co-productions because of its relationship with pay-TV giant Canal Plus. "We're completely separate from Canal Plus right now," he explains. "It's very important to know that, while we were a subsidiary at the beginning, we are now just cousin companies both owned by Groupe Canal Plus. We don't even have the same shareholders."
While the pay-TV service obviously buys the films StudioCanal buys and produces, "they have to pay for the movies at market prices", according to Courson. "What we get from Canal Plus [in movie acquisitions] is less than 5% of our turnover.
"We're self-financed partly through the library which provides half the revenue. We finance all our production ourselves to the tune of $200m-$270m [€150m-€200m] per year. We look for equity to bring more money in and use that as leverage to finance further production."
So on a local level in France, StudioCanal only invests in productions which "are interesting for us to do".
Courson adds: "We look at French production with certain principles. Big in terms of ambition is not necessarily big in terms of budget. We don't like to invest $35m [€25m] in a French comedy because French talent is very expensive these days."
"We're not centralised like a Hollywood studio and there's a lot of autonomy on a local level."

Olivier Courson
Key on the 2010 slate are Bertrand Tavernier's $20.2m (€15m) 16th-century romance The Princess Of Montpensier and Outlaws, Rachid Bouchareb's follow-up to Days Of Glory (Indigenes). "We think there's a real international potential for these French movies which are universal in certain aspects," Courson says.
Meanwhile Optimum has begun its own local production with a new 1960s-set version of Graham Greene's Brighton Rock (pictured), directed by Rowan Joffe and starring Helen Mirren and Sam Riley, and Joe Cornish's Attack The Block, in which a gang of teenagers battle alien invaders on a London council estate. A German production programme is set to follow.
Ron Halpern is executive vice-president of international production and acquisitions while Leonard Glowinski is in charge of French and European co-productions and acquisitions. "We're not centralised like a Hollywood studio and there's a lot of autonomy on a local level," says Courson, "but there is also a very strong co-ordination and we talk to each other about the productions all the time. Ron takes the lead on some projects, Will on others, Leonard on others, and I'm very involved as well in this field."
Naturally, production works with distribution and sales at the outset of each project. "We talk to distribution at the idea stage," says Halpern, "to see if they get the project, to see if there's a market for it and make sure we're not trying to come up with ideas distribution doesn't want."
The US connection
Outside the territories, StudioCanal still looks to US partnerships but on a different level than before. There are two types of international ­picture: first the company will fully finance a modestly budgeted genre movie such as the Eli Roth-produced The Last Exorcism (pictured) handle distribution in it territories and sales elsewhere and close a US deal itself (as with Lionsgate on the Roth film).
Alternatively, on bigger budget films StudioCanal will partner with a US producer and studio from the outset, as it did with Neal Moritz and New Line/Warner Bros on the Escape From New York remake or with Moritz and possibly Sony on Cliffhanger 2.
StudioCanal will have distribution in all Europe on the former and probably handle international sales on the latter. The company has several projects in development with Moritz and with Gary Barber and Roger Birnbaum's Spyglass Entertainment.
In terms of acquisitions, the company has downscaled its co-financing deal with Working Title, which was originally 50/50, to a smaller-scale investment in return for French and Benelux rights on most of its films. It has an alliance with Philippe Rousselet's Vendome Pictures for its movies in the UK and the first two (Source Code and Larry Crowne) in the UK and ­Germany.
It has a deal with Joel Silver's Dark Castle Entertainment for France, UK and Benelux that includes Liam Neeson-starrer Unknown White Male, and negotiated France, UK and Germany on The Tourist, a remake of the 2005 StudioCanal film Anthony Zimmer being produced by GK Films and Spyglass. Johnny Depp and Angelina Jolie are starring in the film, which is directed by Florian Henckel Von Donnersmarck.
"I've learned it's very important to be at the source in distribution and that you can get synergies from exploitation not just in one territory but in several."

Olivier Courson
"We are not in the co-financing business," asserts Courson. "We are not equity financiers. We are looking for distribution rights."
There are also films emerging from farther afield. The company has a development and production deal in place with Walter Salles' VideoFilmes in Brazil kicking off with Sergio Machado's The Two Deaths Of Quincas Wateryell and has films in development in Korea with Park Chan-wook and Kim Ji-woon.
"These films can qualify as European and so you will see us structuring more complex co-productions with Brazil, Korea and so on," he says.
So in building a European studio, what has Courson learned from the Hollywood studio model?
"I've learned it's very important to be at the source in distribution and that you can get synergies from exploitation not just in one territory but in several. Also that you need to control your product to feed your distribution. That doesn't mean you have to necessarily produce yourself but you have to have strong relationships with producers and talent.
"But we do things differently to the US majors. We don't have a centralised organisation and it's not business by business where theatrical and home entertainment and production are separated. We are organised by country and the manager of each country supervises all the activities so they ensure there are good synergies between their divisions."
There is plenty more to achieve. Courson says he is working on pay-TV deals in the UK and Germany to match its advantageous French situation. But to achieve that, building a powerful product line for each territory is key. "We're quite happy with three territories," he says. "We could add one more maybe but that's not the priority at the moment. The main focus today is production."