Dir: John Luessenhop. US. 2013. 91mins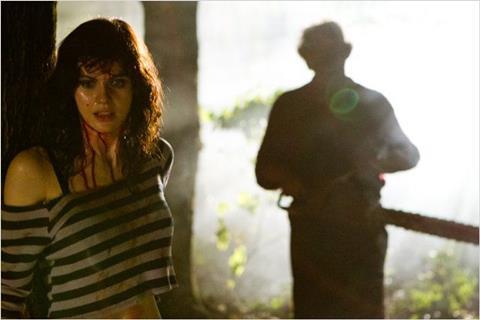 More than 35 years after The Texas Chain Saw Massacre, there remains something wholly terrifying about the image of a hulking, masked man chasing his prey with a chainsaw. Unfortunately, the return of that iconic horror nemesis isn't enough to power Texas Chainsaw 3D, a sequel to the 1974 original that takes a few narrative twists but mostly is a run-of-the-mill slasher heavy on gore but light on brains.
Texas Chainsaw 3D isn't just missing part of the original's title — it's also lacking its power to horrify.
Opening January 4 in the US and UK, this Lionsgate offering is hoping that audiences will be ready for another Chainsaw film nine years after New Line resurrected the franchise with a reboot that grossed $107m worldwide. (A 2006 prequel made about half as much.) With no stars to boost interest, Texas Chainsaw 3D will rely on audience familiarity with the brand and the fact that there aren't any other horror movies in the marketplace.
Of late, January has proved to be a decent launching pad for fright flicks — The Devil Inside scared up $101m across the globe last year — and inflated ticket prices for 3D screenings should help Chainsaw's bottom line.
This new film opens with a few quick highlights from Tobe Hooper's 1974 original, establishing the character of Leatherface, a chainsaw-wielding psychopath who terrorised a group of friends with his cannibal family, the Sawyers. Texas Chainsaw 3D shows how the Sawyers were all killed by a vengeful mob, save for an infant daughter who, years later, grows up to be Heather (Alexandra Daddario), who has no idea she was adopted until she receives paperwork indicating that her grandmother has died, leaving her a beautiful Texas mansion.
Traveling to see the property with her boyfriend (Tremaine 'Trey Songz' Neverson), her friend (Tania Raymonde) and her friend's new crush (Keram Malicki-Sanchez), Heather quickly discovers that a dangerous presence resides in the basement of the property.
Texas Chainsaw 3D was directed by John Luessenhop, who displayed a flashy swagger with his last film, the 2010 crime-thriller Takers. Once again, Luessenhop conjures up a decent amount of atmosphere, giving the Southern settings a sweaty pungency, but his horror set pieces tend to be unimaginative, grisly variations on typical Saw-style slasher sleekness. (There is one nice bit, however, involving our heroes trying to escape Leatherface, who's played by Dan Yeager, in a van that won't seem to start.)
Despite a generally tense atmosphere throughout, the film repeatedly flatlines thanks to some particularly boneheaded choices on the characters' part. Even horror-film novices will immediately realise that Heather and her friends' decision to pick up a charming hitchhiker is ill-advised, just as it's achingly frustrating that after Heather is told the importance of reading a letter left behind by her dead grandmother, she promptly ignores the direction, bringing about immediate repercussions.
There actually has been some thought put into Texas Chainsaw 3D, which wants to be a commentary on revenge and the unshakable bonds of family, but the film's higher aspirations tend to be undercut by a slavish devotion to genre clichés. (For instance, all of Leatherface's victims are impossibly hunky or gorgeous young things who have considerable trouble finding clothing that completely covers their fetching figures.)
Acting isn't a strong suit of such films, but Daddario is competent as the imperilled Heather, and she certainly leaves more of an impression than her generic companions. Nonetheless, this is a movie that's very much haunted by its source material, whether it's in the form of Gunnar Hansen, who played the original Leatherface and has a cameo in the new film, or in its usage of footage from the 1974 Texas Chain Saw Massacre.
Even after all this time, the primal, stripped-down carnage of the original film still carries a shock. This new film tries to provide some surprises, specifically in the way it adds more character dimensions to Leatherface, but Texas Chainsaw 3D isn't just missing part of the original's title — it's also lacking its power to horrify.
Production companies: Millennium Films, Main Line Pictures
Domestic distribution: Lionsgate, www.lionsgate.com
Producer: Carl Mazzocone
Executive producers: Robert Kuhn, Kim Henkel, Rene Besson, Christa Campbell, Lati Grobman, Danny Dimbort, John Thompson, Trevor Short, Tobe Hooper, Michael Paseornek, Jason Constantine, Eda Kowan, Avi Lerner, Mark Burg
Screenplay: Adam Marcus & Debra Sullivan and Kirsten Elms, story by Stephen Susco and Adam Marcus & Debra Sullivan, based on characters created by Kim Henkel and Tobe Hooper
Cinematography: Anastas Michos
Editor: Randy Bricker
Production designer: William A. Elliott
Music: John Frizzell
Website: www.texaschainsaw3d.com
Cast: Alexandra Daddario, Dan Yeager, Tremaine 'Trey Songz' Neverson, Tania Raymonde, Keram Malicki-Sanchez, Thom Barry, Paul Rae, Bill Moseley, Gunnar Hansen