Dir: Sean Anders. US. 2012. 116mins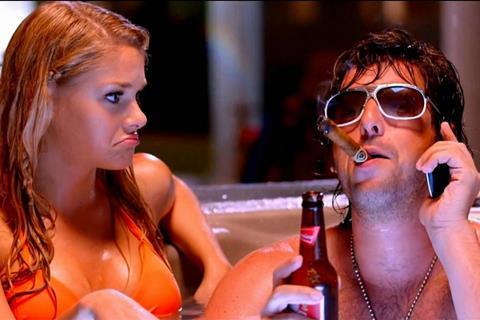 The gleeful, stunted-maturity idiocy at the heart of Adam Sandler's Billy Madison and Happy Gilmore and Andy Samberg's Hot Rod is the target at which That's My Boy, their new comedic collaboration, is aiming. Unfortunately, if a wild, anything-can-happen philosophy permeated those delightfully warped offerings, the same thick, indolent haze of self-satisfaction that characterised 2010's Grown Ups, Sandler's previous latter-day nadir, is manifest here, in a laboriously programmed vulgar comedy of air-quote outrageousness.
Many of That's My Boy's comedic targets (immigrant housekeepers, an obese stripper) feel wanly selected to merely provoke outrage.
Still, no matter the overwhelming critical darts headed its way, box office prospects for That's My Boy (previously titled I Hate My Dad) seem undeniably strong, given the ceaselessly profitable track record (and strong international drawing power) of Sandler's mainstream comedy collaborations with distributor Sony. Longtime Sandler fans happy to see him back in R-rated form, and more in line with his willfully filthy comedy CDs, may be even more forgiving of the movie's shortcomings.
The film opens in 1984, when a cocky Massachusetts teenager, Donny Berger, wins the, ahem, inappropriate attentions of his teacher, Mary McGarricle (Eva Amurri Martino). It then spins forward to the present day, positing, via an opening credits montage, that Donny (Sandler) has parlayed his high-five statutory rape victimhood into a kind of tawdry demi-celebrity, wherein he became best friends with Vanilla Ice (playing himself).
The now-adult product of this illicit liaison, né Han Solo but having changed his name to Todd (Andy Samberg), is set to wed fiancée Jamie (Leighton Meester) at the home of his boss (Tony Orlando), and has lied to everyone about his upbringing, claiming his parents are both dead. When Donny, in a financial pinch over unpaid back taxes, shows up hoping to convince his estranged son to visit his still-imprisoned mother, in order to cash in via a clandestinely arranged television special, antics and attempted cover-up ensue.
The impulse to pair Saturday Night Live veterans Sandler and Samberg is a commercial no-brainer, and the idea of making the 45-year-old Sandler an irresponsible father to Samberg, 33, is not uninspired. In fact, it offers up rich avenues of humorous contrast. That's My Boy chooses to methodically ignore most of those, however.
Like a broken clock that's right twice a day, the film throws so many jokes at the screen that occasionally — in its dogged commitment to Donny's arrested sense of style and humor, say — some stick. Still, the vulgarity present in the first produced script of screenwriter David Caspe (ABC's Happy Endings) is free-form rather than rooted in character, and seeing former child star Todd Bridges pantomime his past drug troubles isn't particularly funny, it's wince-inducing.
When it's not indulging in nostalgic masturbation, many of That's My Boy's comedic targets (immigrant housekeepers, an obese stripper) feel wanly selected to merely provoke outrage. In a more grounded comedy, one of the movie's big third act twists might come across as truly audacious. Here, it just seems desperate, another way to shruggingly advance the story.
Director Sean Anders, who in 2008's Sex Drive delivered as fun, lived-in and casually assured a teen sex comedy as since the original American Pie, here serves as a pace-master and little more. There's no frisky independent personality to this tale, only an inexorable slog from set piece to set piece, and scenes written to seemingly fold in as many friendly cameos as possible. In a sign of Sandler's Hollywood power, not only does the movie cycle through the usual two dozen-plus, '80s-heavy musical cues, but when Donny and Vanilla Ice make a final mad dash to break up Todd and Jamie's nuptials, there's a CGI-enhanced scene where they skid underneath a tanker truck in their convertible.
Sandler, working an unreliable Boston brogue that is less an accent than an aural assault, plays a sort of simpleton mash-up of some of his earliest characters — heavy on the awakened slacker climbing out of arrested development in Big Daddy, and with more than a pinch of the idiocy of Billy Madison and The Waterboy. Samberg more or less acquits himself, but doesn't really shine or even get a chance to stretch in an underwritten buttoned-up role.
Mother and daughter Amurri and Sarandon have fun, however, and prove that both sex appeal and savvy comedic timing can have staying power.
Production companies: Columbia Pictures, Happy Madison Productions, Relativity Media
US distribution: Sony Pictures
Producers: Adam Sandler, Jack Giarraputo, Heather Parry, Allen Covert
Executive producers: Barry Bernardi, John Morris, Dennis Dugan, Tim Herlihy
Co-producer: Kevin Grady
Screenplay: David Caspe
Cinematography: Brandon Trost
Editor: Tom Costain
Production designer: Aaron Osborne
Music: Rupert Gregson-Williams
Music supervisors: Michael Dilbeck, Brooks Arthur, Kevin Grady
Website: www.ThatsMyBoy-Movie.com
Main cast: Adam Sandler, Andy Samberg, Leighton Meester, Vanilla Ice, Tony Orlando, Milo Ventimiglia, Will Forte, Eva Amurri Martino, James Caan, Luenell, Peggy Stewart, Blake Clark, Nick Swardson, Meagen Fay, Ana Gasteyer, Susan Sarandon, Rachel Dratch, Rex Ryan, Todd Bridges, Dan Patrick, Erin Andrews, Colin Quinn, Ian Ziering, Peter Dante