Dir: Anton Corbijn. US-UK. 2010. 105mins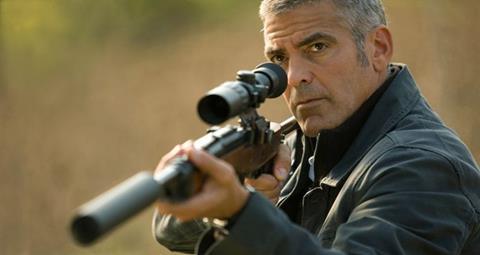 A beautifully stark, challenging drama about an aging mercenary, George Clooney's The American is a transfixing rumination on lone-wolf masculine loneliness, and a reminder that the inner lives of screen characters can be as gripping as any wildly manifested action.
The American is a work of pure cinema…Clooney, of course, is an absolute perfect fit for this sort of material.
Despite Clooney's presence, theatrical prospects look iffy. Focus will debut the film in 2,700 theaters on Wednesday, trying to get a jump on more escapist fare, and provide an adult alternative over what is an American holiday weekend. General audiences expecting a "silver-fox" version of the more kinetic thrills of the Bourne franchise, however, may dilute word-of-mouth.
As an assassin and weapons craftsman, Jack (Clooney) lives a life of on-the-move solitude. Pursued by mysterious Swedes intent on killing him, Jack eschews the advice of his handler (Johan Leysen), and holes up in a small town in the Italian countryside to reassess his life. There, Jack accepts the friendship of a local priest (Paolo Bonacelli), but it's not long before danger again arrives.
A skittish Jack then has to question the credibility of two new women in his life — a mysterious contact, Mathilde (Thekla Reuten), for whom he's taken an assignment to build a gun, and Clara (Violante Placido), a beautiful prostitute with whom he has entered into a relationship.
Adapted from Martin Booth's novel A Very Private Gentleman, The American is a thriller in structure only. Instead, like one of Jack's meticulously filed-down bullets, screenwriter Rowan Joffe and director Anton Corbijn reduce the dialogue to little more than what is essential. Uncertainty is not regarded as the sworn enemy of narrative, so mystery is allowed to percolate, and build from scene to scene.
Corbijn transitioned to features with 2007's Control after decades as a renowned photographer, and his work in silent storytelling is richly evident here. The American is a work of pure cinema, its winding and yet sparsely populated city streets a stand-in for Jack's inner desolation.
Clooney, of course, is an absolute perfect fit for this sort of material. His work here, often told through just his darting eyes, shows why he's such a movie star. The fact that the rest of the international cast is unfamiliar to American audiences helps underscore the film's stranger-in-a-strange-land vibe.
Production companies: Smoke House, This Is That Productions, Greenlit Rights
Domestic distribution: Focus Features, www.focusfeatures.com
Producers: Anne Carey, Jill Green, Ann Wingate, Grant Heslov, George Clooney
Executive producer: Enzo Sisti
Screenplay: Rowan Joffe, adapted from Martin Booth's A Very Private Gentleman
Cinematography: Martin Ruhe
Editor: Andrew Hulme
Production designer: Mark Digby
Music: Herbert Grönemeyer
Website: www.TheAmericanTheMovie.com
Main cast: George Clooney, Violante Placido, Johan Leysen, Paolo Bonacelli, Thekla Reuten, Filippo Timi, Irina Bjorklund