David Thompson's second project for Origin Pictures is a supernatural period thriller starring Rebecca Hall and Dominic West, directed by Nick Murphy.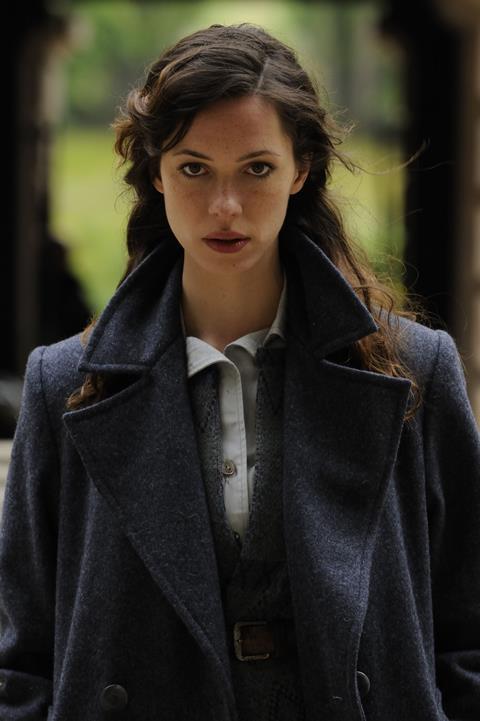 Synopsis: Supernatural thriller set in post-World War I England in 1921, which follows a skeptical woman, Florence, (played by Rebecca Hall) who is invited by the headmaster of a countryside boarding school (Dominic West) to investigate rumours of an apparent haunting, only to have a chilling encounter which defies her rational beliefs.
Director: Nick Murphy
Writer: Screenplay co-written by Stephen Volk and Nick Murphy
Producers: David Thompson for his production company Origin Pictures, alongside Julia Stannard and Sarah Curtis
Executive Producers: Joe Oppenheimer for BBC Films, Will Clarke and Jenny Borgars for Optimum Releasing
Cast: Rebecca Hall, Dominic West, Imelda Staunton
Financing: Studio Canal, Optimum Releasing, BBC Films, Scottish Screen (now Creative Scotland), Lip Sync post production
International Sales: Studio Canal
Distribution: Optimum Releasing (UK), also pre sold to Italy, Greece, Latin America, Singapore and Middle East.
Language: English
Locations: London, Cheshire, Scotland
Shoot dates: From July for seven weeks.
Status: Post production
Release date: 2011
The Awakening is David Thompson's second film (following Justin Chadwick's First Grader, which is world premiering in Toronto), since setting up his UK independent production company Origin Pictures in 2008.
Thompson, first came across Stephen Volk's script whilst he was still working as head of films at the BBC, where he financed projects including The Duchess, Fish Tank and Bright Star. "It went through various manifestations, but only now did it seem like the right time to make it, when Canal Plus and Studio Canal and Optimum got behind it," says Thompson, who admits that the horror genre is a departure for him.
"I thought it was a really exciting and unusual project, because I've done a great variety of films, but never one with this sort of tone. I've always wanted to do something scary, but not gratuitous. Something with intelligence about it. And that's the script we've got, a really powerful drama and a story of great emotion, with a lot of scares" says Thompson.
Thompson enlisted first time feature director Nick Murphy who had impressed him with his UK TV dramas Occupation and Primeval.
"I wanted to find someone who had an original and fresh voice and was really hungry for it. Nick responded to the material immediately, and he came in and worked on a draft from the original script. He's really brought his own take to it," says Thompson.
Murphy says he was keen to steer away from the classic horror, instread choosing to focus on the story's psychological elements."It is set in 1921 when so many people had died in the war. All of the characters in the film have people missing next to them, and so I'm trying, as gently as I can, to keep the sense of empty benches, chairs, missing paintings and marks they left, so you get the sense of absence, " says Murphy, who admits that he drew some inspiration from Juan Antonio Bayona's The Orphange.
"You see a lot of films in Britain and come away thinking, that was fine, but it didn't surprise me. The important thing with this is, I want people to reach the lobby and say, good god, that wasn't what I expected," he adds.
Julia Stannard, who is producing the film alongside Thompson and whose previous credits include The History Boys and Boogie Woogie, says that one of the challenges has been getting the period details and the locations right. "Working on a period piece is hard as far as the budget is concerned, because everything has to be spot on. Nick had a very clear vision and from our point of view it's about supporting that vision."
In the end four different locations were used for the school – the exterior at Lime Park in Cheshire, (including the infamous lake where Colin Firth/Mr Darcy emerged from in the BBC TV adaptation of Pride And Prejudice), whilst the interiors were split between three locations in Scotland – Gosford (just outside Edinburgh), Mandiston and Marchmond, in the borders area. The film also shot for four days in London, including a scene in Regent's Park, where Screen visited the set.
Thompson says that Murphy's lack of feature directing experience has never worried him. "I spent a lot of time working with first time directors, while I was at the BBC and a lot of the great British directors we have had have come out of television, from Stephen Frears, onwards and backwards."
The film stars Rebecca Hall, who, says Murphy, was always his first choice for the lead. "I didn't have a picture of her next to my monitor, that would have been a bit freaky. But yes, you need a voice to write to and it happened to be hers."
Thompson says that in today's tough market, having a strong cast was key to getting the film made. "I was involved in An Education at the BBC, and the alarming thing is that one of the financiers said to me, if that film had been made now, they couldn't have done it with Carey Mulligan, it would have had to be a known star. What a shame. I hope desperately that the financiers will still give us the opportunity to grow new stars as well."
He admits that getting Dominic West, who shot to international fame in HBO's The Wire, to sign up to the project was "a coup". "It's hard to find actors who will attract money like that, and Dominic has a real following everywhere." And the cast was one of the things that attracted Studio Canal to the project, along with, says its international sales director Harold Valnier, "a super talented director at the service of a terrifyingly good script. We believe it will scare audiences around the world in a very unique, chilling and entertaining way."
And how is Thompson adjusting to life as an independent producer? "I worked bloody hard at the BBC but I have to say I'm working harder than ever as an independent producer. But I haven't lost my appetite. Every day you go on set and something happens which triggers an excitement in you. It's challenging and obsessive, but I wouldn't want to do anything else."
Next up: Thompson is producing a feature version of William Boyd's novel Ordinary Thunderstorms, and a project being written by Guy Jenkin and Andy Hamilton, who wrote the BBC series Outnumbered. On the television side, he is producing a four part serial for BBC 2, Crimson Petal And The White, based on the novel by Michel Faber with Marc Munden directing and Romola Garai and Gillian Anderson starring.