Dir: Barry Levinson. US. 2012. 85mins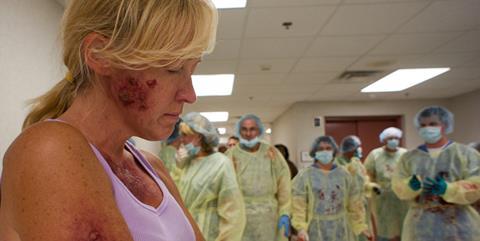 Veteran filmmaker Barry Levinson takes a distinct change of cinematic direction with The Bay, a smartly made found-footage style creature feature that eschews big-star casting and instead goes of natural performances and slow-burn chills. The Bay is an environmental catastrophe movie that feels all too real, and given the right word-of-mouth is the sort of film that could creep up on audiences and give them a shock.
Levinson succeeds with his mission to both entertain and inform.
The found-footage horror movie is, of course, very much en vogue these days, but Levinson wisely resists layering on the blood, gore and mayhem, and instead he allows his small-town tale of something nasty mutating in the waters to build with admirable tension. Likely to feature at genre festivals – the film screened in Midnight Madness in Toronto – The Bay could also work as a multiplex movie if campaign and images are handled right.
Levinson – whose hefty filmography includes Rain Man, Diner and Good Morning Vietnam – astutely uses multiple supposed media sources in telling his chilling tale, including video diaries, Skype, webcams, closed-circuit cameras, television channels and of course the ever-reliable hand-held video camera, with the different tones and textures of the material enhancing the eco-apocalyptic mock-doc style.
Against the rather morbid backdrop of millions of dead fish being washed ashore and blackbirds falling from the sky, on July 4, 2009, the quaint seaside town of Claridge, Maryland, celebrates Independence Day with its usual events, such as street fairs, a crab-eating contest, fun'and'games and bathers frolicking on the waterfront.
But a deadly catastrophe struck the town, claiming more than 700 lives, and it is only now, three years later, that journalist Donna (Kether Donohue) – who as a young naïve intern was there when it all happened – has pieced together footage revealing the cover-up and the deadly killer… a mysterious parasitic outbreak.
The story of what happened unfolds over a 24-hour period, with Levinson teasing together supposed footage from mobiles, 911 calls, web cams etc., as well as adding in material from a video report – suppressed by the authorities – by two scientists (played by Nansi Aluka and Christopher Denham) who investigated flesh-eating bacteria in the bay and who – sadly for them – run into tongue-eating isopods that have been mutated due to pollution in the water, mainly from toxic waste from a nearby chicken factory.
The footage follows efforts by police to take control of the situation; of the local mayor trying to play things down; of an overwhelmed doctor at the hospital as he attempts to find out what is happening by skyping with the Centre for Disease Control, and video and messages from ordinary people caught up in the nightmare.
Closer to Contagion that pure horror films such as Slither, initially the film feels rather low-key, but there is a moment of terror in the middle of the film (when a group of fishermen have a close encounter with an isopod) that puts audiences on edge, and sets up the slow-burn horror of what is happening.
Levinson succeeds with his mission to both entertain and inform. The eco-horror story has it origins in fact (tongue-eating isopods, which enter a fish through its gills and eats away until it replaces the fishes tongue with its own body, do exist) and dead fish have been showing up in their thousands in Chesapeake Bay. He also shows great dexterity in wrangling 21 digital platforms and a relatively unknown cast to craft a film that is rich in tension and is a cautionary tale that is both thrilling and provocative.
Production companies: Baltimore Pictures, Haunted Movie, Alliance Films, IM Global, Hydraulux Entertainment, Automatik
International sales: IM Global, www.imglobalfilm.com
Producers: Barry Levinson, Jason Blum, Steven Schneider, Oren Peli
Executive producers: Brian Kavanaugh-Jones, Jason Sosnoff, Colin Strause, Greg Strause
Screenplay: Michael Wallach, story by Barry Levinson and Michael Wallach
Cinematography: Josh Nussbaum
Editor: Aaron Yates
Production designer: Lee Bonner
Music: Marcelo Zarvos
Main cast: Will Rogers, Kristen Connolly, Kether Donohue, Frank Deal, Stephen Kunken, Christopher Danham, Nansi Aluka