Dir: Michael Hoffman. US. 2014. 118mins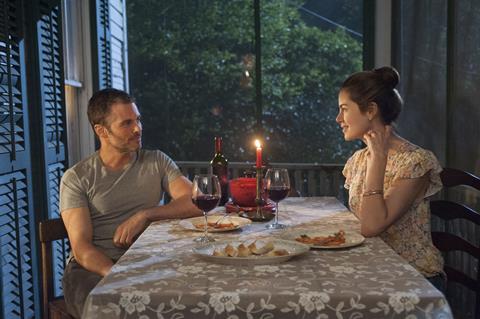 The latest cinematic adaptation of romance author Nicholas Sparks, who has had nine of his 18 novels thus far converted to film (with another on the way next year), The Best Of Me sputters and struggles to find lift, relying almost entirely on the conviction and stand-alone innate goodwill of its performers before collapsing into an overly plotted heap. A split-structure love story that details a pair of teenage lovers ripped apart, brought back together later in life and complicated anew, this ham-fisted maudlin pap lacks the sort of compelling characterisations necessary to give its contrived adversity and calamity any true emotional resonance.
The film's acting helps obscure its flaws in fitful fashion. Marsden (stepping in for the late Paul Walker, who was signed to star prior to his death) delivers a nice performance, and he and Monaghan share a nice chemistry.
With middling word-of-mouth but a built-in fan base for weepy romances and additionally a certain floor for Sparks' works, a low- to mid-eight-figures theatrical run seems likely, followed by a shelf life as a solid ancillary earner.
The Best Of Me unfolds in Louisiana, where the passing of an old shared friend reunites devoted mother Amanda Collier (Michelle Monaghan) and oil rig laborer Dawson Cole (James Marsden). As teenagers, Amanda and Dawson (Liana Liberato and Luke Bracey, respectively) had passionate feelings for one another, but were ripped apart by tragedy with its roots in their fathers trying to exert control over their lives.
Amanda's dad Harvey (Jon Tenney) does what disapproving rich fathers in films do — which is try to pay poor kids to leave their daughters alone. Meanwhile, Dawson's virulently scummy paterfamilias, drug-peddling Tommy (Sean Bridgers), takes an even more proactive approach, physically abusing Dawson and trying to keep him out of school. Dawson finds respite in the form of Tuck (Gerald McRaney), a kindly widower who takes him in and protects him — for a while, at least — from his biological father.
As adults, Dawson and Amanda reconnect and talk about what might have been—and wonder if there is a future that they might possibly share. Dawson is single, but Amanda has a husband, the booze-addled Frank (Sebastian Arcelus, cartoonishly disengaged), as well as other commitments. The capitalised Ghosts of Their Pasts, too, seem unlikely to allow a happy re-coupling.
For a movie of its length (just under two hours), The Best Of Me has a shocking amount of trouble generating character depth. Screenwriters Will Feters and J. Mills Goodloe cycle through rote signifiers (Dawson reading a physics book on a water tower and, later, Stephen Hawking on oil rig, to indicate he's bigger and more substantial than his surroundings allow; Frank swigging alcohol, to place all culpability of Amanda's floundering marriage on him), but these aren't characters so much as vehicles for at-odds feelings.
Focused on all the wrong things, The Best Of Me might most charitably be described as strained throughout. The reasons for Tommy's antagonism toward his son are never convincingly plumbed, and the younger iterations of Amanda and Dawson fall neatly into pre-cut stereotypes. If the teenage Amanda's desire or need to rescue or "fix" this troubled boy were explored, it might set up the movie for an interesting reversal later on, but that is not the case. The plotting and obstacles are all very familiar and predictable save for when, in the final 10 minutes, the film makes a bald dash for fresh tragedy that tips it over into overly symbolic, manipulative ridiculousness.
Director Michael Hoffman (One Fine Day, The Last Station) oversees a decent technical package that places a premium on prettiness. Opting for a classically framed anamorphic look, cinematographer Oliver Stapleton imbues the film with a naturalistic look that complements the production's on-location surroundings.
The film's acting helps obscure its flaws in fitful fashion. Marsden (stepping in for the late Paul Walker, who was signed to star prior to his death) delivers a nice performance, and he and Monaghan share a nice chemistry.
Liberato brings a bit of spark and chipper forthrightness to the young Amanda, but the six-year age difference between she and Bracey is pronounced, and the duo struggle to overcome the very formulaic and familiar nature of their staged courtship.
McRaney, though, is the true standout here, as a man casting a wistful glance at this young couple before him, and taking a stand for the beauty and innocence of first love.
Aaron Zigman's score cues orchestrated feelings, but the use of songs to signify the flashbacks into the early 1990s, including Toad the Wet Sprocket and novelty dance-rap number Whoomp! (There It Is), is awkward and ill-considered.
Production companies: Di Novi Pictures, Surefire Entertainment Capital
US distribution: Relativity Media
Producers: Denise Di Novi, Alison Greenspan, Nicholas Sparks, Ryan Kavanaugh, Russ Kavanaugh, Theresa Park
Executive producers: Tucker Tooley, Robbie Brenner, Ron Burkle, Jason Colbeck
Co-producer: D. Scott Lumpkin
Screenplay: Will Feters and J. Mills Goodloe, based on the novel by Nicholas Sparks
Cinematography: Oliver Stapleton
Production designer: Patrizia von Brandenstein
Editor: Matt Chesse
Music: Aaron Zigman
Website: http://TheBestOfMeMovie.Tumblr.com/
Main cast: Michelle Monaghan, James Marsden, Luke Bracey, Liana Liberato, Gerald McRaney, Sebastian Arcelus, Sean Bridgers, Caroline Goodall, Jon Tenney, Clarke Peters