Dir/scr: Hiroshi Okuhara. Japan. 2012. 144mins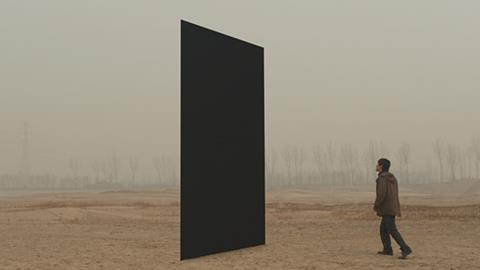 A leisurely art-house delve into time and space, reality and illusion, writer/director Hiroshi Okuharu's film The Black Square veers between been intellectually intriguing to gently romantic, and while with his editor's hat on he should have kept the film a good deal tighter it remains engagingly artistic.
The Black Square offers enough tantalising and intriguing moments to sustain its slender storyline.
The film, which had its world premiere in competition at the Tokyo International Film Festival, could well feature on the festival circuit, but would seem unlikely to receive much of a formal theatrical release beyond Japan or China. Shot on location around Beijing and largely in Mandarin, the film at least offers an unusual perspective of the city.
In an artists' village on the outskirts of Beijing, struggling artist Zhao-Ping (Dan Hong) wakes early one morning and is bemused to see a strange black object hovering over the city. He follows this large black object – a rectangle rather than a square – and when it lands upright in a field it leads him to a man (Hideo Nakaizumi) who seems to have lost his memory.
Zhao-Ping has the niggling feeling that he has met the man before, but cannot place him, and takes him into his home. His sister Lihua has the same feeling, and as she spends more time with him they start to get closer. Things take a strange turn when the pair are wandering hand-in-hand through the hutongs (alleyways in the older part of Beijing) and he spies a Japanese soldier.
Following the soldier, the story slowly switches into a vignette from the Sino-Japanese War in which a soldier (Hideo Nakaizumi again) offers his medical help to a man and his ill sister – mirror images of Zhao-Ping and Lihua – and again in this different place in time and space he is drawn to the woman.
The Black Square offers enough tantalising and intriguing moments to sustain its slender storyline, though at times it is too slowly paced and deliberately enigmatic. Hideo Nakaizumi makes for impressively blank lead and luckily has the charisma to carry the soulful and empty role, while perhaps must effective are the images of Beijing rarely seen in contemporary films.
Production company/contact: Black Square Film, blacksquarefilm@gmail.com
Producer: Tomoko Okuhara
Editor: Hiroshi Okuhara
Cinematography: Kenji Maki
Music: Sangatsu
Main cast: Hideo Nakaizumi, Dan Hong, Chen Xixu, Miki Suzuki, Wang Hongwei, Gouzi, Zhang Ciyu