Dir/scr: Sofia Coppola. US. 2103. 90mins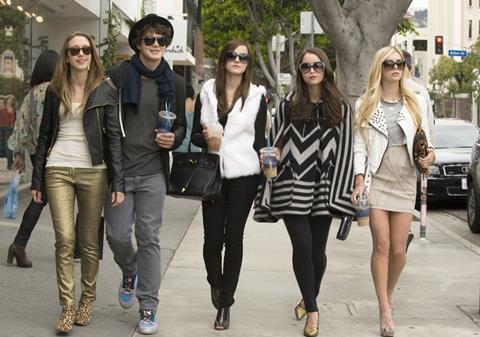 An impressively mannered and vividly evocative delve into the glossily vacuous side of fame-obsessed Los Angeles, Sofia Coppola's Un Certain Regard opener The Bling Ring is a cool and smart look at the antics of young teens who stole from the rich and famous, but frustratingly lacks the drama and narrative drive to grip audiences, despite the impressive efforts of the young cast.
Sofia Coppola shoots the night-time break-in scenes with real style.
Based on a true story, the film charts a group of well-to-do teenagers fixated on the supposed glamour of Los Angeles 'celebrities', who tracked their movements online and proceeded to sneak into their homes and steal millions of dollars worth of luxury goods, with real-life targets including Paris Hilton, Rachel Bilson, Megan Fox, Lindsay Lohan and Orlando Bloom.
Coppola – whose films Lost In Translation, Somewhere and even Marie Antoinette have also dwelt on the reality of fame and fortune – is at her best presenting an alternate view of Los Angeles, with the film impressive and evocative during the night-time raids on various celebrities as these naïve and amateur thieves break into properties at ease and swan around the properties looking for items they have seen their celebrity heroes wearing.
The story of the 'Bling Ring' burglars is based on Nancy Jo Sales' Vanity Fair article The Suspects Wore Louboutins, which detailed the various real-life robberies and the young personalities involved, though Coppola extended and embellished the story to craft a fictional version.
Though the casting of Emma Watson as the wonderfully wide-eyed, naïve and vacuous Bling Ringer Nicki and Leslie Mann as her former Playboy model and clueless mother Laurie is handy for sheer marketing value (and both are terrific in their roles), the film essentially revolves around group ringleader Rebecca (played delightfully by charismatic newcomer Katie Chang) and lonely new-kid-at-school Mark (Israel Broussard), who Rebecca befriends and draws into her plans.
It all seems ridiculously easy. They internet-stalk their heroes/victims, locate their addresses on line and work out when they are out of town via gossip sites and then drive over to the houses. Every one seems to have at least one window or door left open and are equipped with minimal security, and the robbers – the group soon expands to include Nikki, her adopted sister Sam (Taissa Farmiga) and feisty Chloe (Claire Julien, daughter of Oscar-winning cinematographer Wally Pfister) – just help themselves to shoes, clothes, cash and pretty much whatever else they want.
Sofia Coppola shoots the night-time break-in scenes with real style – especially a sequence, viewed from distance through the massive glass windows, as Mark and Rebecca break into reality TV star Audrina Partridge's home and rush around stealing items – with the notion of clash between reality and celebrity (even the B-list level) coming into stark view with Paris Hilton (one of the real-life victims) happily playing herself and also allowing her real home to be used for robbery recreations.
The film, though, is rather one-tone – they break into houses, wear clothes, go to clubs, do drugs and get caught - and lacks any real sense of drama. It is all beautifully put together and the performances are all spot on, but there is a niggling sense that the film is an empty at the real-life Bling Ringers heads.
Production companies: American Zoetrope, Nala Films
International sales: FilmNation Entertainment, www.wearefilmnation.com
Producers: Sofia Coppola, Roman Coppola, Youree Henley
Executive producers: Michael Zakin, Francis Ford Coppola, Fred Roos, Paul Rassam, Emilio Diez Barroso, Darlene Caamano Loquet
Cinematography: Harris Savides
Editor: Sarah Flack
Production designer: Anne Ross
Music: Daniel Lopatin, Brian Reitzell
Main cast: Emma Watson, Taissa Farmiga, Israel Broussard, Claire Julien, Katie Chang, Leslie Mann