Dir: Matthew Parkhill. UK-Puerto Rico. 2011. 90mins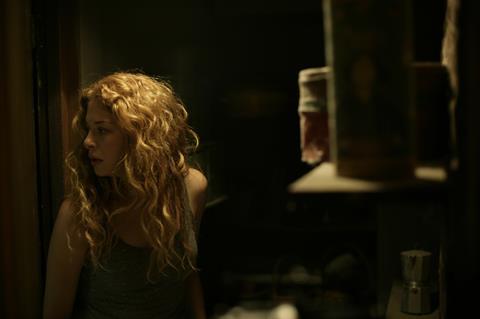 This nicely chilling horror yarn fits easily into the current trend of old-fashioned style horror films which favour jumps and jolts rather than blood and gore, and with its cult cast and impressive direction Matthew Parkhill's film could find a welcome from the loyal brigade of horror-thriller fans.
Director Matthew Parkhill shoots with an easy style, applying expected horror scenes with moments of humour and tender romance.
Picked up for North America by Sony at the EFM, the film had its world premiere at the Gulf Film Festival in Dubai, its link to the region coming through the film's UAE producer Amina Bint Khalifa Dasmal. The Caller should benefit from the casting of Rachelle Lefevre (who starred in the first two Twilight films) and Stephen Moyer (from hit TV vampire series True Blood) whose profile should boost publicity, at least with vampire genre fans.
The film is a time-twisting horror story that is shrewdly structured, features moments of terror and tension and makes good – though nicely unshowy – use of its Puerto Rico locations. It is a film that also proves the Rachelle Lefevre (with her flowing red hair and easy grace) and Stephen Moyer (haunted charm and great presence) have the acting chops to carry a feature film.
Divorcee Mary Kee (Lefevre) moves into a new apartment following a troubling divorce from her husband (Ed Quinn), who still continues to stalk her despite a restraining order. She is befriended by the apartment block's genial gardener George (Luis Guzman), but also starts to receive mysterious calls.
A woman calling herself Rose keeps on calling Mary, claiming to he looking for someone named Bobby who lives at the apartment. In a bid to get rid of the strange woman – who says she is calling from the 1950s and that Bobby is abusive to her – Mary sarcastically says that is anyone hit her she would get rid of them.
When Mary wakes the next morning she find her pantry walled in and takes a phone call from Rose who says that she has followed Mary's advice. From then on the two women are linked, with Rose tormenting and terrifying Mary through time, and with her violent actions in the 1950s having a terrible impact on Mary's contemporary life.
Mary embarks on a faltering romance with John Guidi (Moyer), a teacher at a local college, who helps protect her from her ex-husband but who also attracts Rose's anger as he attracts Mary away from the apartment and from the telephone link to Rose.
And while Rose stalks Mary through time, she also eventually arrives at Mary's front door with plans to dish out revenge when Mary stands up to her one time too many.
Director Matthew Parkhill – who made Dot The I (2003) – shoots with an easy style, applying expected horror scenes (the obligatory rack of razor-sharp knives in the kitchen and ghostly figures lingering in the distance) with moments of humour and tender romance, though at times the music cues can be a bit heavy-handed.
Rachelle Lefevre is impressive as the troubled divorcee – of course one reading of the film is that it is all in her imagination as she rails against an abusive husband – while Luiz Guzman is a reassuringly solid presence. Brittany Murphy was originally cast as Mary, though was replaced by Lefevre.
Lorna Raver, who starred in Sam Raimi's cult horror film Drag Me To Hell, makes a late appearance as the barking mad Rose, further adding to the film's horror credentials.
Production companies: Alcove Entertainment, Pimienta, The Salt Co., Bankside Films, Puerto Rico Film Commission
International sales: Bankside Films, www.bankside-films.com
Producers: Amina Bint Khalifa Dasmal, Robin Fox, Luillo Ruiz, Piers Tempest
Executive producers: Phil Hunt, Robert Bevan, Cyril Megret, Compton Ross
Screenplay: Sergio Casci
Cinematography: Alexander Melman
Editor: Gabriel Cross
Music: Aidan Lavelle, Unkle
Main cast: Rachelle Lefevre, Stephen Moyer, Luis Guzman, Ed Quinn