Dir: Atom Egoyan. Canada. 2014. 113mins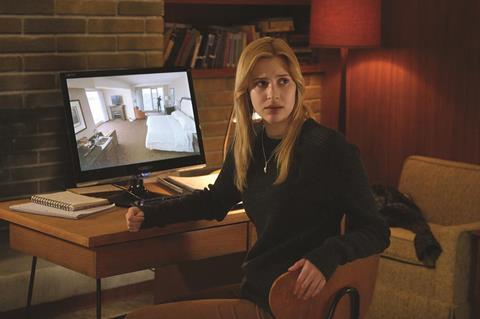 Atom Egoyan makes light work of some intensely dark themes in The Captive, a complex and teasing drama that mixes together paedophile abduction, video surveillance, enigmatic femmes fatales and Mozart's The Magic Flute. It's a sometimes perplexing mix, but perplexity is par for the course with the Canadian auteur, whose best work has always been about playing games with our perceptions and preconceptions.
The Captive is a bold variation on genre tropes, but it demands a certain leap of faith from viewers willing to enter into the playful and perverse spirit of the game.
This quasi-thriller, narratively arranged in the mosaic style of the director's early pieces such as Exotica and The Adjuster, is his most whole-heartedly Egoyanesque work in some time, following a run of films, most recently Devil's Knot, in which there was not always a comfortable fit between the material and the director's's sensibility.
Here, however, Egoyan is visibly at ease both with the themes and with their handling, and in addition is for the first time having fun with the language of the mainstream thriller. Some viewers may object on grounds of taste to such a ludic - and to a degree, coolly detached - entertainment being drawn from such sombre subject matter.
But then well-respected crime novelists cross that border all the time, and The Captive manages to unsettle, and to convey emotional tremors even while playing its games. The film's elegance (both narrative and stylistic) and a strong cast including less familiar names Kevin Durand (suavely creepy) and up-and-comer Alexia Fast should make this Egoyan's most widely appreciated film for some time, among critics and audiences alike.
The film's first third offers us a tantalisingly fragmented lead-in, with Egoyan and co-writer David Fraser deliberately making it hard to tell quite how the time frames connect, and how the characters relate to each other (in one key scene, two people meet but one remains an off-screen speaking voice until much later). Piecing together the story, we learn that it concerns teenage Cassandra (Fast), kidnapped as a child by paedophile Mika (Durand), who has long kept her locked in a room in his house.
Thanks to an elaborate system of surveillance cameras he has rigged up, Cassandra is able to see her mother Tina (Mireille Enos) at work as a hotel cleaner. The film loops back to show us the moment of her abduction years before, when she was snatched away under the nose of her father Matthew (Ryan Reynolds).
Matthew alerts the police, but the investigators, headed by officer Nicole Dunlop (Rosario Dawson, nervy and authoritative) don't quite believe his story – especially in the case of Jeffrey Cornwall (Scott Speedman), a bullish new recruit to Dunlop's anti-paedophile task force. Later in the timeline (but early in the film), it transpires that Dunlop herself has gone missing. In other words, don't expect to sit back and relax, because Egoyan characteristically expects us to do our share of the detective work.
There has been no shortage of anxiety-inducing child abduction dramas recently - from Denis Villeneuve's Prisoners to the Austrian drama Michael - and viewers may balk at a degree of over-familiarity in the initial premise. But as the plot thickens, and indeed turns somewhat baroque, it's up to us to decide whether or not we're willing to go all the way into the film's labyrinth, strewn with real and symbolic clues that often signally baffle the characters themselves.
Having set up a more or less realistic premise, the narrative moves into more genre-based territory, with Matthew playing manhunter, and there's even something novel for an Egoyan movie – an honest-to-God car chase. Add a mysterious bewigged woman (Christine Horne), a drugged-drink plot device and Niagara Falls as an imposing background, and the result is a richly strange confection.
The film abounds with resonances from Egoyan's previous work, notably in its fascination with the perverse and fetishistic dimensions of video and internet technology, and with families torn apart and identities transformed by traumatic incident. Adding to this echo effect, long-term Egoyan players Arsinée Khanjian and Bruce Greenwood turn up in support roles – while the hard core of the director's regular collaborators (including cinematohgrapher Paul Sarossy and editor Susan Shipton) are on hand to bring the film its nervy elegance. With its more fanciful elements apparently underpinned by solid research into paedophilia and police approaches to it, The Captive is a bold variation on genre tropes, but it demands a certain leap of faith from viewers willing to enter into the playful and perverse spirit of the game.
Production companies: Ego Film Arts, The Film Farm
International sales: eOne, eOneFilmsInternational@entonegroup.com
Producers: Simone Urdl, Jennifer Weiss, Stephen Traynor
Screenplay: Atom Egoyan, David Fraser
Cinematography: Paul Sarossy
Editor: Susan Shipton
Production designer: Phillip Barker
Music: Mychael Danna
Main cast: Ryan Reynolds, Rosario Dawson, Scott Speedman, Mireille Enos,
Kevin Durand, Alexia Fast