Dir: Stefan Haupt. Switzerland. 2014. 102mins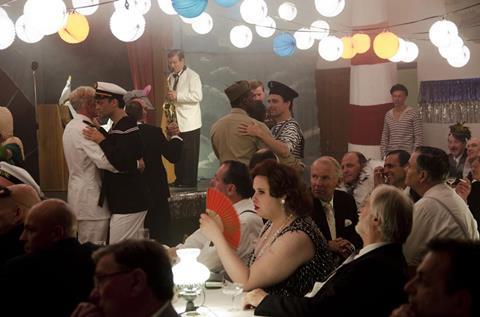 Switzerland's intolerance of its own gay population comes under scrutiny as The Circle explores a scandal of the 1950s, recreating the atmosphere of that time and revisiting a moment when Swiss propriety showed its dark side.
The Circle often plays like a thriller.
The Circle is named for a gay publication and a secret gay club in Zurich in the 1940s and '50s that were made scapegoats after several gay men were murdered in the city. A vivid period drama framed by interviews with a couple caught in the police witchhunt, Stefan Haupt's film will play at gay film festivals around the world. Art house exposure to specialized audiences will follow.
The recent Swiss vote to curtail emigration echoes themes in The Circle, and could help in promoting the film, which was made with government support.
The hybrid takes us back to an era when Switzerland, where homosexuality was not a crime, offered relative security for its gay minority, in something of a "don't ask, don't tell" approach of its time. In Zurich, a secret group called The Circle published an illustrated gay magazine in three languages and held an annual costume ball.
Stefan Haupt reconstructs that time in careful detail as he follows schoolteacher Ernst Ostertag (Matthias Hungerbuehler) and drag singer Robi Rapp (Sven Schelker), a hairdresser by day, who fall in love in Zurich's gay subculture and are targeted when police implicate that culture in the murders of gay men.
Production designer Karin Gienzendanner captures a secret world which bursts into dance in its festive gala with rousing period music, all the time wrapping gay life in the larger context of grey Swiss society.
"Who knew?" will be the reaction of audiences as they watch commentary from the real Ernst and Robi today, who look back at lives that were ruined and at their own painfully slow path to acceptance.
Men leading conflicted public and private lives reflect the stress of living in a society that, while nowhere near as officially punitive as Nazi Germany, still persecuted those whose lives were deemed inappropriate. The Circle often plays like a thriller, as those characters fear police threats to expose the magazine's subscriber list – a wry twist on hypocrisy in a country that built its prosperity on an industry of sealed bank accounts and now stigmatizes the immigrants who keep its economy running.
Leading a fine cast is Schenker, who plays a vulnerable German hairdresser without proper papers who still sings — then in scripted drama, now in doc sequences — wearing a gown and heels. Hungerbuehler is the schoolteacher who fears being fired for moral reasons, and Peter Jecklin plays the school headmaster who loses everything when police find evidence of his other life with hustlers in public toilets.
The drama's urgency gives The Circle the feel of a bombshell, yet the film has some problems in its story. We learn from the real Ernst and Robi that schoolteacher Ernst, from a stiff proper family, remained in the closet, even to his own sister, until 2003, when he and Robi married. It's a reminder of the staying power of Swiss intolerance at the film's core, yet the scripted drama of The Circle ends in the 1970's.
Perhaps Haupt, a former president of the Swiss Filmmakers' Association, counts on his audience to be in thrall of the extraordinary period design and caught up in the suspense of a witchhunt that takes parallel forms in other societies. Perhaps he has more Swiss secrets to explore.
Production companies: Contrast Film Zurich, Schweizer Radio und Fernsehen
International sales: Wide House, www.widehouse.org
Screenwriters: Stefan Haupt, Christian Felix, Ivan Madeo, Urs Frey
Cinematography: Tobias Dengler 

Editor: Christoph Menzi 

Production designer: Karin Giezendanner 

Music: Federico Bettini 

Main cast: Matthias Hungerbühler, Sven Schelker, Marianne Sägebrecht, Anatole Taubman, Antoine Monot Jr., Stefan Witschi, Markus Merz