Dir/scr: Adrián Saba. Peru. 2011. 96mins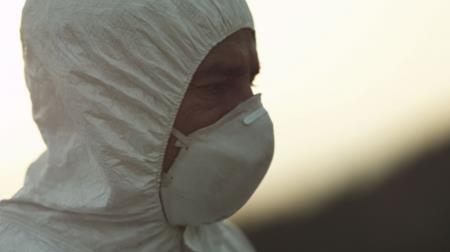 Slow-moving but delicately staged, Adrián Saba's gentle generational drama The Cleaner (El Limpiador) – set against the backdrop of a Lima that is in the grips of an epidemic that is killing off people at a steady rate – is an oddball 'fantasy' film, brimming with memorable images, but low on dynamic action.
Victor Prada makes for an appropriately lugubrious lead.
A small and plodding Eusebio (Victor Prada) is the cleaner of the title, a doleful man whose job is to clean up sites where there have been recent deaths. In his white boiler suit and mask he says little, but simply goes about his work before returning home to eat and fall asleep on the sofa.
It seems there is an illness called the Lima Epidemic spreading through the Peruvian city – the film never states if it is futuristic…simply that the epidemic is rife – which attacks both men and women, who die within 12 hours of showing the symptoms.
After cleaning at one house, hears a noises upstairs and is bemused to find a small boy hiding in a closet. Initially he is in some sort of denial, but the boy follows him downstairs. Unable to find a home or refuge of the boy, named Joaquin (Adrian Du Bois), he does his best to look after him, while also trying to track down his family.
The boy retreats to a cupboard in the house, but in a rather delightful and oddly surreal twist, he only comes out of the house to join the cleaner on his duties when the man cuts a small cardboard box to fit over his head to act as a protection against the illness.
As so, against this most odd of backdrops – a city virtually empty of people with forensic cleaners paroling the streets – a rather tender relationship slowly develops. Both are in a form of hiding – Eusebio cannot really relate to people and is content in his suit and mask, while young eight year-old Joaquin is distrustful and abandoned. The pair slowly come to understand and appreciate each other.
Director/writer Adrián Saba resists any showy directorial flourishes, instead keeps his camera static and lets the small moments of drama develop. Victor Prada makes for an appropriately lugubrious lead, but the way his tone and manner changes as he spends more and more time with the child is quietly engaging.
Production companies: Flamingo Films, La Gris Films
Contact: www.lagrisfilms.com
Producers: Adrian Saba, Carolina Denegri
Cinematography: Cesar Fe
Editor: Justin Beach
Music: Karin Zielinski
Main cast: Victor Prada, Adrian Du Bois