Dir/scr: Tom Gilroy. US. 2013. 100mins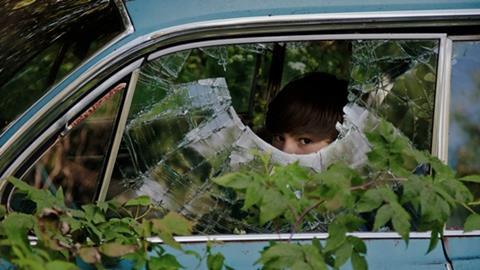 An opaque coming-of-age story set in the Catskill Mountains of upstate New York, the second feature by Spring Forward director Tom Gilroy is an original, thoughtful, beautifully-shot film, imbued with a strong spirit of place and, at times, a tense quasi-horror atmosphere. But although The Cold Lands captures the backwoods, drifter aimlessness of life in crisis-mired America, it provides little in the way of dramatic or emotional satisfaction. In the end, it all feels a little like Into The Wild lite.
Alongside the skewed pubescent point of view, though, we also get the emotional numbness of an age that isn't good at expressing itself.
Sitting uneasily in the jump seat between serious teen fare and the adult arthouse, this Sundance-style indie number is a difficult one to classify. At the Berlinale it has been programmed in the young adult Generation 14Plus section, but could just as easily have popped up in Forum or Panorama. Langorously paced, it's a film that is unlikely to be seen by many of the peers of its 13 year-old protagonist, unless they're already resilient cineastes. Indie screens, especially in and around its native New York, look like the film's most obvious outlet. Though optimistic distributors may blazon it as 'by the producers of Beasts Of The Southern Wild', it has little of that film's animal magnetism.
As in Spring Forward, a reticent storytelling style is applied that suits the material well. This is a film in no hurry to nail its characters down; so the relationship between an unnamed single mother (a solid, compelling Lili Taylor) and her teenage son Atticus (Silas Yelich) is built up via a series of quiet sequences, all shot with a fixed camera, that show mom home-schooling Atticus in local history; him bathing in a pond in the woods; the two reading by candlelight in their ramshackle backwoods house; and forays to sort through items that people have dumped outside their houses for others to help themselves to.
Gradually we feel drawn into a world that is at one small remove from our own. Partly it's Gilroy's vision of the Catskills as a lost Eden that does this, but it's also to do with the fact that, after the mother dies early on and Atticus takes refuge in the forest, we experience this world through the eyes of a 13 year-old: and it's an age, Gilroy suggests, that sees things differently. When Atticus discovers a randomly cordoned off area in a clearing and tentatively explores beyond the barrier tape, it feels like a metaphor for the dangers of growing up. We have no sense of direction in this world – something stressed by the hyper-real sound design with its amplified birdsong, dog barks and gunshots.
Alongside the skewed pubescent point of view, though, we also get the emotional numbness of an age that isn't good at expressing itself. And this numbness allies itself with the stand-offishness of the fixed camera technique to give the film a cold feel that it struggles to shake off. Then again, nature documentaries often take the same distant view, for eminently practical reasons: and there is a sense, in The Cold Lands, that we humans are being observed as if we were some exotic species.
When Atticus meets a stoner drifter, Carter (Scanavino), a new phase of his life begins – a bridge towards adulthood, perhaps, in which he is able to shake off the influence of a mother who still appears to him in waking visions (an overused trope that doesn't really work here). But while Gilroy has clearly put a lot of thought into connecting his three acts thematically, they don't really hang together dramatically. We're left with a quirky, fitfully interesting film that feels as if it's been written by a location rather than a person. Gilroy recognises this in a post-end-credit reward for patient viewers, framing a roadside sign that explains the history and heritage of the Catskills.
Production companies: Journeyman Pictures, Cinereach
Sales contact: Cinereach, www.cinereach.com
Producers: Paul Mezey, Andrew Goldman
Executive producers: Philipp Engelhorn, Michael Raisler
Cinematography: Wyatt Garfield
Editor: Julia Bloch
Production designer: Sara K White
Music: Hahn Rowe
Main cast: Silas Yelich, Peter Scanavino, Lili Taylor