Dir/scr: Ari Folman. Israel-Germany-France-Belgium-Poland-Luxembourg. 2013. 123mins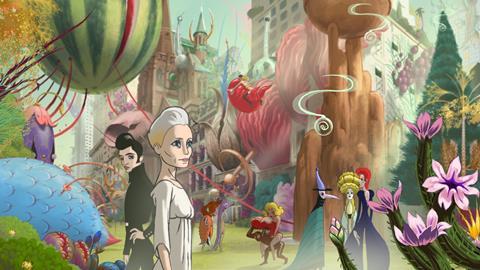 Five years in production and with no less than six countries lending a hand, Ari Folman's ambitious new film will most likely be a much tougher nut to crack than his acclaimed Waltz With Bashir. Again using both animation and live action, it may look for a while as a fierce attack on the Hollywood system but quickly develops into an existential portrait of the future as a hallucinatory, colourful drug-induced heaven – for drugs read anything from religions and fashionable ideologies to show business drivel - into which a vast majority of mankind will retreat to escape the unbearable reality of their lives.
Wright, in a role that must have been almost too close for comfort, being so similar to her own life, comes through with flying colours, confidently carrying all the live action sequences on her shoulders.
Based on Stanisaw Lem's novel, The Futurological Congress, Folman's script follows its basic story, a congress discussing the prevention of impending global disaster followed by a cryogenic trip in time into a heavenly future, which turns out to be more disquieting than the world left behind.
Many of the themes recur here as well: free choice, illusory truth, facts and fiction, to which Folman adds his jaundiced image of the film industry, peppered with frequent cinematic allusions and innuendoes.
But instead of Lem's space traveller Ijon Tichy, Folman has a burned out fortyish Hollywood star, Robin Wright (stunningly played by Wright herself). Unbankable after a series of box office turkeys and with no contract in sight, her most urgent concern is her ailing son, Aaron.
As her last option, she accepts, under the pressure from her outspoken agent (Harvey Keitel, who has a seven-minute monologue that will not be soon forgotten) and despotic studio chief (Danny Huston), to be scanned for posterity, allowing the studio to make whatever use they see fit of that image. In exchange she agrees never to perform again in person, her acting career being limited to the image she had just sold.
Once the premise is established in live action, the film moves 20 years ahead and switches to animation. Wright attends a convention at Abrama City, a send up of Disneyland, where everything there is animated. There she learns that movie fantasies will be chemically inserted into pills.
No need to put them on screen any longer, you swallow a pill and see in your mind the latest Tinsel Town inanities, including the latest adventures of Rebel Robot Robin, the character created from Wright's digitalised image, shown in one sequence riding a bomb to earth, Dr. Strangelove-style (one of several nods to Kubrick).
After the attempted assassination of a studio executive (shades of The Man Who Knew Too Much) and ensuing riots, Wright's life is saved and she is transported to a brilliantly colourful nirvana, where Muhammad Ali rubs elbows with Che Guevara and Michael Jackson waits on tables.
But obsessed with the need to find her son again, she gives it all up for a trip back to gruesome reality (seen again in live action), finds the kindly doctor (Paul Giamatti) who was in charge of the boy and in an ending that will not necessarily be clear to most viewers, she is reborn (again in animation) in the reality she chooses for herself.
Wright, in a role that must have been almost too close for comfort, being so similar to her own life, comes through with flying colours, confidently carrying all the live action sequences on her shoulders. No longer committed to reality, as it was in Bashir, the animation takes flight on its own, with Folman's old conspirators, production designer David Polonski and animation director Yoni Goodman, creating a rich imaginary world of their own, once again working with the help of sound designer Aviv Aldema and composer Max Richter.
Lacking Bashir's political angle, which helped it enormously, Folman's wild journey through hallucinogenic space is (like Lem's) more a reflection on human conditions than a dramatic tale. But unlike Lem, who, at the end of his novel, left his narrator, Tichy, lying in the gutter, Folman felt some degree of grace is indicated. He allows Wright's character a brief affair and grants her a final rebirth.
Production companies: Bridget Folman Film Gang, Pandora Film Produktion, Opus Film, Paul Thiltges Film, Entre Chien et Loup
Producers: Eitan Mansuri, Sebastien Delloye, David Grumbach
International sales: The Match Factory, www.the-match-factory.com
Cinematography: Michal Englert
Editor: Nili Feller
Production designer: David Polonski
Animation director: Yoni Goodman
Music: Max Richter
Main cast: Robin Wright, Harvey Keitel, Danny Huston, Paul Giamatti, Kodi Smit-McPhee, Sami Gayle, Frances Fisher