Dir: Jill Sprecher. US. 2010. 114mins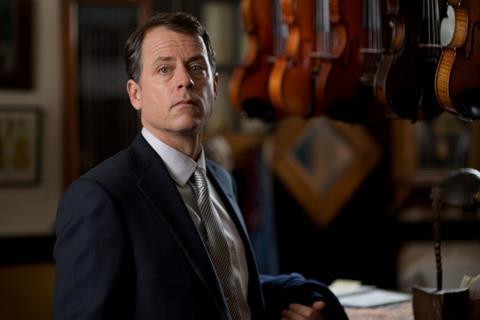 In this tale of deception in rural Wisconsin, Jill Sprecher has taken a portrait of an American con man, and tied it in a knot. The Convincer is a deftly told story that has the audience ready to be duped.
The surprise in The Convincer is the punchiness of the writing and the darkness of the imagination.
The US public accustomed to hearing the praises of the small businessman will flock to this black comedy. With Alan Arkin, Greg Kinnear and Billy Crudup in the cast, this indie project could find its way into the mainstream with the right promotion. English-speaking territories outside the US are a potential market, yet other foreign interest in this un-American story will be minimal.
Mickey Proharska (Greg Kinnear), a glib insurance salesman, is in trouble. His wife threw him out, his wallet disappeared during a fling with a hooker at a casino, and he needs money. Thanks to another seemingly well-meaning agent (David Harbour), he finds an eccentric but willing client (Arkin), and then he finds a valuable violin in the man's attic that can be turned into cash. It's an ideal setup for a scam that goes awry.
The polished pitiless script by Jill and Karen Sprecher - daughters of a Wisconsin insurance salesman themselves - follows Mickey as he pries nickels, dimes, and anything else available out of his town's humble folk, only to stumble onto a scheme that's more promising, and more perilous. It's a tale with a McGuffin worthy of Hitchcock and dialogue worthy of the Coen Brothers.
At first glance, The Convincer looks like it could be Fargo II, with swindles conducted in the snow and smalltime doublecrossers (Mickey is reminiscent of William Macy's Jerry Lundegaard) who think they're smarter than their would-be prey.
As a vain schemer without a conscience Kinnear plays a liar whose see-through cunning is sending him downward. Alan Arkin as the eccentric old man living alone with his dog plays a seeming- bumbler in a memory depot of a farmhouse. Production designer Jeff Schoen gets the obsessive hominess just right.
Also appearing at the farmhouse is Billy Crudup who plays a psychopathic ex-con who with an energy that reminds you of the army of killers that might lurk in those open spaces and wholesome towns. Cinematographer Dick Pope, a veteran of Mike Leigh's films, targets the propriety of the surroundings and plays it off against close-ups that signal the schemes in play.
The surprise in The Convincer is the punchiness of the writing and the darkness of the imagination, a new direction from the Sprechers' earlier collaborations on Clockwatchers and Thirteen Conversations About One Thing. Here the confidence game is the gift that keeps on giving, and the same people who are telling you to "have a nice day" are stabbing you in the back.
Production companies: Werc Werk Works, Spare Room Productions
International Sales: CAA, www.caa.com
Producers: Mary Frances Budig, Elizabeth Redleaf, Christine Kunewa Walker
Executive producer: Alan Arkin
Screenplay: Jill Sprecher, Karen Sprecher
Cinematography: Dick Pope
Production designer: Jeff Schoen
Editor: Stephen Mirrione
Music: Alex Wurman
Main Cast: Greg Kinnear, Alan Arkin, Billy Crudup, David Harbour, Michelle Arthur