Dir: Ella Lemhagen. Sweden. 2011. 120mins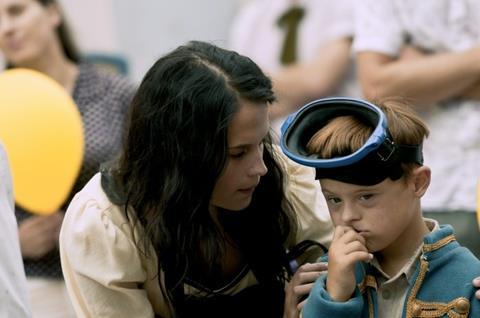 Released last June in Sweden as a theatrical feature and then shown over the Christmas holidays as a three x one-hour TV series, The Crown Jewels is a charming family movie from Ella Lemhagen, the director of the even more charming Patrik Age 1.5. It plays in Berlin in the Generation 14Plus.
The story is heavy on symbolism and family values.
Way too long for its own good, the feature has some winning moments in its meandering plotline and boasts another standout performance from Alicia Vikander, the charismatic young Swedish actress who is getting heat in both LA and London and is destined for a long career.
Set in a whimsical small town that could be out of A Series Of Unfortunate Events or Charlie And The Chocolate Factory, the film opens with Fragancia Fernandez (Vikander) being arrested for the shooting of Richard Persson (the talented Skarsgaard), the son of the CEO of the local shoe factory.
The film then flashes back through the parallel lives of Fragancia, raised by loving parents in poverty in a ramshackle little house, and Richard, raised by his tyrannical father in great wealth but extreme misery. Richard harbours a lifelong crush on Fragancia, but she has her sights set on the sensitive and sweet Petersson-Johnsson, who develops a talent for ice hockey and eventually leaves the town and a forlorn Fragancia to pursue an international career.
Fragancia's father Fernandez Fernandez (Koutsogiannakis) works by day for the Persson shoe factory but spends all his spare time at home trying to manufacture gold in his makeshift lab. Tragedy strikes the happy family, however, when Fragancia's mother becomes terminally ill and her young brother Jesus (Lindberger), who has Downs Syndrome, mysteriously goes missing – a loss for which she blames Richard.
The story is heavy on symbolism (keys play a major role in unlocking various revelations) and family values, but thanks to Lemhagen's light touch and some surprise hilarity – a marvelous moment when audience suspicions that Petersson-Johnsson prefers boys to girls are confirmed, for example – it remains watchable and could score international sales as an old-fashioned family crowdpleaser.
Twenty-three year-old Vikander herself made a splash in Lisa Langseth's Pure and has the starring female role in Berlinale competition film A Royal Affair. Her international career should take off this year with starring roles in both Joe Wright's Anna Karenina and Sergei Bodrov's The Seventh Son. She's got a natural screen presence that adds an extra shine to these particular Jewels.
Production company: Filmlance International
International sales: TrustNordisk, www.trustnordisk.com
Producers: Lars Blomgren, Tomas Michaelsson, Gabija Siurbyte
Screenplay: Carina Dahl, Ella Lemhagen
Cinematography: Anders Boman
Production designer
Roger Rosenberg
Editor: Thomas Lagerman
Music: Fredrik Emilson
Main cast: Alicia Viaknder, Bjorn Gustafsson, Bill Skarsgard, Loa Falkman, Michalis Koutsogiannakis, Jesper Lindberger, Louise Radon