Dir. Fernando Trueba. Spain, 2009. 127mins.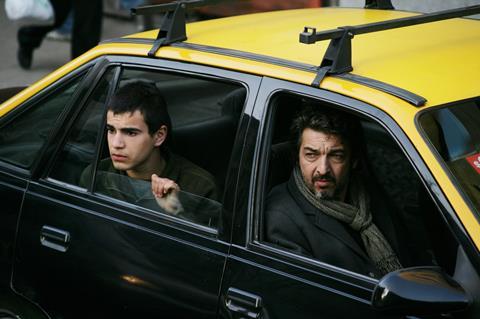 The Dancer and the Thief (El Baile de la Victoria),the first non-documentary feature film in seven years from Oscar-winning director Fernando Trueba (Belle Epoque), is an attractively shot, energetic romp, and a likeable genre-bending tale of crime and love among the lost and marginalised of post-Pinochet Chile. Part crime melodrama, part urban Western and part social conscience drama, with dashes of pulp and pastiche, it tinkers with the conventions and clichés of all these genres but fails to do anything fresh with them. The resulting film, though warm-hearted, enjoyable and haunting in parts, essentially lacks suspense and ultimately reads as both predictable and implausible at the same time.
Darín turns in a measured performance as the taciturn and bedraggled aging criminal
Based on a novel by Chilean writer Antonio Skármeta, whose book Il Postino became an Oscar-winning film, Trueba's latest feature is eagerly awaited in Spain, where it has made the three-film shortlist for selection as Spain's foreign-language Oscar contender. Lead actor Ricardo Darín's star power in South America should also see the film play well there and the Oscar connections may make it packagable internationally.
With prisons overflowing in Chile, a general amnesty sees Nico Vergara Grey (Ricardo Darín), a celebrated safe-cracker, and Angel (Abel Ayala ), a 20-year-old petty thief, set free on the streets of Santiago. Within minutes they're wandering down a well-trodden narrative path. Grey wants to put his life of crime behind him and regain the love of his wife (Ariadna Gil) and son. Angel, an impetuous, saucer-eyed kid, dreams of being a gangster and sets out to convince the paternal Grey to try one last heist.
The odd couple is joined by Angel's love interest, a beautiful, fragile mute dancer named Victoria (Miranda Bodenhöfer), who lives with a kindly old woman who runs a dance school for slumdog ballerinas.
All three leads are handsomely provided for with backstory. Angel was sexually abused while behind bars by the warden, who has now put a hitman on his trail. Grey, who was expecting to pick up the ill-gotten gains from a previous heist, finds his partner-in-crime has frittered it away, and that his wife has moved in with a rich new boyfriend. And Victoria's inability to speak stems from the childhood trauma of seeing her parents taken away by state security forces to be killed.
Darín turns in a measured performance as the taciturn and bedraggled aging criminal. He's the most convincing and nuanced of the three. Newcomer Ayala, as the grinning Angel, spends most of the film playing an evidently-doomed loveable scamp. And the gangly, doe-eyed Victoria's urge for self-destruction is so haphazardly mobilised — one minute she's prostituting herself, the next she's throwing herself in a river - that it's far from easy to fathom her or the emotional spark between her and Angel.
The story's villains, meanwhile are clumsily drawn: the jowly cigar-chomping warden barks orders from his smoke-filled lair, while snooty bourgeois dance school harridans won't let Victoria perform. The victims of the planned robbery, meanwhile, are nasty Pinochet security thugs, giving the robbery a cosy, moral authority.
Two plot threads drive the narrative forward. There's Angel's dream of seeing Victoria dance on stage and there's the looming heist – yet these are not deftly woven together.
Cinematographer Julian Ledesma skillfully renders the squalor and desolation of the cheap hotels, strip clubs and decaying houses through which the characters move, and there are some memorable, if fanciful scenes: Angel riding horseback above a sea of office workers and shoppers in bustling downtown Santiago; and Angel and Victoria galloping (somehow in the space of a single day) to the ocean and on into the snow-capped, starlit Andes. There's a ravishingly shot finale too, as the characters make their way up over the snowy peaks towards freedom - a grandiose backdrop for a foreseeable ending.
To sign up for Screen's weekly Reviews Newsletter with all the week's new releases, international openings and full festival reviewsdelivered free to your mailbox every Friday, please click HERE
Production company
Fernando Trueba LLC
International sales
6 Sales
Tel: 34 91 781 7301
Producer
Jessica Huppert Berman

Screenplay
Fernando Trueba, Jonas Trueba and Antonio Skarmeta, based on the novel by Skarmeta

Cinematography
Julian Ledesma
Editor
Carmen Fras

Production design
Veronica Astudillo
Main cast
Ricardo Darín
Abel Ayala
Miranda Bodenhöfer
Ariadna Gil