Dir: Chris Gorak. US-Russia. 2011. 89mins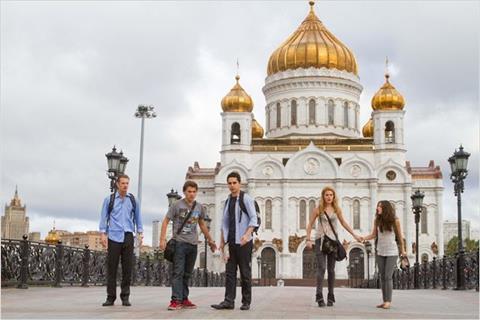 A thin sheen of technical proficiency isn't enough to boost the emotional connectivity or entertainment value of the exceedingly programmatic genre offering The Darkest Hour, an alien invasion tale with a flat, humdrum script. Derivative and relatively unconcerned with that fact, the film doesn't take advantage enough of its Moscow locale to truly qualify as an exotic sci-fi curio.
On a purely technical level, The Darkest Hour delivers in modest fashion.
Released in the United States on Christmas Day without benefit of advance screenings for critics, the movie lacks the star power or any special word-of-mouth properties to make it much of a box office performer, especially when faced with the action competition of the fourth installment of Tom Cruise's Mission: Impossible franchise. The involvement of Timur Bekmambetov (Wanted) as producer should boost international returns, especially in Russia and other Eastern European markets, for what is otherwise a play at ancillary market dollars.
On a business trip to Russia, would-be American social media mavens Sean (Emile Hirsch) and Ben (Max Minghella) arrive for an important meeting only to find their idea has been stolen by Skyler (Joel Kinnaman), a Swiss partner looking to cut them out of the deal. Repairing to a nearby nightclub, they meet up with a couple traveling tourist users of their neophyte service, Natalie (Olivia Thirlby) and Anne (Rachael Taylor).
It's then that the night skies light up with diffuse balls of orange light that have the ability to vaporize people into puffs of dust. These turn out to be invisible aliens perhaps looking to strip-mine Earth's mineral resources, and so the aforementioned quintet scrambles to stay alive. After a relatively fruitless trip to the American embassy, they meet up with survivors Vika (Veronika Ozerova) and Sergei (Dato Bakhtadze), the latter an electrician who has devised a way to shield humans from the aliens' heat-based vision, as well as a homemade weapon that shoots pulses of microwaves which momentarily stun the creatures, render them visible and disable their armor.
Former art director Chris Gorak made his directorial debut in 2007 with Right at Your Door, a low-budget thriller of post-disaster containment that had an indefatigable sense of manic, claustrophobic energy on its side. While in some ways this doomsday tale is a logical, blown-up extension of that same type of story, in truth Gorak doesn't seem completely at ease with the type of effects-intensive work for which producer Bekmambetov is known. This results in choppier and increasingly less effective action sequences as the movie advances, and becomes more dependent on firepower.
The screenplay smartly advances time a few days, skipping past much of the typical technological futility and holed-up squabbling when the survivors first hunker down. But it never really convincingly establishes any character's particular expertise, instead relying on spurious coincidence for Sean and others to piece together specifics about the aliens' weaknesses and intent.
Most critically, though, the movie trades away its chance at cultural authenticity by having native characters speak mostly in accented English, and also understand various American idioms (like "fight fire with fire"). Whereas the cultural chasm between the four main characters, none of whom speak Russian, and everyone they come across could have been mined for much tension and drama, The Darkest Hour is instead content to use them as bit player enablers in its gung-ho story of fighting back and survival, which makes the movie seem small, not particularly thoughtful and entirely inconsequential.
On a purely technical level, The Darkest Hour delivers in modest fashion. Since the alien attackers are invisible, the movie isn't a creature feature in the traditional sense, and the less-is-more approach with respect to the main threat works quite well for its first half. A few bits make use of Red Square and other Moscow landmarks, but one wishes cinematographer Scott Kevan had more of a chance to make the exteriors mean something within the story.
The film's characterisations are so thin that it affords no actor the particular chance to shine, but neither do the young cast embarrass themselves.
Production companies: New Regency Enterprises, The Jacobsen Company, Bazelevs Production
Domestic distribution: Summit Entertainment
Producers: Tom Jacobsen, Timur Bekmambetov
Executive producers: Arnon Milchan, Hutch Parker, Bob Harper, Monnie Wills
Co-producers: Iva Stromilova, Lulu Zezza
Screenplay: Jon Spaihts, based on a story by Leslie Bohem & M.T. Ahern and Jon Spaihts
Cinematography: Scott Kevan
Editors: Priscilla Nedd-Friendly, Fernando Villena
Production designer: Valeri Viktorov
Visual effects supervisors: Brian Cox, Stefan Fangmeier
Music: Tyler Bates
Website: www.DarkestHourMovie.com
Main cast: Emile Hirsch, Max Minghella, Olivia Thirlby, Rachael Taylor, Joel Kinnaman, Veronika Ozerova, Dato Bakhtadze, Gosha Kutsenko